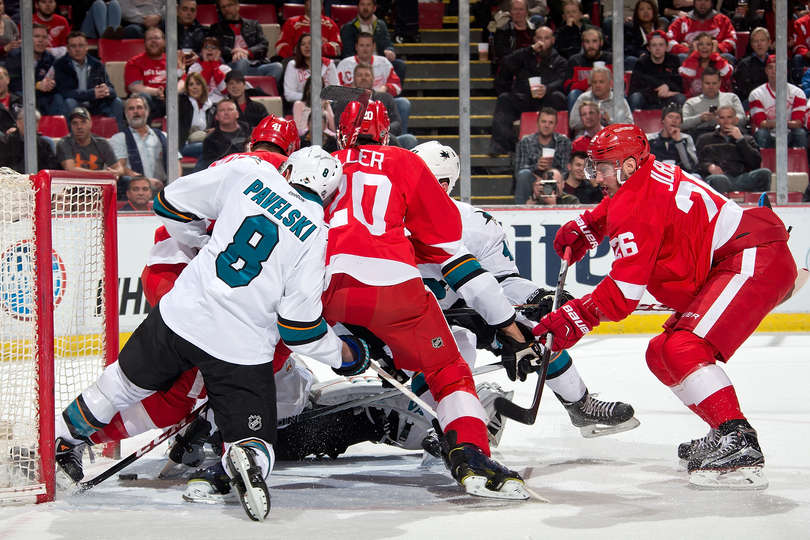 The Detroit Red Wings lost yet again to a team outside of the playoff picture on Thursday night. Their opponent was the always dangerous, albeit inconsistent, San Jose Sharks, led by former Red Wings assistant coach Todd McLellan.
The loss is the club's fourth in their past five. In the month of March they have a terrible 4-7-1 record, with only two of their final nine games to be played against non-playoff competitive teams, those being two contests against the Carolina Hurricanes.
The schedule certainly does not get any easier for the Wings as they attempt to solidify their position as third-best in the Atlantic Division, fending off the encroaching Ottawa Senators and Boston Bruins who have both pulled to within five points (two regulation wins plus 1 overtime loss). Fortunately, if it came down to a tie, Detroit would likely still have the tie-breaking regulation-plus-overtime wins (ROW) stat in their favor.
At this point of the season every game is a must-win, but it is also expected that games such as this would be wins.
Jimmy Howard was given a vote of confidence from head coach Mike Babcock after a miserable 5-4 overtime loss to the lowly Arizona Coyotes, who sit 29th in the NHL.
It didn't take long for the Sharks to get on the board, as defenseman Marc-Edouard Vlasic took advantage of a Red Wings turnover and fired a soft point shot that found the back of the net on just his team's first shot.
Forward Matt Nieto scored nine minutes later after teammate Chris Tierney fed him a behind-the-net pass that Nieto sent off the right post and in. Two goals on five shots.
Tomas Jurco got the Wings on the score sheet with his first goal since November 26th (39 games). The goal was the result of a scramble in the crease. Drew Miller and Danny DeKeyser had the assists.
"It felt good obviously, but it would feel better if we win," said Jurco, "so, important points for us now but we're kind of always just a little behind, so I think we got to get a little better."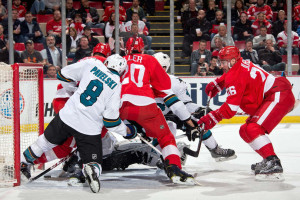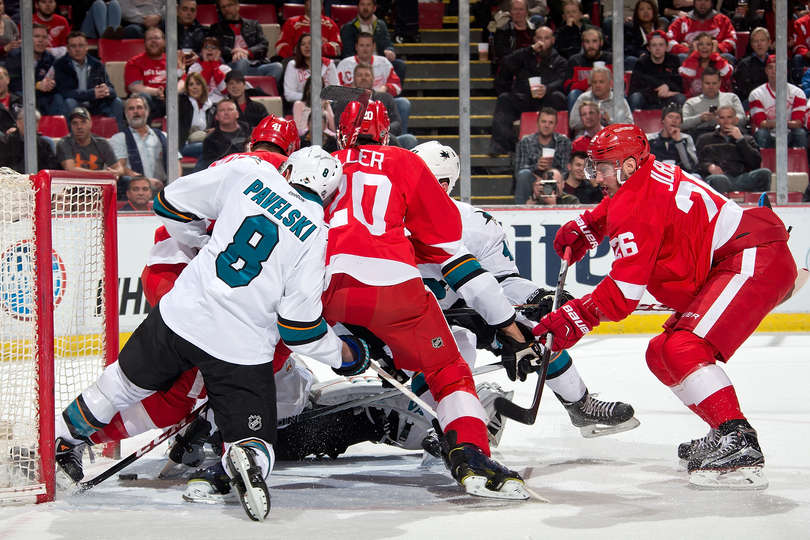 1:40 later, Tomas Tatar tied the game, again assisted by DeKeyser.
The Sharks would retake the lead shortly after as Tierney shot a puck toward the skate of Joakim Andersson which then ricocheted between the five-hole of Howard.
The Red Wings netminder, who has now allowed 18 goals in his last 4 2/3 games (4.13 GAA, .854 SP), would not return in the second period, a birthday he'll likely want to forget.
After a scoreless second stanza, San Jose's Logan Couture fired a wrister to the far post of Petr Mrazek (blocker side) only 31 seconds in, and also on the team's first shot of the period. It started exactly as the first period.
Stephen Weiss would cut the deficit in half at the 3:39 mark with helpers from Teemu Pulkkinen and Brendan Smith, but Patrick Marleau again restored the two-goal lead a little over a minute later. The goal had the exact same placement as Couture's, far post blocker side.
Justin Abdelkader continued the back-and-forth pace, making it a 5-4 game, but Marleau made it 6-4 following an empty-netter, to seal the victory for the away team.
"I don't think we were playing bad, but just can't win for some reason," said Jurco. "We just got to work our way through and start winning."
In the last two games, Detroit has scored a total of eight goals, but have failed to have a lead in their last 15 regulation periods.
"We haven't been good enough, and we haven't been executing well enough for the past couple weeks," said DeKeyser, "and that's something we have to change if we want to make the playoffs. You know, we got teams behind us that are closing in on us, and they have been for a while now. So we got to figure it out here pretty quick."
They are now 3-6-1 in their past ten games, and now must face much harder competition in the coming weeks, beginning with Saturday's matinee against the Tampa Bay Lightning.
Follow me on Twitter @KevinSporkaHOHM