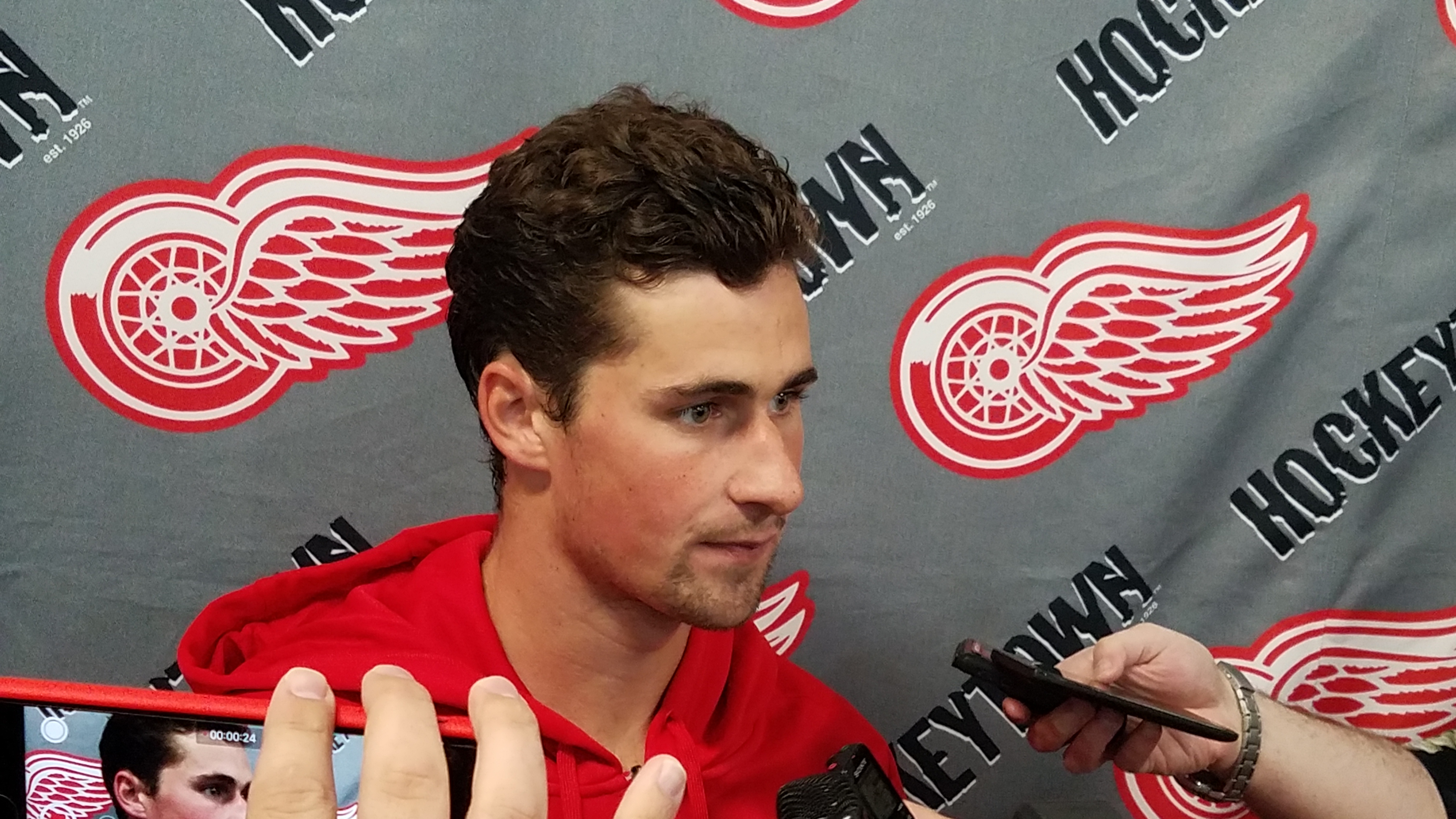 The Detroit Red Wings kicked off their 2017 training camp in Traverse City, Michigan, and there were some new faces present.
Newly acquired defenseman Trevor Daley (signed as a free agent in July), along with veteran NHL forward David Booth (of Shelby Township, Michigan) and P.A. Parenteau, all took part in the first day of the camp.
Before we get into the headlines of Day 1, here are some of my observations of the morning/afternoon.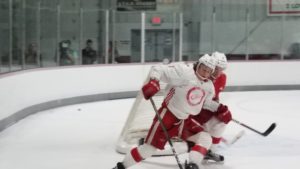 Tyler Bertuzzi showed great puck control during Team Delvecchio's practice session, and Henrik Zetterberg skated very really well and showed relatively no signs of aging. Goalie Petr Mrazek displayed a handful of dazzling saves, as he attempts to return to the greatness he achieved prior to last season's disappointment. Larkin also showed his trademark speed and some finish ability as well. It was a good start for him.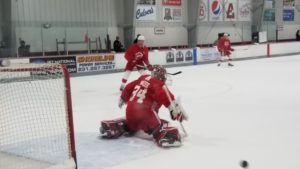 Defenseman Filip Hronek was outstanding today. Every pass appeared to be tape-to-tape from varying angles and distances. He can skate very well, but we already knew this. He continues to develop at a pretty rapid pace.
Eric Tangradi was injured during a scrimmage and had to be helped off the ice by teammates following an awkward hit.
Camp invite Connor Crisp, later in the scrimmage, shoved defenseman Pat McCarron hard into goalie Tom McCollum (who is back in the Red Wings organization again). McCollum was a bit slow to get up, but appeared to be fine after a few minutes. It was a very aggressive collision.
—
Booth was a big storyline on Day 1, as he talked about growing up a Red Wings fan and what this opportunity of trying out means to him.
The largest percentage of games played throughout his career was spent with the Florida Panthers, where he and former Red Wing Stephen Weiss once finished 1-2 in team scoring (Weiss – 61 points; Booth 60).
Despite playing in 502 career games, the only playoff experience he earned was five games with the Vancouver Canucks in 2011-12. Every other team he played for failed to qualify.
"I grew up being a Red Wings fan, having front row season tickets, being there when they won the Cup. Just growing up it's been a childhood pastime for me, watching these guys through all the good years. And so to come here and throw a Red Wings jersey on for the first time is really special, not only for me, but for my family as well."
He knows that it is pretty much impossible to earn a roster spot in Detroit, with only a couple spots up for grabs (and a lot of front-runners).
"I understand that [it won't be easy]," he said. "And that's just something that…it's better to take a chance than to not take a chance. I've had a good career. I've played over 500 games. I've been to Russia, so I want to give it one more chance. I think this is a good way to do that, is coming home and just having fun. Over the course of a career, you can have ups and downs and you lose that sense of fun. Just coming here and having fun, and being a kid again. Going out there, [I'm] still in awe of Zetterberg and skating with those guys is still kind of just really cool."
Booth explained his Russian journey, and it's not an overly positive one. This is even more relevant, as Andreas Athanasiou's agent has continually used the possibility of a KHL stint as a bargaining chip in the ongoing contract negotiations.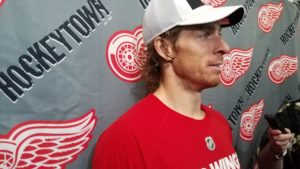 "I think you lose the sense of the fun of hockey when you're over there. I had no North Americans on my team last year. So it's just, you lose that camaraderie. [The] coaches didn't speak English, not many players did either…No one in the city did either (laughs). It's kind of just you and your wife…Hockey is meant to be fun; that's why we play it as kids."
Booth also likened this roster of Wings to his time back in Vancouver.
"I look back on my career and I think that my times in Vancouver are probably the most special to me just because we had a close-knit group of guys there. We were kind of, maybe all around the same age. I see that here. The guys kind of just always are welcoming. You feel like you're part of the team when you skate with them."
—
Dylan Larkin talked about being at center again. "I've learned a ton. I feel really comfortable. More so than ever I feel like I can be more creative and use my speed [and] use all my skills to make my linemates better and make our team better."
He believes that playing in the World Championships in May has added to his confidence level. "It helped a ton [playing in the tournament]. I think I played in all situations then. Playing for Blash, and playing our systems it was just an opportunity to be their second-line center, one of the go-to guys. It was huge for my confidence."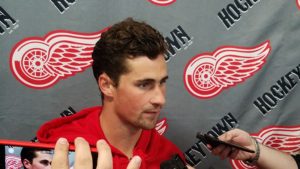 Although he says he has not talked to still-unsigned forward Andreas Athanasiou regarding his contract battle, he said "I think everyone in this organization wants him to be on our team. I think he's one of our best players; he helps us a ton."
Larkin said he has worked on "being strong on the puck, in the corners, and on faceoffs and one-timers." He also mentioned the Ottawa Senators improbable but deep playoff run last season as an "anything can happen" scenario when asked if he thought there was a chance the Red Wings could bounce back into the playoffs.
Although that would seem a bit far-fetched, an injury-free season (for once) could really make a significant difference for this team, as would a bounce-back season from Larkin.
—
Trevor Daley looked good in his first on-ice session as a Wing. The plan is to pair he and Danny DeKeyser on the blueline to start the season.
"He's a great skater," said DeKeyser. "He moves the puck really well. So I think me and him together, I think we can get back into the D-zone, get the puck out, get it up to the forwards, step into the play, try to provide some offense…"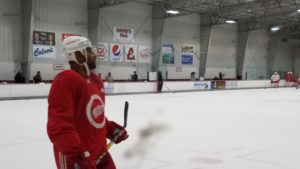 —
Coach Blashill also touched on this potential duo's potential.
"Trevor has played lots in his off side; some of his best hockey has been at his off side. That's a real positive for us as a leftie…I think him and Danny, I'm hoping they can develop good chemistry, obviously the faster the better. They're both guys who can break the puck out. They're both guys that can skate. I think they defend well and they can get up the ice well."
—
Lastly, DeKeyser talked about what he needs to do personally to rebound from a disappointing individual campaign.
"I think I've just got to be better defensively in the D-zone. Plus-minus last year I wasn't happy about that. I just think, overall my game can be better this year, and I can provide more."
He noted that his offseason goal was to get stronger and that he "added some more leg work than usual."
Follow me on Twitter @KevinSporkaHOHM