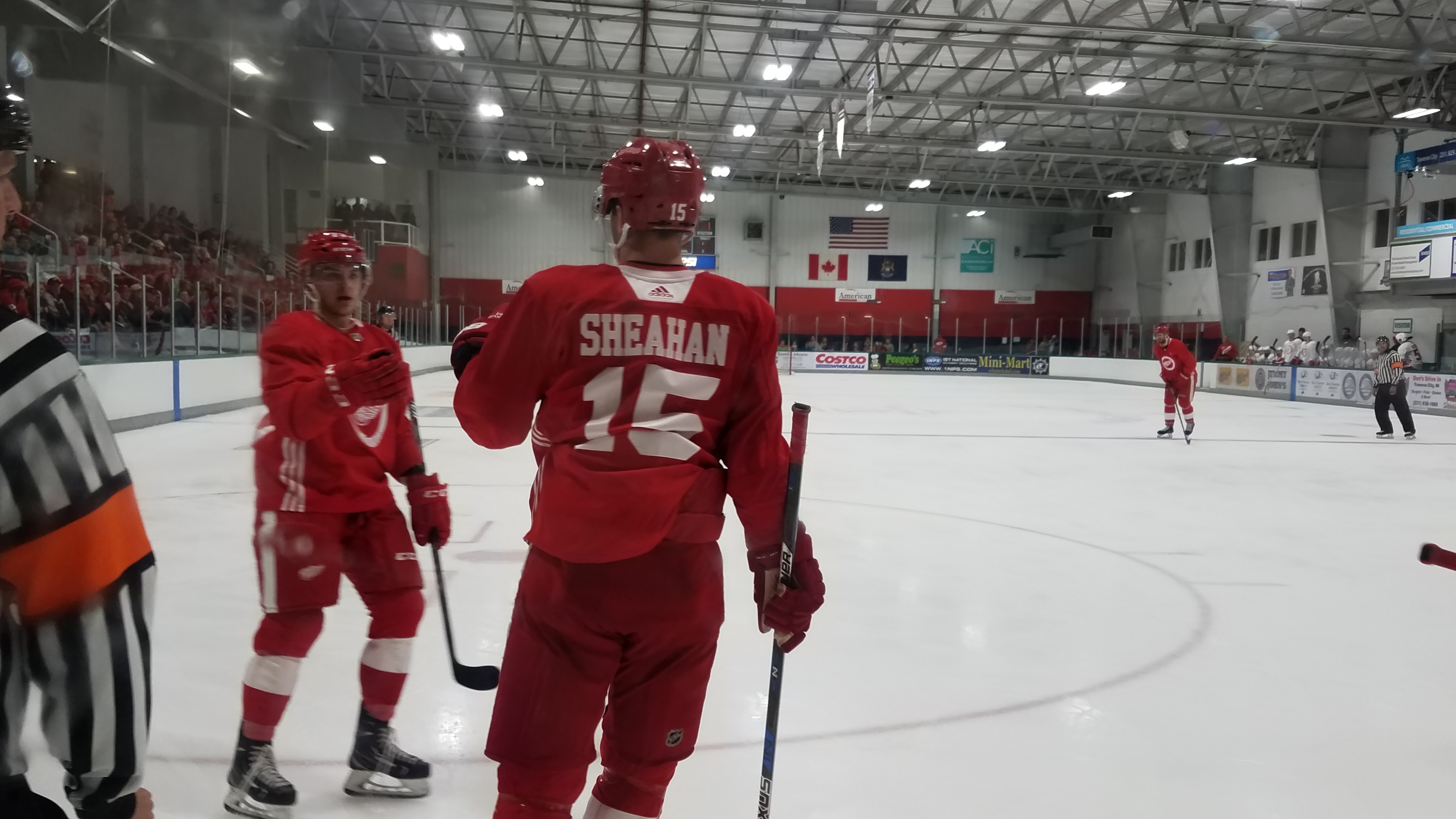 A lot of content in this recap of the second day of Red Wings training camp. Included in the various practices was another scrimmage (and a shootout). You can see that shootout below, as well as an array of photos from the day's events, interview videos, quotes, and my observations.
#redwings #drwtc Day 2 pic.twitter.com/najmilWn2B

— Kevin Sporka – HOHM (@KevinSporkaHOHM) September 16, 2017
Filip Hronek has always been a defenseman with speed and offensive tendencies, and this was all on display once again this morning. His development has progressed rather rapidly since his draft, and the Red Wings can really use a puck-moving, offensive defenseman. He excelled in the scrimmage. Although his English is still rather rough, he does not fall behind in practices. He understands what is expected of him every time, and he seems to become better and better every trip to Traverse City.
#redwings training camp Day 2 #drwtc pic.twitter.com/tzCQJyK0Wf

— Kevin Sporka – HOHM (@KevinSporkaHOHM) September 16, 2017
Luke Esposito and Matt Lorito are two very talented forwards. The latter was on the Calder Cup-winning Grand Rapids Griffins, while the former was acquired earlier in the year after finishing his fourth year at Harvard. The small Lorito has speed, a fast and accurate slap shot, and a lot of hockey sense. Already, Esposito has shown he possesses many of those same skills. During practice, Luke dazzled with his stick skills and the ability to beat the defenseman one-on-one. Both seem to really have fun on the ice.
Lorito was also a participant in the net-front deflection drill, which you can see right here.
Dylan Sadowy always impresses in TC. Although last season was not the season he expected it would be, there is still an opportunity for the gritty forward to make his mark on this organization. He never gives up on the play, and his foot is always on the gas pedal. Very few of the 70ish players at this camp can match Dylan's tenacity and determination. He is still one to watch.
It may not come as a surprise to hear that Evgeny Svechnikov continues to get better and better. Also a member of the Griffins last season, Svechnikov has demonstrated Zetterberg-esque puck control skills through two days of camp. He is strong on the puck, and opponents have a difficult time removing the puck from his possession. His shot is as accurate as ever. Behind Tyler Bertuzzi (the player most likely to earn the last Red Wings roster spot), Svechnikov is likely to spend time with Detroit this season.
#redwings #drwtc Day 2 pic.twitter.com/mysZYAKcz5

— Kevin Sporka – HOHM (@KevinSporkaHOHM) September 16, 2017
Tomas Tatar had a regulation goal and the shootout winner during this afternoon's scrimmage contest in a low-scoring 2-1 game. Fresh off signing a new four-year contract, Tatar appears energized and ready to prove himself this season. He has had a great camp so far. See it in GIF form as well as in the above shootout video.
Gif: Tatar wins the scrimmage shootout with a skilled deke. #redwings #drwtc pic.twitter.com/mMU4g1sRub

— Kevin Sporka – HOHM (@KevinSporkaHOHM) September 16, 2017
Tom McCollum, sporting his Calgary Flames helmet following his round-trip journey across North America, also excelled today, as did many of the attending goalies. After Detroit did not renew his contract, he began last season on a tryout in Los Angeles. He then was signed by the Calgary Flames organization, where he played one game for their AHL-affiliate. He played five games for Adirondack in New York and seventeen games for Charlotte in North Carolina. He was reacquired by Detroit in July.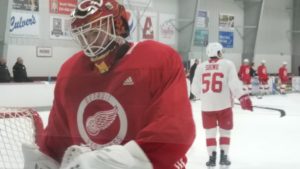 Riley Sheahan also scored in the scrimmage in a net front effort.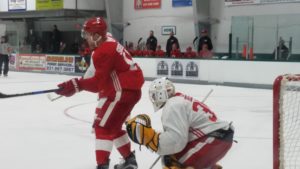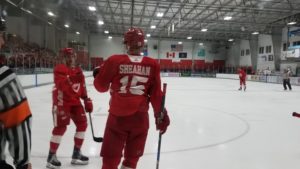 ---
Jared Coreau appeared visibly thinner since winning the Calder Cup this June. He said his focus was on eating less meat, describing himself as a "pescetarian," given that he still eats fish. His motivation to eat healthier was inspired by a Netflix documentary entitled "What the Health?" Certainly the lighter a goalie is, the more mobile he can be in the crease, which is his intention for this upcoming season.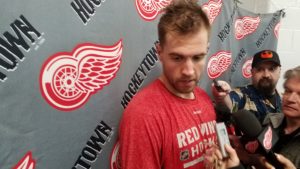 He said that [Red Wings goalie coach] Jeff Salajko put him into contact with goalie Curtis McElhinney, a veteran NHLer that knows the mentality of playing the role of back-up netminder.
He may run into trouble in regards to passing waivers, since the Wings already have two goalies in Jimmy Howard and Petr Mrazek, and he acknowledges that fact.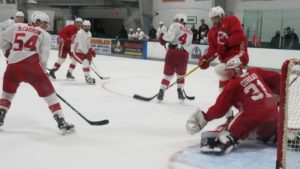 He doesn't like the term 'back-up.' Instead, he referred to him and Eddie Pasquale last season as 'goalie partners.'
"As I told the whole group, and Jared would be in that group, he's in that kind of Grand Rapids group right now. That's where I see him today. If he wants to change that, he's got to change it with his play. That's the reality of sports at a high level."
Coreau will try to make his case, but all signs point to Grand Rapids to start the season.
---
Petr Mrazek will look to bounce back from a disappointing season last year, and prove that he belongs in the NHL.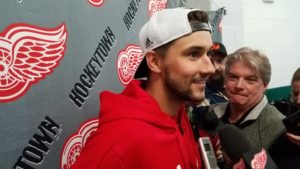 "It takes a daily effort to make your game better," said Blashill. "And I think he understands that. I think he changed his training method this summer. He changed the way he attacks the on-ice portion of it with his goalie coaches this summer over in Czech [Republic]. So I think he's put himself in a good position."
"We have two really good goalies," Blashill continued. "I think either one of them, or both, can be elite. I believe that 100%."
---
"We got off to a good start last year," said goalie Jimmy Howard. "But once we fell behind, it's tough to make it up in this league."
Howard was a big reason for that good start, before his injury.
He was chosen to be the 'protected' goalie during the June Expansion Draft, to his delight.
"Not a clue," he said, when asked if he had any inclination as to which goalie would be protected. "I got the phone call…and I thought it was a phone call saying that 'you're going to be exposed. Being protected, it was pretty cool."
"It meant a lot. I've been with this organization for so long. Detroit's home for us."
---
Luke Witkowski was also a new face this training camp, having been signed on July 1st.
He is a young, physical player who can play forward and defense. Having that ability is a great asset to any team.
"I played quite a few games in junior where I'd switch back and forth. Last year I finished the season, probably the last 10 or 15 games at right wing."
In 2010-11, Witkowski played under Jeff Blashill at Western Michigan. He also played with new teammate (and friend) Danny DeKeyser (both Michigan natives) for three of his four seasons there. Coming into this camp, there is already a sense of familiarity.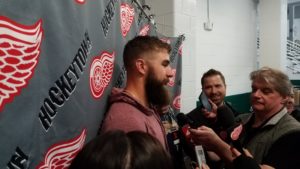 He said he was excited to find out that Detroit was interested in signing him.
When asked if he thinks Danny would let him drive his new Porsche (he won a two-year lease in the pre-camp golf tournament), he joked: "I don't know. It's a stick shift; I don't know if he knows how to drive a stick shift."
---
There is still no word of Andreas Athanasiou and the team coming to terms on a new contract. It was reported that GM Ken Holland met with his agent earlier today, but nothing has developed on that front.
The team will likely begin the pre-season without the star RFA on the roster.
Stay tuned for another day of Training Camp coverage.
Follow me on Twitter @KevinSporkaHOHM