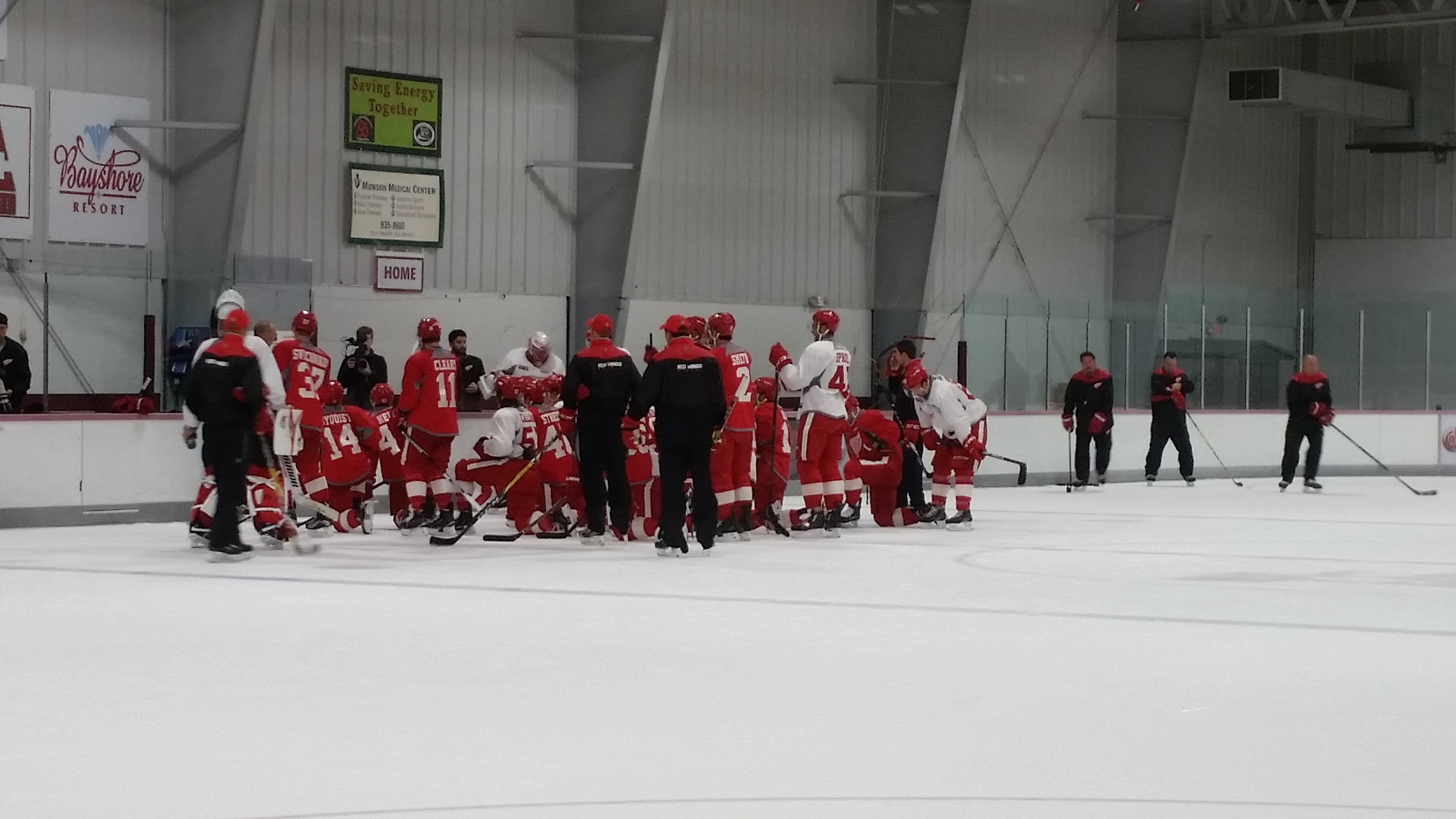 "Don't be good enough to make our team. Be good enough to make our team better" – Jeff Blashill
—
Day 1 of Detroit Red Wings training camp kicked off this morning at 9:30.
Players were divided into three teams, per usual. However, due to injuries and players still participating in the World Cup of Hockey, there are two full teams and one small team.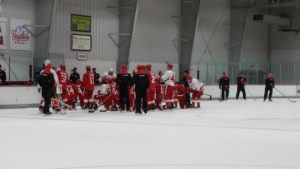 Rosters
Team Yzerman includes: Dan Cleary, Darren Helm, Tomas Nosek, Gustav Nyquist, Teemu Pulkkinen, Riley Sheahan, Givani Smith, Evgeni Svechnikov, Henrik Zetterberg, Danny DeKeyser, Niklas Kronwall, Brian Lashoff, Xavier Ouellet, Robbie Russo, Vili Saarijarvi, Brendan Smith, Ryan Sproul, and Jared Coreau.
Pulkkinen participated in some on-ice activities due to his injury. Zetterberg worked one-on-one with strength and conditioning coach Mike Kadar. Kronwall and Saarijarvi were not present on the ice.
Team Howe includes: Andreas Athanasiou, Tyler Bertuzzi, Luke Glendening, Tomas Jurco, Anthony Mantha, Adam Marsh, Drew Miller, Zach Nastasiuk, Steve Ott, Dylan Sadowy, Dominic Turgeon, Jonathan Ericsson, Mike Green, Joe Hicketts, Filip Hronek, Nick Jensen, Jordan Sambrook, Jimmy Howard, and Jake Paterson.
Of those players, Jurco and Marsh are injured.
Lastly, Team Lindsay consisted of free agents Justin Brazeau, Luke Coleman, Jeff de Wit, Luke Kirwan, Matthew Caito, Stephen Dhillon, and Connor Hicks, along with Grand Rapids Griffins forwards Alex Globke and Matthew Santos.
Tyler Bertuzzi
2013 2nd-rounder Tyler Bertuzzi, the nephew of former Red Wings forward Todd Bertuzzi, has grown into a more complete player in the last year. In his first prospect tournament, he played a more limited, checking role, whereas in this month's tournament, he showed goal-scoring prowess, playmaking ability, and leadership on the ice. This helped lead the team to a second place finish.
"Bert's a hockey player, number one. And by that I mean, some guys, they just know how to play hockey. They find ways to come up with pucks. It might not be the prettiest skillset, they might not skate the fastest, they might not be the tallest, and they might not have the fanciest hands, but man they're productive. And that to me is Bert, at the level that he's played at. He did that in Junior, he did that in the American League the second half of the year. He did it in the prospects tournament. He's great at [getting] stick on puck. He's great at getting pucks on net. How close is that to the NHL? One, he had half a season last year where he played good in the American League, not a full season. Let's not rush it if it doesn't need to be. The other part of it though, is he'll have a chance in pre-season here to say he's real close or he's not close, and we'll see. As I told players yesterday, don't be good enough to make our team. Be good enough to make our team better. It doesn't do much good just to have a guy say 'well I can make it.' I want guys pushing the envelope and being better.
Daniel Cleary
Earlier in the day, the organization announced the signing of veteran forward Dan Cleary, who will play one more season in the AHL with the Griffins. Last season, he served as a mentor to the young players in Grand Rapids. With the depature of 38-year old captain Jeff Hoggan, Cleary will fill the much-needed veteran leadership role with the team.
Cleary spoke after practice about his love for the game of hockey and his work with the prospects.
"It was a great experience last year to go down there and experience that, to work with the young players," he said. "At 37, I know it's the end of the line, but certainly I love seeing the maturity and the growth of some young players. My goal is to be a good leader for these young guys, help them become great Red Wings. You know, I love the red and white and I've already seen huge strides in a lot of these young players that are going to come up here and be good Red Wings for a long time."
He has worked with a number of young players, especially Bertuzzi.
"I really just saw [Tyler] come out of his shell," said Cleary. "He's going to be a great player. He's exactly what the Wings need. He's worked hard. He's fit. He eats well. He sleeps well. Everything that he needs to do as a young pro, and I'm just encouraging him to keep going, playing well. But certainly he's a great kid and he's going to be a really good Red Wing, and it is gratifying. It's great to see."
In addition to Bertuzzi, he noted that Athanasiou, Mantha and Russo are a few of the players he thinks are ready for the next level.
He then talked about some of his role models as a player.
"I remember when I was a young player, Chris Chelios was on my team (Chicago Blackhawks). He used to always make sure he did battles with me one-on-one, and skating races. He was always someone I was like, geez that's so cool. As you get older, you want to be like that. I want to have the young guys say, 'oh that's great that he's working with and helping me. For sure Cheli and even when I got to Detroit, Drapes (Kris Draper) was a good role model for me too in terms of being a leader and working hard every day and never taking a day off.
Cleary also discussed the hiring of his best friend, retired veteran forward Shawn Horcoff, as the new Director of Player Development, filling the role of Jiri Fischer, who held the position for the last ten seasons.
"It's great. Me and Horc have been best friends for 16, 17 years. He's going to do a great job with that. He's another guy where we've always trained together in the summer for a number of years, played golf together. He's going to be great for the young players, to see a guy work hard, fit, does all the right things. Any time you just keep adding pieces to the puzzle. You got to try to get this Red Wing train, get it going and have a couple good playoff runs."
"Dan Cleary did a really good job, from everybody I've spoken to, of being a real good mentor down there, of helping our young players learn how to handle the daily pressures of being a pro," said Red Wings coach Jeff Blashill. "There's just so many things they go through. He's lived it."
As for the future after this season:
"This is like my 20th training camp," said Cleary. "I love hockey. I love hanging out with the guys. It's something I'll miss for sure, but I'm looking forward to going down there and working with the guys, playing, hanging out, and just making sure I'm a good role model."
"I'm going to see where the path takes me, but certainly I have a passion for hockey, a passion to stay in it."
Ryan Sproul
In addition to the signing of Cleary, the Red Wings also announced the signing of restricted free agent defenseman Ryan Sproul, who is not waiver-exempt anymore.
Sproul, in his third full season with the Griffins last season, produced his highest goals, assists, and points totals (12-23-35). He also spent the fewest minutes in the penalty box, even having played more games than each of his previous two seasons.
The Red Wings management hopes that he can adapt better defensively to complement his offensive upside. He has always projected as an offensive blueliner, but his play on the back-end has left something to be desired. This past season was his best defensively, and the organization hopes that will carry over into this season.
"I think the first thing you look at with players is make sure they extenuate their positives," said Blashill. "His best attributes are his ability to skate and get up the ice and his ability to shoot the puck. So, if that's your best attribute you got to produce offense. You have to produce offense 5-on-5 and you got to produce offense on the power play. So when he gets those opportunities in the pre-season, he's going to have to be dynamic. And he's been that at different times for me when I've coached him and I know he's been that at times when I've watched him in Grand Rapids. He'll have to do that for us in pre-season. And you want to make sure you get better at the things you need to work on. I think over time he's gotten better at his defensive play. Probably the number one thing is just him getting back as hard as he can for pucks so we can be out of our zone and we don't have to defend."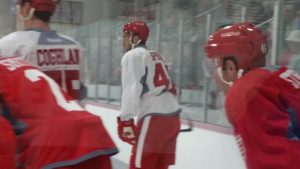 Ryan said that these training camps have helped him a lot, especially in the "first years coming out of Junior." He also noted that "playing in Grand Rapids has also helped a lot."
As for his gameplan going into the pre-season:
"They're looking for guys to step up here in camp, so that's my goal, to step up and make it hard for them to send me down and put me on waivers in the first place. I'll definitely be shooting the puck in the preseason a lot, and using [my right-handed shot] to my advantage."
He also noted Mike Green and Shea Weber as players that he models his game after.
Steve Ott
Among the new arrivals to Detroit is veteran center Steve Ott, a tough forward who plays a gritty, physical style every night.
"He was frustrating to play against when he was in St. Louis, and you know, he's been around the league for a long time. Brings some sandpaper to the team," said potential future linemate Luke Glendening.
Coach Blashill was a big proponent of the signing.
"I had a chance to meet with him before the free agent signing time, and I loved his energy," he said. "I loved what I thought he could bring to our locker room. I talked to Ken Hitchcock. Ken gave a real glowing endorsement of what he brings to the locker room. And he said, if you need some energy, and he's got that. And I thought it was an important piece. He reminds me a little bit of Tomas Holmstrom in that energy he brings to the room. He's funny. But he's committed, but it's in a fun way. And I think that's an important thing. I also felt like he could bring a lot of different things to the table. He's got an edge to him. He'll draw edge out of other players, so the linemates he plays with are going to play with edge because he plays with an edge. He's a good PK guy. He's a good faceoff guy on the left side. So to me it made lots of sense."
Ott seemed to have a lot of jump in his step as he played in the special-teams scrimmage session this morning.
World Cup Performances
Jeff Blashill was really impressed with the play of newcomer Frans Nielsen. Nielsen showcased his two-way play, scoring and backchecking reliably and consistently.
"I think overall they all seemed to have played really well," said Blashill. "I watched that Europe team a lot. I thought Frans Nielsen was really, really good every game he played. He's been so far in the World Cup what I thought he was going to be. He's playing against the other team's best players. He still creates offense. There's very few players in the league that can match up against the other team's best players and create offense, and he's done that. So that's great. He's showing good ability to transport the puck."
He also briefly touched on the other participant's from Detroit.
I know the coach of Europe's been happy with Thomas Vanek's play. He's been happy with Tomas Tatar's play. And I've watched both those guys and seen that they played pretty good. I think Marchenko's done a good job. And some of the teams you play against. IF you play against Canada, you're playing against the top line, one-through-four, every one is a top line in the NHL. So it's a heck of a challenge for him. I thought when Larks played, Larks played good. I was happy with what I saw there. I thought Abby played real good too.
A Look Ahead
Training Camp continues through Monday, September 26th and concludes with the Red and White scrimmage game, leading right into the NHL's pre-season.
Follow me on Twitter @KevinSporkaHOHM
Love Reading About Hockey?

Subscribe to keep up-to-date with the latest and most interesting hockey news!
| | |
| --- | --- |
| | We hate spam just as much as you |