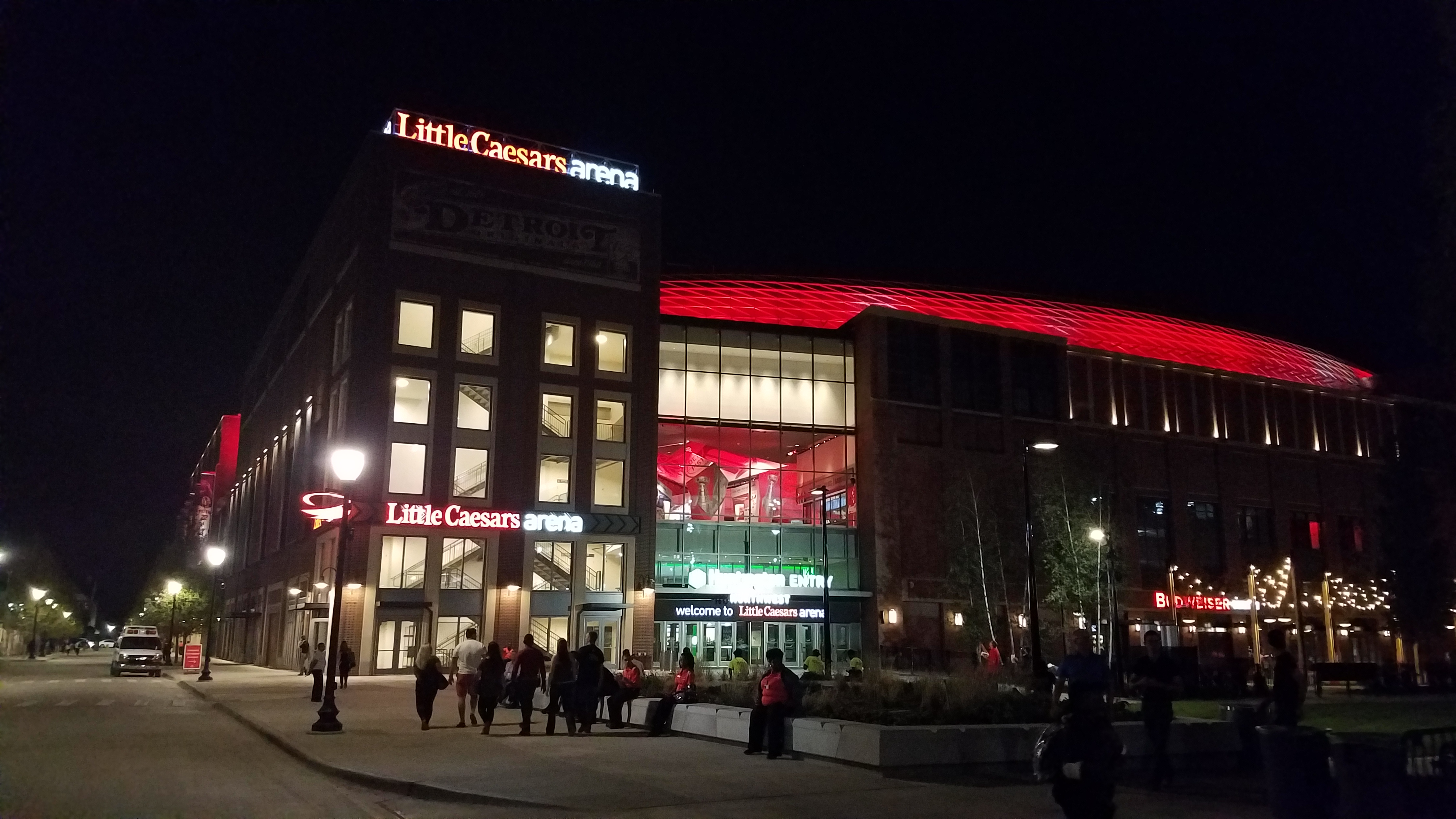 The Detroit Red Wings began their tenure at the new Little Caesars Arena with a 5-1 decisive win over the Boston Bruins.
Granted, the Wings outnumbered the Bruins about 16-6 in NHL players (both current regulars and former regulars). Clearly, they wanted the history books to show a 'W' next to the debut game.
---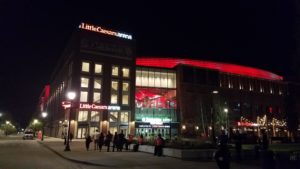 The flashy features of the arena did not deter the team from earning their first victory of the pre-season.
The famed bouncy boards, which would often be seen as a competitive advantage of the Joe Louis Arena are gone.
"No [the boards] weren't lively but you could really trust the boards," said Frans Nielsen. "You knew it wasn't going to take a huge bounce when it hit it. It was really good boards. I think Green threw one at the end board there once, that really bounced in front of the net. So you can use the boards here too…Then the ice was a little choppy, but we haven't been out there a lot. It's brand new. It's been really warm outside too lately, so I'm sure that that's going to be a lot better too."
Michigan native Austin Czarnik struck first for Boston on the power play, as the B's took a one-goal lead into the first intermission.
However, in the second period, the two stars of the night, Martin Frk and Frans Nielsen dominated. Frk scored early with help from his linemates, Anthony Mantha and Dylan Larkin. The line was impressive all night long, and could be a potential trio come the regular season.
"I enjoyed every minute," said Frk. "I had the chance to play with Larkin and Mantha. They are good players. It's really a treat for me. I enjoyed every minute…It's just a plus for me. The guys helped me to score those goals. So I'm glad we won as well too."
"Amazing," he said of the crowd. "It's a hockey town, so of course it was great. The rink is amazing. Everything was great."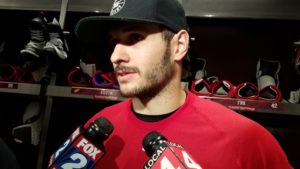 Frans Nielsen scored on a power play rebound, following a blast by Frk. It was a great intentional deflection shot, of which defenseman Mike Green also assisted.
"Personally I didn't really know him too well," said Nielsen of Frk. "I didn't know that shot (laughs). It was a great surprise. If he's going to stick around here, that's definitely going to be a great weapon for us, especially on the power play. There's not a lot of one-timers like that in the league, an area too we struggled on last year, the power play for a long time. Definitely a position situation he can help us."
Nielsen scored again just 2:18 later with assists from Mantha and Larkin.
Finally, 40 seconds later, Darren Helm made it 4-1. Nielsen registered yet another point.
Early in the third, Frk scored on the power play, for his third point of the night. Tomas Tatar and Green assisted.
"First of all I was glad I was going on that 5-on-3," said Frk. "I didn't think I would [be put out there] and I got a little nervous on the bench when Blash told my name that I'm going there, but the guys always told me, just shoot the puck. So I did it, and it went in."
Frk had an amazing season last year in Grand Rapids, but has still yet to earn his NHL break, which can be very frustrating for players. He said he wasn't sure where he'd be playing this season (NHL or Europe) when I last spoke with him in June, and he knows it will still be an uphill battle, but he knows that hard work can pay off.
"I know I scored quite a lot of goals in Grand Rapids [last year], but I think it's not just about that. It's about what I can do when I'm not with the puck, when they lock us in our zone, I need to know what I have to do there, which that will help me to make this team. I just have to be very good. You know, pay attention, do the every details that Blash wants me to do. Hopefully, I will have some chance to make it, but you know, it's still a lot of games. A couple guys are out with injury right now, so we will see when they get all healthy, and how it goes."
Jimmy Howard stopped 19 of 20 shots in the win.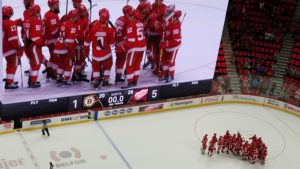 In three previous games, the Wings had allowed 16 goals.
Tyler Bertuzzi Injury
Bertuzzi, who seemed like a shoo-in to make the opening night roster, is currently out with a wrist injury, which could sideline him for up to four weeks. This, and the fact that star RFA Andreas Athanasiou is still not under contract, means that there are two roster spots up for grabs.
Coach Jeff Blashill noted in his post-game conference last night that Frk might be a good candidate for the position.
Of course, another of those spots could be filled with either David Booth or P.A. Parenteau, the latter of which has shown much more throughout training camp and the pre-season thus far.
Follow me on Twitter @KevinSporkaHOHM