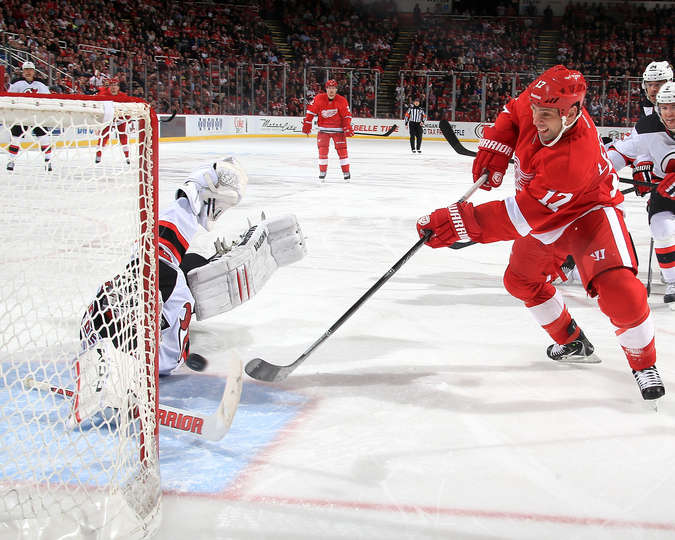 After having an assist taken away from him the night before (in a loss to the Colorado Avalanche), center David Legwand, in just his second game in a Red Wings uniform, registered his first three points, including a goal, as Detroit scores a touchdown (and extra point) on Cory Schneider and the New Jersey Devils.
Legwand had become the newest member of the team not long before Wednesday's 3:00 ET Trade Deadline. GM Ken Holland traded away current-minor league forward Patrick Eaves, star prospect (center) Calle Jarnkrok, and a conditional third round draft pick (becomes a second rounder if Detroit makes the playoffs this season) to acquire the veteran forward, who has never known another team beside his Nashville Predators (Nashville's first-ever draft pick).
With Pavel Datsyuk, Henrik Zetterberg, Stephen Weiss, and Darren Helm falling to injuries, Legwand, who normally isn't a first-liner, was slotted betwixt red-hot Swedes Gustav Nyquist (left) and Johan Franzen (right). Legwand had 30 assists coming into Detroit, and Franzen has been lighting the lamp like it's his job of late. It did not take long for those two to find good chemistry.
It's been quite some time since Detroit has iced two power forwards on the team's first line, but it worked for them Friday. The trio, which I call the "Two Swedes and an Old Goat" line (in reference to Brett Hull's 2002 line of Zetterberg, Datsyuk, and Hull), produced 11 points in the contest.
Recap
The game started in Detroit's favor, as defenseman Brendan Smith scored the game's first goal (A: Franzen/Nyquist). Franzen would score early in the second period (A: Nyquist/Legwand) in what looked to be the team running away with the lead.
However, things would quickly turn in favor of New Jersey (four minutes later) after a turnover by Tomas Tatar. Veteran forward Patrik Elias (37) stole the puck while Detroit was on the man-advantage. It quickly created a two-on-one situation. Detroit netminder Jonas Gustavsson likely anticipated a one-timed play, but Elias decided to take matters into his own hands as he ripped a short-handed slapshot past the glove of the stunned goalie.
57 seconds later, Jaromir Jagr (42) tied the game at two. Then, 1:24 after that, Adam Henrique scored the third Devils goal in a 2:21 span. Between their first and second goal, coach Mike Babcock called a timeout to calm things down. Although they scored their third goal not long after that, it was still a beneficial decision, as Detroit would take over shortly.
"I think that was good timing with the timeout there, because we came back as a group after that and played really well again," said Gustavsson. "I'm sure that helped me as it helped the rest of the team too."
When asked how he was able to keep himself composed and focused after the barrage of goals he said:
"You always want to be there for the guys, and when they scored the three quick goals, you've got to just check it off, no matter what kind of goal it is, tough goals, whatever the situation is…The way I saw it was 'ok it's a one-goal game for them now.' You know, we played good, I felt confident we were going to score one, maybe two more goals. I was just going to try to shut the door, and then we replied by scoring a few goals pretty quick there, so that was good to see. In games, you're going to have to go through different scenarios. Tonight they scored some quick goals, and as a goalie, you've got to be able to handle that and just shake it off."
2:03 after finding themselves on the other end of the scoreboard, Detroit responded by scoring the first of five unanswered goals for themselves.
Franzen knotted things up at three (A: Bertuzzi/Nyquist) and Nyquist finally scored his own goal (after assisting on three others earlier) 1:18 later (A: Legwand/Ericsson).
Still in the second period, defenseman Kyle Quincey scored his first goal since January 22nd to make it 5-3 (A: Sheahan/DeKeyser). He had nearly scored the night before, but instead had a shot hit the crossbar while the Avalanche stormed back to score immediately after.
Nearly five minutes into the final stanza, Legwand made it 6-3 (A: Franzen) and Drew Miller would later make it 7-3 (A: Bertuzzi/Andersson). It was a season-high seven goal outburst for Detroit).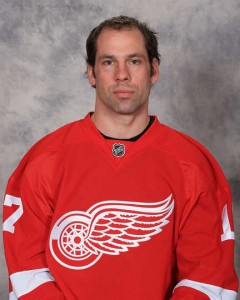 Henrique apparently didn't know the game was over, as he scored New Jersey's fourth goal with 1:18 left to play. The final score: 7-4.
The quote of the night belonged to Babcock as he had previously told the media (not long ago) that Detroit needs to win games 2-1 and to not expect touchdowns.
"Kenny was just bugging me when I told you guys the other day we have to win 2-1; If you're expecting a touchdown, you're watching the wrong team. Maybe I don't know what I'm talking about. We have to win 2-1 so let's stick with that."
With the win, Detroit moves past Columbus into the second wild-card spot in the East, with a record of 29-21-13 over 63 games. The Red Wings have the best record in the past ten games (6-2-2) among the bottom-ten teams in their conference. Tampa Bay holds the first wild-card spot, but has lost seven of their last ten (three game losing streak). The Florida Panthers are the only other bottom-ten team to have a winning streak currently.
Detroit is now two points from Tampa Bay (73), three points from Toronto (third place in Atlantic Division – 74), and six points from Montreal (second place – 77).
The Red Wings are set to take on the New York Rangers at MSG Sunday at 12:30 ET. The Rangers are just one point better than Detroit but sit third in the Metropolitan Division. The game can be seen on NBC in the U.S. as the game-of-the-week.
Follow me on Twitter @yungspork