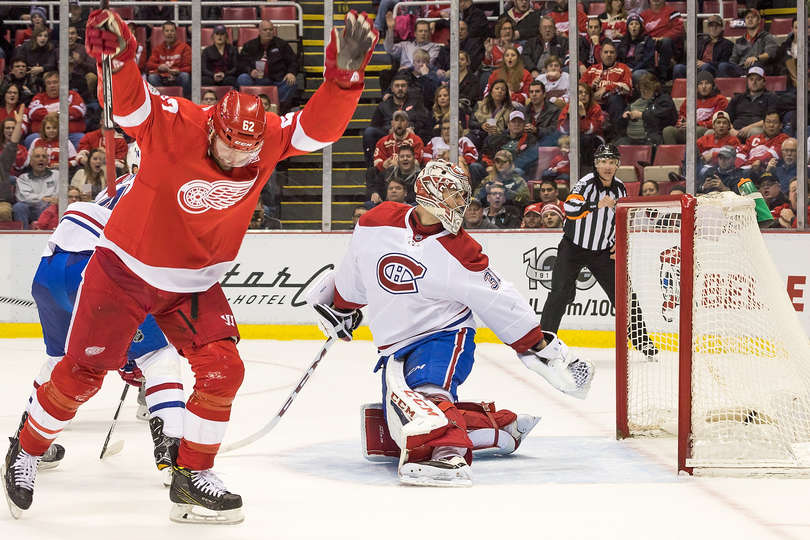 The Detroit Red Wings won their second unlikely victory in the last two games. After defeating the defending Stanley Cup champion Pittsburgh Penguins, they took on the Atlantic Division-leading Montreal Canadiens, led by star goalie Carey Price, who has struggled of late, allowing four or more goals in five of his past seven games. In this stretch, he has won only three of eight (3-3-2). Detroit made that three of nine as they managed to squeak past the Habs 1-0 as rookie Jared Coreau earned his second shutout. He now sports an impressive 5-1-1 record through eight starts.
It was a defensive battle for both sides, as neither team earned many shots. The first period ended with the Wings edging out the Canadiens 6-5. Speedy forward Andreas Athanasiou had the highlight of the game, as he stole the puck from Nathan Beaulieu and found himself on a breakaway. He threw a few quick dekes before attempting a forehand-backhand maneuver on Price. But Price was ready for the move and was quick with the glove hand to save the prime scoring opportunity.
In an uneventful second period, it appeared as if both teams would enter the intermission in a scoreless tie. However, defenseman Danny DeKeyser's point shot deflected off forward Thomas Vanek and past the Canadiens netminder for the game's only goal.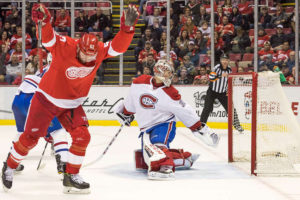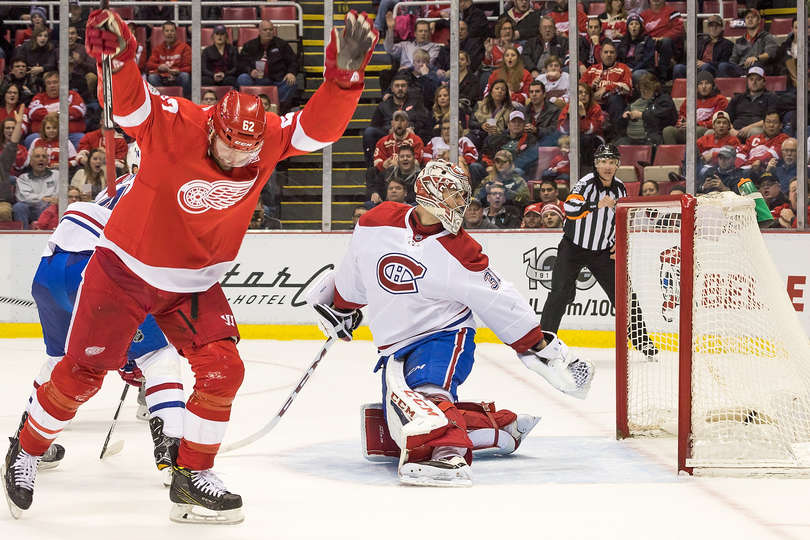 "When we play the right way and get to the net, and get out of our zone quicker, we can beat anyone," said Vanek. "So I think a [6-3] win like that helped against Pittsburgh [Saturday]. I don't think we're too intimidated by those guys. Again, that's a great team over there."
Coreau and the defense were perfect in the final stanza, securing the 1-0 win.
"When you get a shutout, it's definitely a team effort," said Coreau. "I know it sounds cliché, but some big blocks in there, we got a post (on a second period scoring chance by Beaulieu) that went our way. We held them to, I think, only 18 shots. I think defensively and overall we just played a really good game."
"We've talked for a while here that we need to tighten up a bit defensively, and I thought we were real solid defensively most of the game…I thought all six 'D' played really, really well," added coach Jeff Blashill.
Detroit had 13 missed shots in the game, 7 fewer than their recorded 20 shots.
"The one thing we did tonight was miss the net too much," said Blashill. "I thought we had lots of opportunities and we missed the net too much. But other than that, our mentality shooting and our mentality going to the net, I think has been much, much better here over the last, I don't know, two weeks maybe, and I think it makes a lot better team."
It may be only a small two-game winning streak, but the strength of the two opponents is encouraging for the struggling Red Wings.
Playoffs Still Within Reach
Detroit may be carrying a measly 19-19-6 record and 44 points (7th place), but Tampa Bay (DET has 1 game-in-hand) has only 46 points, and Florida (1 GIH), Ottawa (OTT has 3 GIH), and 3rd place Toronto (TOR has 3 GIH) only have 48. Even 2nd place Boston has 51 points, and the Wings hold three games-in-hand on the Bruins.
A Look Ahead
Detroit will take on the aforementioned Bruins in another divisional rivalry game this Wednesday at 8:00 ET (NBCSN).
Next, the Wings travel to Buffalo on Friday (7:00) before returning home on Sunday to play the New York Rangers (12:30)
Follow me on Twitter @KevinSporkaHOHM