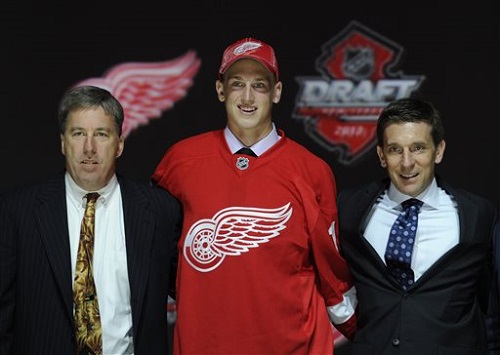 First things first.  Detroit locked up depth defenseman Jakub Kindl for the next four years.  His salary this past season was $1.05 million.  Next season he will make $1.6 million, the two after that he will make $2.5 million, and in the last season (2016-17) he will make $3 million, meaning the contract is backloaded.
Kindl is a defensive defenseman but has some offensive instincts.  This year he matched his points total in 2011-12 with 13 points in 14 less games played.
Throughout the year, Kindl had to be relied on a lot more due to injuries on Detroit's back end.  He saw significant power play time and more time in pressured situations.  He has a good tendency to get pucks on net to generate rebounds, which is something that his defensive counterparts generally do not show.
He has yet to play more than 55 games in a season, so it will be interesting to see how consistent he plays on a regular basis next season.
Draft:
Detroit had its highest draft slot since 1991 when they chose Martin Lapointe 10th overall.  This year the Red Wings were set to choose 18th, their highest pick in 22 years.  When it came time for Detroit to make their selection, there was a trade announced.  They had traded away their pick to the San Jose Sharks!
But have no fear, because in return, Detroit received the 20th and 58th pick.  San Jose apparently really wanted defenseman Mirco Mueller at the 18th spot.  There was no risk of Mueller being chosen by Detroit at 18, and the Sharks could've nabbed him for nothing at 20.  It was a very perplexing move, but allowed the Wings to draft an extra player in arguably the strongest draft class since the legendary 2003 draft.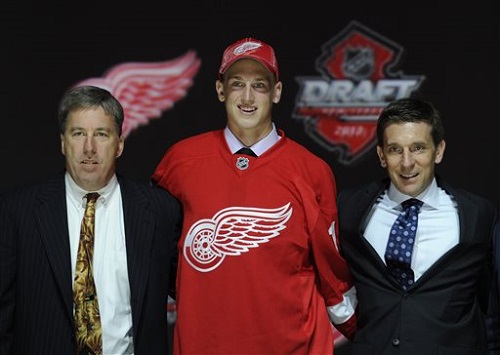 After 19 players had already been chosen, there were still a ton of options for Detroit.  They ended up choosing the 6-foot-4 winger Anthony Mantha of Val d'Or (QMJHL).  Mantha was the only 50-goal scorer available this year, and it could turn out to be a steal so late in the first round.  In the 2011-12 season, Mantha scored 22 goals and 51 points in 63 games.  This year he improved that total to 89 points in 67 games.  His plus-minus went from -11 to +21.  In the two seasons combined, he has scored 16 playoff points in 13 games (including 7 goals).  Oh and did I mention that four-time Cup winner Andre Pronovost is his grandfather?
Their second selection came at #48.  This pick was used on another winger, Zach Nastasiuk of Barrie, Ontario.  Nastasiuk scored 40 goals in 62 games for the Owen Sound Attack this year.  He also added 11 points in 12 playoff games.  He is projected as a two-way forward in the NHL.  He won gold at the Under-18 World Junior Championship in 2012.  Nastasiuk also played in the CHL Top Prospects game last year.
Detroit's third pick was used to draft another winger, T. Bertuzzi.  That's not a typo.  Tyler Bertuzzi, Todd's nephew, scored 22 points in 43 games this year for the Guelph Storm in the OHL.  In 104 total games for Guelph (over two seasons) he has amassed 19 goals and 39 points, not to mention his 185 penalty minutes.
The first non-winger chosen came in Round 3.  Mattias Janmark-Nylen was picked 79th overall from the Swedish Elite League.  For the last two seasons, he has played for Allmanna Idrottsklubben Ishockeyforening, or AIK IF for short (who would ever take the time to say the long version?) – the Stockholm based team.  This season he scored 14 goals and 31 points in 55 games.
The fifth Red Wings pick was used to select a winger from the BCHL West Kelowna Warriors, David Pope.  Drafted 109th overall, he was ranked 67th on the CSS North American skaters list.  This past season he scored 39 points in 42 games for the Warriors, and chipped in four goals and an assist in seven playoff games.  Detroit definitely made it their goal to draft big bodies.  At 6-foot-2, 187 pounds, Pope's no slouch.  He will be taking his talents to the University of Nebraska-Omaha next season.
Defenseman Mitch Wheaton was chosen 139th overall from the Kelowna Rockets of the WHL.  The Hockey News ranked Wheaton 82nd in their annual Draft Preview issue, so he definitely slipped past that number.  They noted that he is a stay-at-home blueliner, but unfortunately missed the majority of the year with a shoulder injury (which probably made teams a little wary to choose him).  He's listed at 6-foot-5 231 pounds, which, in terms of size, is comparable to NHL stay-at-home defenseman Douglas Murray (Wheaton is actually two inches taller than Murray).
Round 6 saw Detroit choose another tall defenseman.  Marc McNulty is 6-foot-6, 185 pounds.  According to hockeyfights.com, McNulty fought four opponents this past season, with one of those opponents being the aforementioned Mitch Wheaton.  He accumulated 70 penalty minutes, as well as scoring 15 points in 52 games.  He was a -18 for the year, but when compared to teammate Raymond Grewal (-43) that's pretty good.  In fact everyone on that roster had a horrendous negative plus-minus.
The final pick of the draft, 199th overall, was used to select Hampus Melen, a Swedish winger from the Tingsryd AIF J18 team. Little is known about this pick, except for the fact that he scored 18 goals and 40 points in 24 games last year.
So to recap, Detroit drafted three right-wingers, two left-wingers, one center, and two defensemen.  All eight of the players are at least six feet tall.
Follow me on Twitter @yungspork
Love Reading About Hockey?

Subscribe to keep up-to-date with the latest and most interesting hockey news!
| | |
| --- | --- |
| | We hate spam just as much as you |