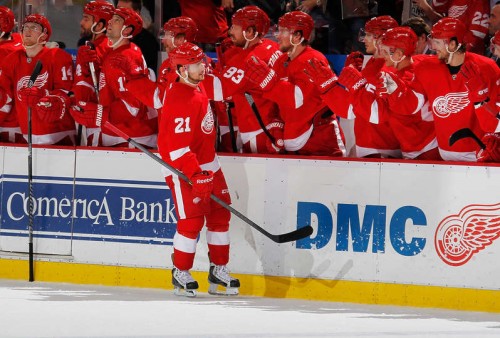 The Detroit Red Wings improved to 30-23-13 Friday night, as they defeated the Edmonton Oilers 2-1 in a shootout.
Neither Jimmy Howard nor Oilers netminder Viktor Fasth saw much rubber in the contest, as the shots were just 23-22 in favor of Detroit. It was a fairly even matchup. The Oilers' roster is comprised of young players with very little NHL experience because they draft first every year, while the Red Wings' roster is comprised of young players with very little NHL experience because they have 35 injuries.
To be honest, there are only 11 injuries, but it seems like 35.
Riley Sheahan opened the low-scoring affair as a result of a skilled passing play. Tomas Tatar and Sheahan traded passes while the former worked his way behind Fasth. The latter was ready and waiting for the behind-the-net pass to the crease, and scored the game's first goal with six minutes remaining in period one.
"I thought Riley Sheahan was a really good player for us tonight," said Mike Babcock. "Very, very good. He just seems to me to get better and better all the time. He should have a lot of confidence"
Late in the first, Detroit defenseman Danny DeKeyser took a skate to the face from teammate Luke Glendening as Glendening fell over an Oilers player. It seemingly appeared much worse than it actually was, because he would return to the game shortly with just two stitches needed.
Finnish forward Teemu Pulkkinen, playing in his first-ever regular season game in the NHL, proved what he had to offer when he threw a good hip check at an opposing player. Some may remember his illegal hit in the pre-season (on Chicago's Mike Kostka) that earned him a four game suspension. However, most know him as the leading scorer of the Grand Rapids Griffins (AHL) where he has scored 26 goals and 25 assists in 60 games this season.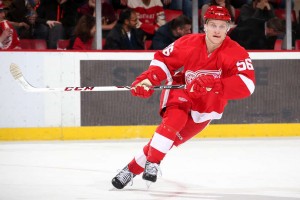 Near the midway point of the third period, veteran forward Ryan Smyth tied things up at one after Red Wings defenseman Brendan Smith gave the puck away to the tape of Smyth's stick in the slot.
Detroit was 4-8 in shootouts coming into the night, but they needed the two points any way they could get them. Babcock sent out an odd combination of Todd Bertuzzi, Daniel Alfedsson, and Tomas Tatar (Tatar wasn't an odd choice). Bertuzzi failed to hit the net and Alfredsson was not successful either, allowing Tatar the chance to decide the shootout. Howard had previously stopped Jordan Eberle and David Perron. Tatar was able to fool Fasth before roofing the puck to the top of the net to win the game for his team.
Tatar talked about the importance of the two points after the game. "They're huge obviously. We need every point right now to be…actually the game was kind of sloppy. We put ourselves in a bad position and when they tied up the game, we had a power play, we didn't score a goal. I think we can play better…"
Detroit has just 16 games left on their schedule, including a matchup against old divisional rivals the Chicago Blackhawks tomorrow night at 7:30 ET (NBCSN).
Follow me on Twitter @yungspork