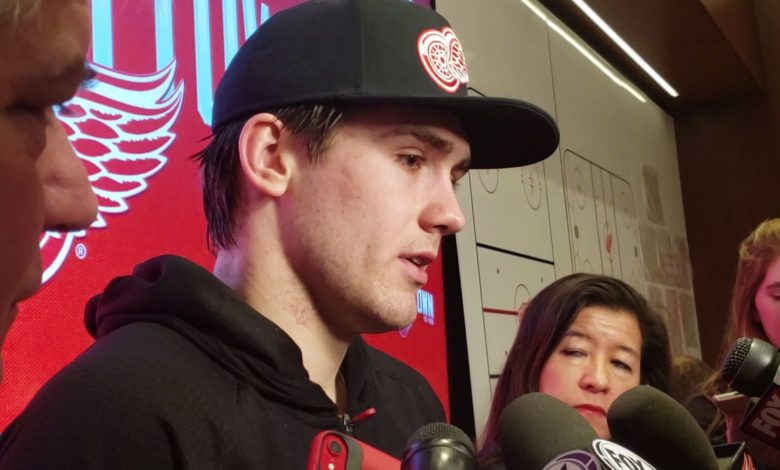 The Detroit Red Wings hosted the Pittsburgh Penguins on Friday night at Little Caesar's Arena. Sidney Crosby had recently returned from an injury that sidelined him since November 9th.
Jimmy Howard started in net, as Jonathan Bernier is out with a lower body injury. He's hoping to turn his season around eventually. It hasn't been his year. With 2 wins and 17 losses (1 being an OTL), a GAA of 4.26 and a save-percentage of .876, nothing has gone his way, and the team in front of him hasn't helped much. His career high in losses came in 2017-18 (27) when he started 57 games.

On an early second period power play, Filip Zadina fired a quick low shot that beat Penguins netminder Matt Murray (3:29), as big Givani Smith screened in the crease. It was a well placed shot in the only area of the net that was open. Frans Nielsen and Trevor Daley assisted.

In the third, Bryan Rust tied the game at nearly the same point that Zadina had scored (3:36). It was a close wrister following some really good passing. But the Wings weathered the storm and didn't let them have much momentum following the goal.
With five and a half to play, the Pens nearly took the lead as the puck was centimeters from finding twine, but the game appeared destined for overtime, and it was.
In 3-on-3, Luke Glendening was called for an untimely interference penalty, giving Pittsburgh a power play, and it resulted in a power play game-winner only 20 seconds later. Crosby was the scorer, wasting little time in firing it home.
Detroit dropped their third straight game, but it was a valiant effort this time around, unlike the 8-2 beat-down they received on Long Island earlier in the week. Howard played very well, but goal scoring was hard to find on the night.
Givani Smith, despite not having much ice time on the night, had a great game. He showed speed down the middle on a great scoring chance. He had a nice shot near the slot, and eventually used an effective screen to help give his team the only tally. It looked like he was still riding the wave of his first career NHL goal, which he scored on Tuesday night. In just his 12th game of the season, he is starting to really show that he belongs on the roster.
With Smith getting his first goal of the season, that still leaves Justin Abdelkader and Brendan Perlini as the only forwards without a goal. Abdelkader has gone 30 goalless games with only three assists, while Perlini has two assists in 24 games. On the blueline, Trevor Daley and Alex Biega have a total of two assists in 47 combined games.
A Look Ahead
Four games remain for Detroit to close out January, and only three before the All-Star Break.
Saturday vs. Florida (7:00 ET)
Monday @ Colorado (3:00)
Wednesday @ Minnesota (8:00)
Friday 1/31 @ New York Rangers (7:00)
Follow me on Twitter @KevinSporkaHOHM