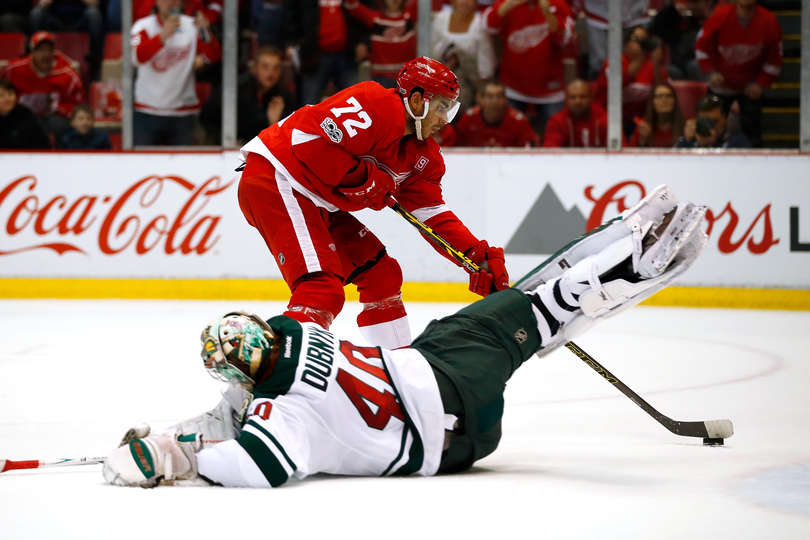 The Detroit Red Wings won 3-2, requiring 3-on-3 overtime during a Sunday matinee. Previously, Detroit lost their league-leading 12th overtime game against the Tampa Bay Lightning on Friday.
The day marked the 20th anniversary of the Red Wings-Avalanche brawl (3/26/97).
Minnesota struck first, as veteran forward Eric Staal wristed a shot past goalie Jimmy Howard. Zach Parise and Jonas Brodin assisted. Howard entered Sunday's game with an outstanding 1.91 goals-against average and .935 save-percentage, even better than Wild goalie Devan Dubnyk (granted, Howard had played 21 games due to injury, while Dubnyk had played 60), who has had a career year this season (2.17, .927).
With 18.5 seconds remaining in the first period, Frans Nielsen won an offensive zone faceoff to defenseman Niklas Kronwall who quickly passed to his blueline partner Mike Green for a goal.
Late in the second period, Wild defenseman Nate Prosser snapped a quick shot from the blueline that deflected off the stick of Dylan Larkin and past Howard.
55 seconds into the third, Henrik Zetterberg passed to Gustav Nyquist who, while falling, managed to push the puck to Tomas Tatar for the game-tying goal on the power play.
Near the midway mark of the period, it appeared that Detroit had taken the lead, but the call on the ice was no goal. Wings coach Jeff Blashill challenged the play, arguing that Justin Abdelkader did not interfere with Dubnyk. However, it was determined that there was indeed goalie interference.
In overtime, Howard successfully stopped a Wild 2-on-1 with only defenseman Robbie Russo back. When Nyquist arrived, he quickly launched the puck to a fresh-off-the-bench Andreas Athanasiou, who found himself in all alone on Dubnyk. Dubnyk dove toward the puck in an attempt to thwart the breakaway, but it was unsuccessful as the speedy winger deked around him for the goal.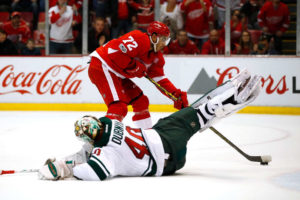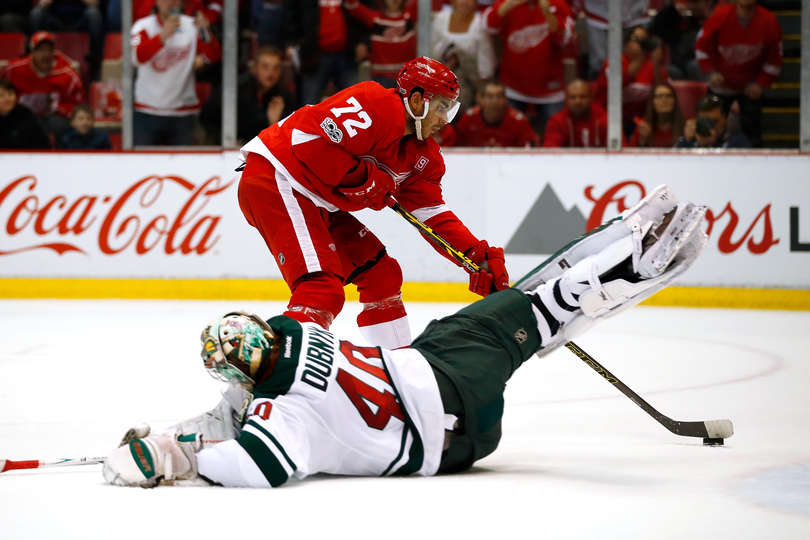 "Well, there's no question he's dangerous," said Blashill of Athanasiou's skill. "He's an excellent breakaway guy. He's fast and he's got unreal quick hands at that full speed. It's hard to defend. That's his best move for sure, that little move to the forehand, so it was great."

"I'm sure [Athanasiou] was surprised, because I was surprised when Dubnyk went down in the two-pad stack there, but you know, he made a slick play," said Howard. "I see that every single day in practice, how slick he is with the puck, especially on breakaways."
Detroit continues the rare three games in three days on Monday and Tuesday when they take on the Carolina Hurricanes both nights (7:00 PM ET, Fox Sports +).
Follow me on Twitter @KevinSporkaHOHM
Love Reading About Hockey?

Subscribe to keep up-to-date with the latest and most interesting hockey news!
| | |
| --- | --- |
| | We hate spam just as much as you |