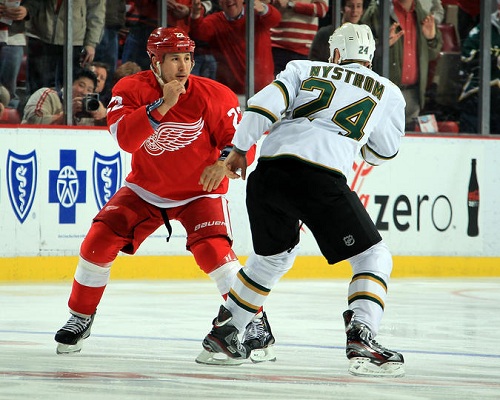 The Detroit Red Wings and the Dallas Stars did not have impressive records coming into Detroit's 6th game of the season. Haunted by the ghost of bad powerplays past, the Red Wings set out to change that.
1st Period: Mike Babcock started the game with the Grind Line of Dan Cleary, Justin Abdelkader, and Jordin Tootoo. Within 3 seconds of the opening faceoff, Tootoo and Eric Nystrom of the Dallas Stars had squared off at center ice for what appeared to be another in a long-line of NHL-wide staged fights.
No one can blame him, however, because of the mediocre start that Detroit has had so far this year. The fight woke up the hometown fans early.
With 4 minutes to go in the first period, Tootoo decided it was time to remind the Stars of his presence once more. Jordin dropped the gloves with Brenden Dillon, and the fight lasted about a minute or longer. Neither player showed any signs of tiring. Dillon threw a couple of really good uppercuts, but Tootoo came back with an onslaught of lower body jabs and a couple of powerful punches to the face. The fight ended in a draw, and the momentum was again ruined by more penalties. The Red Wings outhit the Stars 9-4 but were outshot 11-7. Detroit is the only team in the league to not have a 1st period goal.
Detroit were 22nd in the league in penalty minutes per game going into Tuesday night's game (17.2 PIMs/game). With a little help from Jordin Tootoo, the Wings recorded 18 penalty minutes just in the 1st period.
2nd Period: As the second period commenced, Valtteri Filppula had a prime scoring opportunity on the powerplay. Todd Bertuzzi drove hard to the net and chipped forward to Filppula who tried to snap it past Kari Lehtonen. Kari had an unbelievable save the night before where he reached behind him and somehow snatched the puck in his glove right before it crossed the goal line. Last night he robbed Filppula by reaching behind and pulling the puck from the goal line right when it was a hair away from being a goal.
At 13:14 of the second period, Loui Eriksson located a long rebound from a Howard pad save and wristed it into the net to give the Stars a one goal lead. Cody Eakin and Jaromir Jagr had the assists. 7 minutes later, Pavel Datsyuk steals the puck from behind Lehtonen and dishes Filppula a perfect pass, that Val capitalized on to tie the game. It was Filppula's first goal of the season.
Later in the period, Tootoo tried to initiate a third fight, before the referees came in to stop it.
Jamie Benn received a 4 minute double-minor at 16:19 after his stick hit Bertuzzi right under his eye. Bertuzzi left the bench, but came back not long after. Zetterberg was called for tripping not even a minute later, and the teams played 4-on-4 for 42 seconds, until Ray Whitney was also called for high-sticking.
Johan Franzen, Pavel Datsyuk, Damien Brunner, and Niklas Kronwall were sent out to try to kickstart the disappointing Detroit powerplay, or lack of one.
When Zetterberg's penalty ended, the Red Wings had a 5-on-3. Kronwall wound up and fired the puck three times on Lehtonen, all unsuccessfully. Kronwall and Zetterberg switch sides and Zetterberg fired it home (Patrick Eaves and Kronwall with assists) with 5 seconds remaining in the first Dallas penalty.
At the end of the second period the Red Wings led the shot total 20-18 (13-7 DET in 2nd). The penalty kill went 4-for-4 with great work from the pairings of Justin Abdelkader/Dan Cleary and Cory Emmerton/Drew Miller.
3rd Period: 6 minutes into the final period, Damien Brunner tipped in a Johan Franzen shot to give Detroit a 3-1 lead. While that goal was still being announced, Filppula, Datsyuk, and Bertuzzi came charging down the ice. Bertuzzi passed it to Datsyuk, and Datsyuk once again assisted on a goal by Filppula.
Val had another opportunity to score in the 3rd period, this time on a shorthanded breakaway, but he was denied by Lehtonen.
Stars coach Glen Gulutzan replaced Lehtonen with Richard Bachman who was just called up. The substitution came 7 minutes after the last goal.
The final score of the game was 4-1 Red Wings. Datsyuk's faceoff percentage was 72% (13 for 18). Overall Detroit had control of the faceoff circle, winning 36 of 60 draws. Shots were 22-22.
The three stars of the game were:
1. Valtteri Filppula (who was playing injured)
2. Pavel Datsyuk
3. Henrik Zetterberg
After the Game:
Jordin Tootoo: On his fights: "It's good old time hockey. The first fight was more to get a good start. I have a good memory of what happened last game. He [Dillon] was the one that asked me to go, so game on. When you're at the end of your shift and someone asks you to go, that's just a rookie move, and that's what he did. That's part of my DNA…bringing emotion to the game and having guys feed off of that."
He also added "I still had one more fight in me."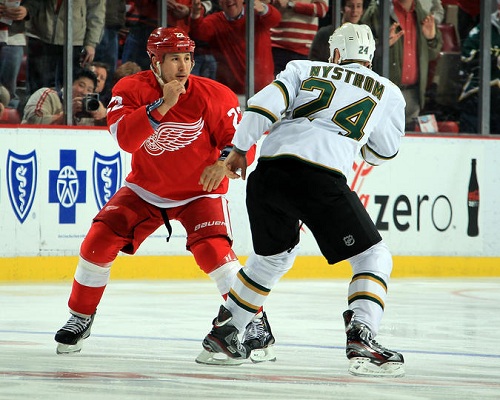 Valtteri Filppula: On Jordin Tootoo: "He plays hard, he hits hard, he fights and everybody can kind of take energy from that especially when he does it well, I think it gives our team a good feeling. It's fun to start playing after that. He's a really strong guy, gets the crowd going and I think it gets our team going and that's the important thing.
On the scoring his first goal of the season: "It definitely feels good to get the first one out of the way. It gets [frustrating] when you're losing games and you get those [scoring] chances, you wish you could help the team more and score when you have the opportunity. I think that's the most important thing. You want to win, but personally it sure was nice to score and get the first one out of the way, and hopefully more to come.
On playing on Datsyuk's line last night: It's definitely a lot of fun. I think he's one of the best players league and definitely can do wonders with the puck. Whenever he has it you got to be ready because you might be getting it. He's definitely a fun guy to play with. I also think it's been fun to play with 'Bert' too. He does a lot of work and is good with the puck as well.
Mike Babcock: On Filppula: "[Filppula]'s a huge talent for us and we need him to be a high end scorer for us. He hasn't been practicing. He's got a few bumps and bruises but he found a way to play today and really help our team out.
On his teams penalty killing: I thought our penalty kill was the best we've been pressure-wise since probably '09. I thought it was a really good job.
On the play of Damien Brunner: He looks like a hockey player to me. He shoots and he goes to the net. He knows how to play. He's getting better defensively and obviously we've found ourselves a pretty good player. We feel really fortunate that we saw him at the World Championships and were able to convince him to come here.
Love Reading About Hockey?

Subscribe to keep up-to-date with the latest and most interesting hockey news!
| | |
| --- | --- |
| | We hate spam just as much as you |