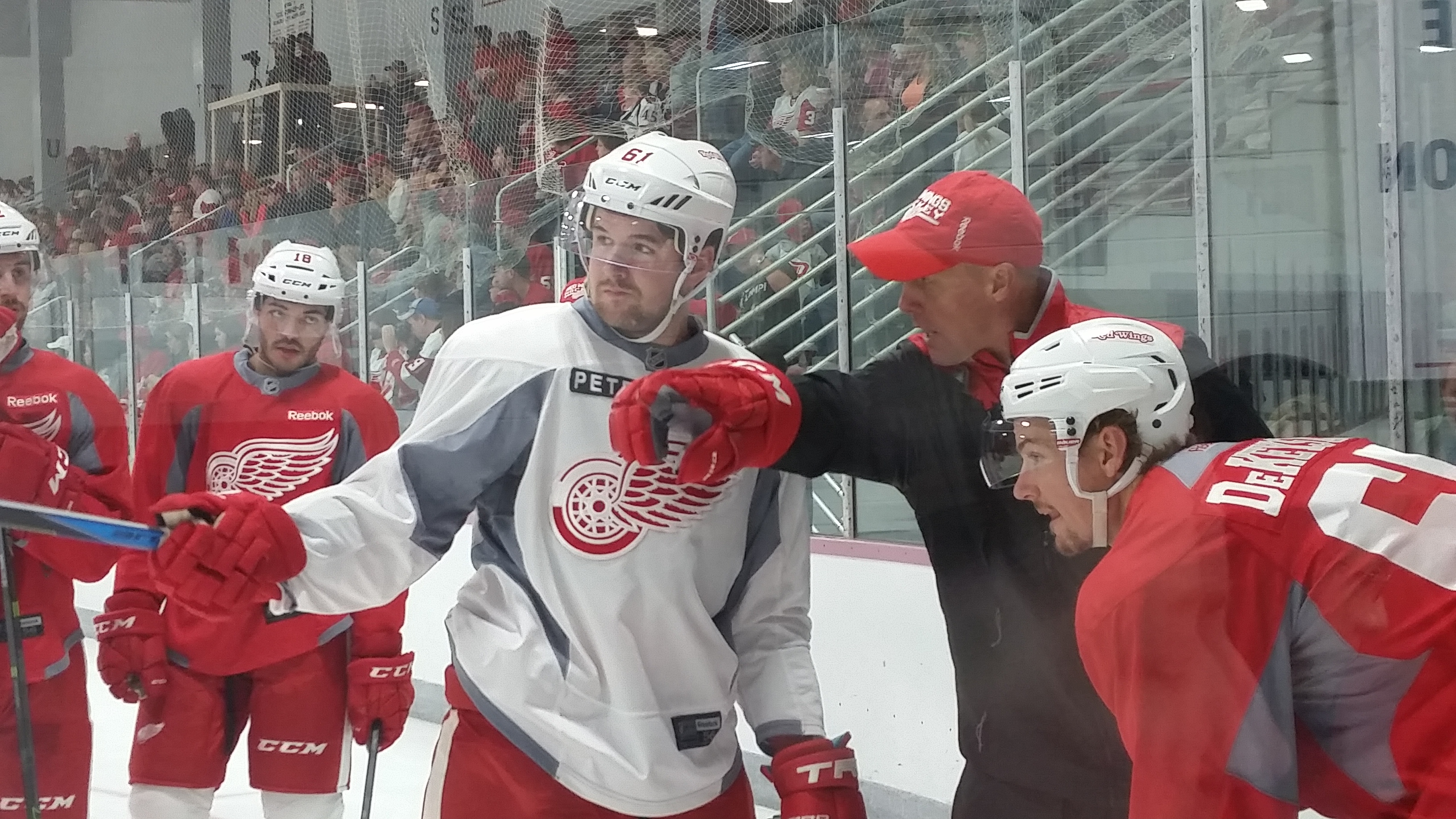 "That D spot won't be given to anybody. I want to see who grabs it" – Jeff Blashill

—
It's decision-making time for the Detroit Red Wings management. A number of defensive prospects cannot be moved freely between the NHL and the AHL anymore, meaning there is currently a fight for open spots.
With Niklas Kronwall's status uncertain for opening night there may be an extra spot open on the blueline. Xavier Ouellet, Ryan Sproul and Nick Jensen are the trio battling.
For opening night, the team will dress Danny DeKeyser, Mike Green, Jonathan Ericsson, Brendan Smith, Alexey Marchenko, and one additional player.
Nick Jensen
NHL experience – 0 Games
Age – 26
Shoots – Right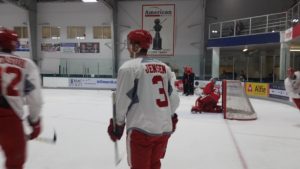 Jensen is the oldest at 26-years, being drafted in 2009 (5th round). He has not had the opportunity to experience an NHL regular season at this point, although he has played many pre-season games. Jensen has spent the last three seasons with the Grand Rapids Griffins, playing in 195 regular-season games and scoring 55 points. He has a right-handed shot and has proved reliable defensively in the American League.
"I want to show that I can skate and move the puck up to the forwards and create offense from the D-zone, not necessarily just scoring and everything, but I think that's the biggest thing I want to showcase," said Jensen during Training Camp. "I just always want to work on making plays [while] keeping my eyes up and knowing every option that's on the ice, and you know, making all the plays like the Mike Greens and Kronwalls do."
"Just like any player, Jenner's got to be consistent day in and day out, and he is a pretty consistent guy," said Griffins coach Todd Nelson during camp. "He skates so well. One of the things that Nick can work on, and he knows, is just making more plays under pressure. But at the AHL level, he's able to sometimes dominate a game."
Nick knows that dominating in the AHL does not necessarily translate to future success in the NHL.
"Confidence is a huge thing, I believe going from one level to the other," said Jensen. "Obviously the level of play in the AHL is not quite the same as the NHL, but you can take that confidence, and you really need it to go to the next level. So I think that's the biggest thing, taking the successes from the AHL and bringing it up to the NHL. Probably not going to be able to make the same plays, some of the plays might be a little riskier in the NHL, so you got to be careful and make more simple plays. And eventually you build up your confidence at that level, and that's how the good guys in the NHL become great players."
He also believes that players pushing each other for spots is what makes the NHL the most competitive hockey league in the world.
"The reason the NHL is so good is because there's competition for spots, and there's lots of guys that are here that could play in the NHL that might not. And that's the reason the NHL's so good is because it's the absolutely top-tier guys, so I think having that competition, like with Ryan and Xavier is a good thing for the league and it forces me to be my best, and I'm sure for them it forces them to be their best with the competition that I give them as well.
Ryan Sproul
NHL experience – 1 Game (2013-14)
Age – 23
Shoots – Right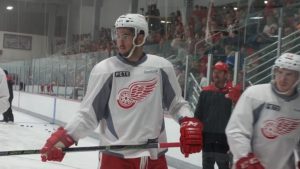 Sproul, like Jensen, is a right-handed shot. The Red Wings had a deficiency of right-handed defensemen in the depth chart for quite some time, so it is not an ideal situation that one may need to be waived.
Throughout training camp and the pre-season, Ryan's goal after being re-signed last month, is to make an impression big enough to earn a spot on the opening night's roster.
Whereas Jensen is very physical and defensively reliable, Sproul is an offensive defensemen whose defensive reliability in past seasons has been the subject of criticism. What he showed offensively was canceled out with sub-par blueline play. Last season he showed improvements in those areas, while also having his most productive AHL season to date (75 games, 35 points).
"They're looking for guys to step up here in camp, so that's my goal, to step up and make it hard for them to send me down and put me on waivers in the first place," said Sproul a week ago during Red Wings training camp.
He wants to showcase his offensive up-side during the pre-season.
"I'll definitely be shooting the puck in the preseason a lot, and using [my right-handed shot] to my advantage," he said.
Ryan said he models his game after Mike Green, the most prominent right-handed defenseman in Detroit.
On Day 3 of Training Camp, coach Blashill had said of Sproul:
"I think the first thing you look at with players is make sure they extenuate their positives. His best attributes are his ability to skate and get up the ice and his ability to shoot the puck. So, if that's your best attribute you got to produce offense. You have to produce offense 5-on-5 and you got to produce offense on the power play. So when he gets those opportunities in the pre-season, he's going to have to be dynamic. And he's been that at different times for me when I've coached him and I know he's been that at times when I've watched him in Grand Rapids. He'll have to do that for us in pre-season. And you want to make sure you get better at the things you need to work on. I think over time he's gotten better at his defensive play. Probably the number one thing is just him getting back as hard as he can for pucks so we can be out of our zone and we don't have to defend."
He has since played in two pre-season games. In Sunday's game against the Chicago Blackhawks, Sproul registered assists on consecutive goals, one by Dylan Larkin at even strength and one by Anthony Mantha on the power play. He also attempted five shots, with two missing the net.
"Well I think he's amongst a whole number of guys that are out to prove themselves," said Blashill. "We've talked lots about it, we've got a D spot open, and I'm waiting for somebody to grab that D spot. That D spot won't be given to anybody. I want to see who grabs it. There's lots of guys in that mix, and he's one of them."
Xavier Ouellet
NHL experience – 30 Games (over three seasons)
Age – 23
Shoots – Left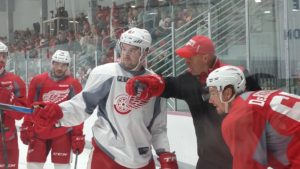 Of the three, Ouellet clearly has the most experience, earning call-ups in parts of three seasons in Detroit. In 2013-14, he got his first taste of NHL action, playing in four regular-season games and one post-season game. The next season, he spent 21 games with the Red Wings, scoring two goals and one assist. He would return to Grand Rapids to play in all 16 playoff games, with the Griffins eventually losing to the Utica Comets in six games.
Last season he played only five games in Detroit, while having his most productive season with the Griffins, scoring 29 points in 61 games.
He may seem like the front-runner for the spot, but nothing is guaranteed in the NHL unless players consistently prove themselves.

"I'm really good friends with Ryan and Xavier," said Jensen. "They're really great guys. They know, as soon as it gets on the ice it's work time. It's time to bring your hard hat. They do the same thing, but off the ice we're really good friends. If they end up getting a spot, I'm going to congratulate them."
—
With four exhibition games remaining, the spot is still up for grabs.
"The exhibition games are going to be huge for me," said Jensen. "I'm obviously going through waivers, so if they send me down, I'll be open for every team to look at. So, for me personally it's going to be huge to give my best case possible to, not only Detroit, but every team in the league, that I feel like I can play in the NHL. I got to make it hard on the Detroit staff here to…I want to be on Detroit, but if they don't want me and I go down, I want to get picked up by another team as well.
From this point forward, it is imperative on each player to prove that they belong with the big club. If one is sent down with the intention of playing for Grand Rapids, then each player may potentially be claimed by the other 29 teams in the league.
Follow me on Twitter @KevinSporkaHOHM
Love Reading About Hockey?

Subscribe to keep up-to-date with the latest and most interesting hockey news!
| | |
| --- | --- |
| | We hate spam just as much as you |