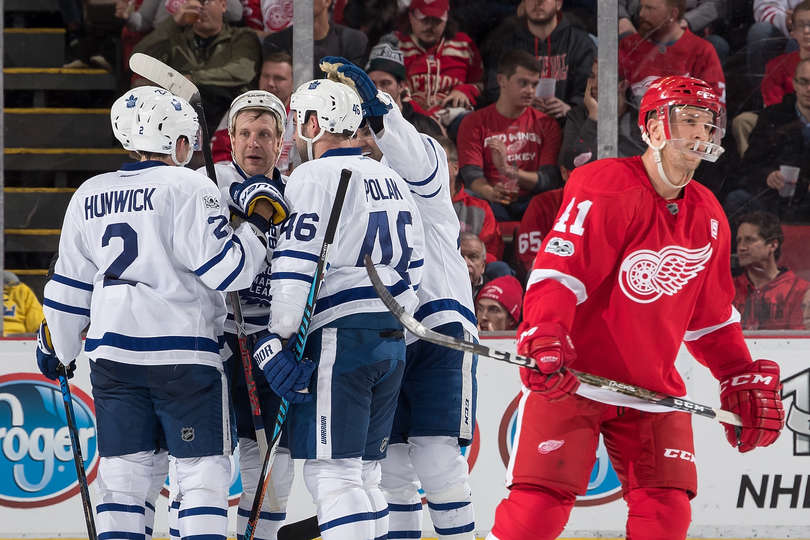 The Red Wings fell to the Toronto Maple Leafs in the second meeting of the Original Six rivals by a score of 4-0. The first matchup was the Centennial Classic overtime loss, which took part at BMO Field in Toronto on New Year's Day.
Given the continued logjam of the Eastern Conference, every point matters, especially divisional points. Detroit sits in a three-way tie for last place in the Atlantic Division with both Buffalo and Tampa Bay, while Florida has only a single point more than the trio. If that isn't strange enough, there is currently a six-way tie (seven if you include Florida's one point difference) in the wild card race. Both Philadelphia and Boston are fighting for the second wild card, while everyone else chases.
The Wings' dismal home record of 10-11-4 is the worst in the Eastern Conference, while only Colorado has fewer home wins (5). The team hasn't fared much better on the road, holding a 10-9-5 record, but the friendly and familiar confines of Joe Louis Arena, in its farewell tour, have not seemed to give a boost to this struggling squad.
Recap
Detroit came out flat to start the first period, having played the previous night in Boston. The last three games had ended in overtime losses, preceded by two wins, which gave the Wings a six-game point streak. However, this would all come to an end on Wednesday.
All-Star rookie Auston Matthews scored the game's first goal early on, as he stole the puck from defenseman Xavier Ouellet, before backhanding it over the shoulder of Petr Mrazek.
"I think we played a really solid game," said Matthews. "These guys are playing back-to-back, and one of the key things that I think this team is made of is speed, so we definitely want to use that to our full advantage."
Late in the first, Detroit's Anthony Mantha nearly beat Frederik Andersen with a rising wrist shot, but the shot rang off the pipe.
With 4:25 remaining in the second, defenseman Roman Polak, not known for his offense, made it 2-0. His shot deflected past Mrazek off the leg of Jonathan Ericsson. Playing in his 600th game, it marked his 22nd career goal.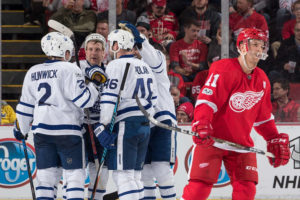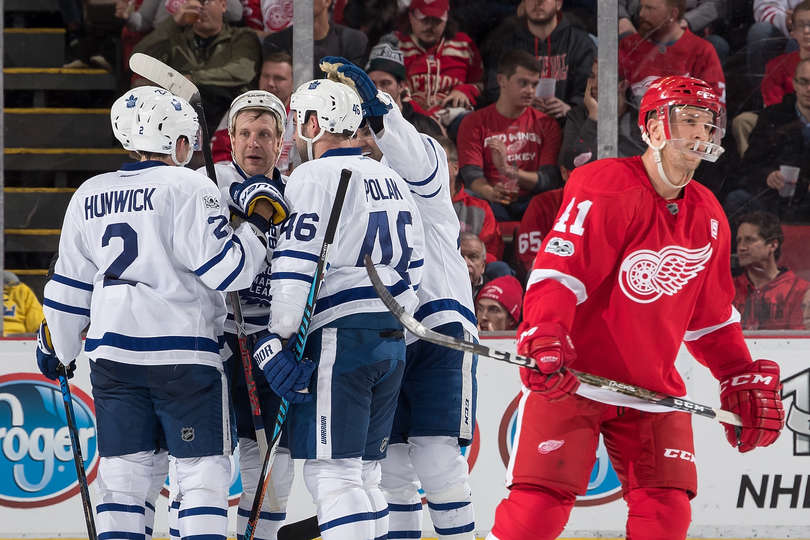 James van Riemsdyk widened the lead to three, as he scored in tight, banking a shot off Mrazek.
Rookie Nikita Soshnikov made it 4-0 as he raced down the wing and wristed a shot far-side on the Red Wings netminder.
Mrazek now sports a 3.16 GAA (61st in NHL) and .894 (65th) in 21 games.
The two teams have two more matchups this season.
"Yeah, they're big," said Matthews of the importance of divisional games. "These are more than two-point games for us. We just want to continue to move forward and stay in this playoff position and continue to get better as a team each day."
Dylan Larkin remains absent from the lineup due to injury.
"I can't answer it 100%, but I'm expecting him to be back after break," noted Jeff Blashill after Wednesday's game.
As for goalie Jimmy Howard, he stressed that he is "progressing," but would not give a time estimation for a return.
A Look Ahead
All teams will break for the All-Star weekend (Fri-Mon) before resuming on Tuesday.
Tuesday vs. New Jersey (7:30 PM ET)
Friday vs. New York Islanders (7:30)
Saturday @ Nashville (8:00)
Follow me on Twitter @KevinSporkaHOHM