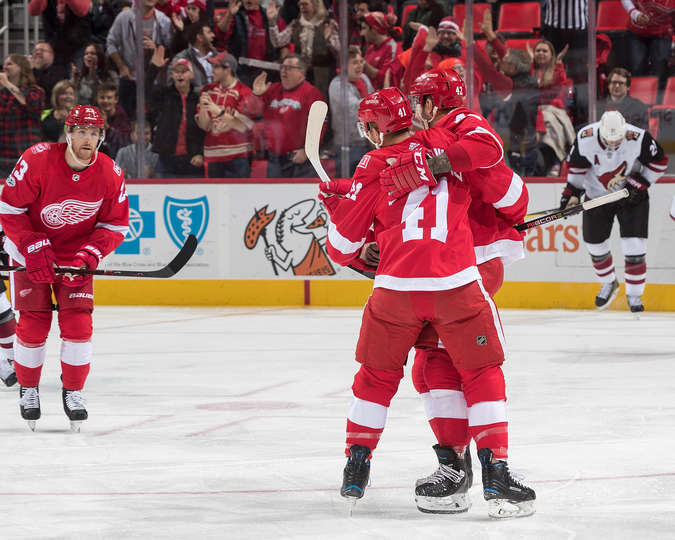 The trio of Dylan Larkin, Anthony Mantha, and Andreas Athanasiou was the difference maker in Tuesday's Halloween thriller. Athanasiou has only played three games, but he has picked up right where he left off last season.
That line has lightning fast speed, power, and a lot of skill.
If they continue to show impressive chemistry, this will be a dangerous line against any opponent.
---
The Wings outshot the Yotes by a total of 18-7 in the opening period. Of those 18, two were goals for Detroit. First, Gustav Nyquist wristed one past goalie Scott Wedgewood from the high slot, only 1:29 into the period.
Then fourth-line forward Luke Glendening netted a nice wrister from the faceoff dot 1:08 later.
"Yeah it's definitely nice to jump out on top like that," said goalie Jimmy Howard. "You know, it's tough for teams in this league to play from behind.
Although the shot total would seem to imply that the Red Wings dominated the period, that wasn't necessarily the case, as they seemed to sit back more and more as the period progressed.
This sit-back style continued into the second period, where the Yotes came out swinging. Defenseman Jason Demers scored a slap shot, which appeared to bounce off the ice as it knuckle-balled past Howard.
However, shortly after, Mantha restored the two-goal lead following an outstanding pass from Athanasiou which traveled through the skates of an Arizona defender. With Wedgewood out of position after the pass, it was an easy goal for the power forward. Larkin also assisted on the play.
"It was huge," said Larkin of the goal. "They were coming on in the second, and they played last night. And we knew a big start would be huge for us. But that goal definitely set them back a little bit. I thought it was a little bit of a sloppy second period. Not much going on either way, and to get that goal was huge."
With 57 seconds left in the 2nd, Larkin made it 4-1 after his attempted pass was redirected into the net by Yotes defenseman Luke Schenn. It was a fortunate bounce for the center, but it was nonetheless the result of strong, aggressive play.
Following a great save by Howard two minutes into the 3rd, Nick Cousins scored on the rebound as he was out of position on the play. Fourth-liner Scott Wilson nearly made a kick save in his defense, but the puck narrowly avoided his leg.
Clayton Keller made things more interesting as he scored with 3:17 to play. However, Darren Helm secured the 5-3 win with an empty net goal.
The Wings move to 6-6-3 (13 points), one point behind the Toronto Maple Leafs in the Atlantic Division.
Coming up next:
Detroit will leave for a four-game Western Canada road trip beginning Thursday in Ottawa (7:30 ET). Sunday and Monday they face Edmonton (4:00) and Vancouver (10:00) respectively, while Calgary is Thursday (9:00).
Follow me on Twitter @KevinSporkaHOHM
Love Reading About Hockey?

Subscribe to keep up-to-date with the latest and most interesting hockey news!
| | |
| --- | --- |
| | We hate spam just as much as you |