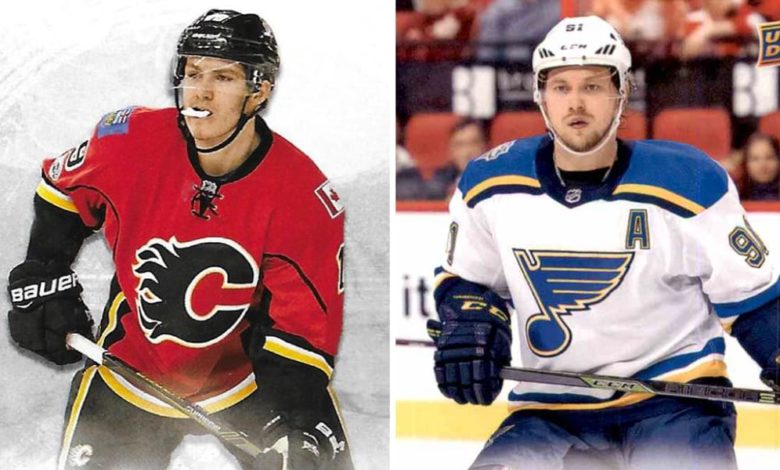 You may or may not have heard the buzz over the years in Calgary with such names as Johnny Gaudreau and Sean Monahan being thrown to the trade market. The team has had ups and downs over the years both making and missing the playoffs and also not making deep enough runs to carry any weight to prove that the core group of players have what it takes to make the Flames a true contender any time soon.
Sportsnet 650's Shane O'Brien has tossed Matthew Tkachuk's name into the rumor mill after appearing on SiriusXM NHL Network Radio's "The Power Play" with Steve Kouleas on Monday. O'Brien said he's heard Tkachuk wants out of Calgary, preferring to return to his hometown of St. Louis. He speculated it could be a swap for Blues winger Vladimir Tarasenko, saying the latter's time in St. Louis is "clearly done."
Taking over Twitter, @ShaneOBrien55 says he's heard Matthew Tkachuk wants out of Calgary. @TSNJR @TSNSimmer

……..and go. #Sens pic.twitter.com/45nohbtUp3

— TSN 1200 (@TSN1200) June 22, 2021
Well that's certainly a big swap for both teams of star talented players if there's any truth to this.
The two wingers carry an almost identical cap hit. Tkachuk's is $7 million for 2021-22 while the 29-year-old Tarasenko's is $7.5 million through 2022-23. The latter also has a full no-trade clause.
This season Tkachuk scored 16 goals and 43 points in 56 games. His best season came in 2018-19 where he notched 34 tallies and 77 points in 80 games. The kid is a gamer with a high ceiling, so he will be worth a lot.
However the Flames aren't just going to swap Tkachuk for a winger six years older with three recent shoulder surgeries. And then there's Tarasenko who easily could be reluctant to accept a trade to a struggling Calgary team trying to find its way following a disappointing season once again.
There's of course a hefty list of teams that Tkachuk could become a good fit for if he really does want out and one of those are the New York Rangers.
Matthew Tkachuk only knows how to play the game one way as many see it, but apparently some of his teammates haven't been thrilled with his nightly antics. Elliotte Friedman on a 31 Thoughts Podcast got into what happened after the Jake Muzzin puck-flip incident which caused a major scrum.
"I think Tkachuk was really frustrated by what happened. That whole puck flipping thing led to a meeting that I think just sent them sideways," Friedman said. "I think Tkachuk feels that some of the players didn't want him to create something every game and I think he's confused by that. I think he understands only how to play the game a certain way and I think he's questioning it now."
The Rangers obviously need a gritty and in-your-face player like Tkachuk who can also score. The current issue is he's a top six winger and whether you play him on the left or right wing he's bumping out either LW Alexis Lafrenière, RW Pavel Buchnevich, or RW Kaapo Kakko.
Also, what do you think it would take to get Tkachuk? Are you trading Kaapo Kakko and more to get him? That still means a log jam on left wing. Someone, either Lafrenière or Tkachuk will have to move to the right in order for this to work.
Guess only time will tell if this rumor is of anything to speculate over because from what we know the Calgary Flames don't have to trade Tkachuck if it's not a pressing matter.