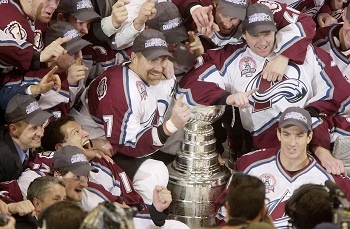 The old band is getting back together. More of the original Colorado Avalanche lineup has reassembled with Adam Foote and Alex Tanguay being brought in. Foote will be a defensive consultant while Tanguay was acquired in a trade with the Calgary Flames. Joining Joe Sakic and Patrick Roy, Foote and Tanguay push the number of 1996 and 2001 Stanley Cup team members to three and four. Accomplished together in past victories, they now will all help and share in the success or failure moving forward.
The Avs also brought more tenured minor league experience up to the NHL with the hiring of Andre Tourigny as an assistant coach. Tourigny has coached the Rouyn-Noranda Huskies of the Quebec Major Junior Hockey League for a decade. He was also a rival coach of Patrick Roy during his time as head coach of the Quebec Remparts in major junior league. In the Tanguay trade the Avalanche sent David Jones and Shane O'Brien to Calgary and also received veteran defenseman Cory Sarich.
Losing Jones wasn't a surprise as his performance and contract haven't matched up, the same problem Paul Stastny suffers from: good hockey players that are just overpaid for what they do. O'Brien was a good setup man and though his time was short with Colorado, I will miss him on the ice for the home team. In this case, the Avalanche have clearly opted for veteran experience at the expense of some of the younger building blocks. A breath of fresh air for all involved, surely.
The Avs may not be finished moving yet, Stastny could be traded like Jones or be bought out like Vincent Lecavalier. Jones was a likely target and Stastny would be next.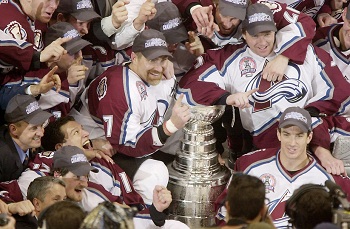 The influx of returning faces that will be tasked with turning the Avalanche around is slowly taking shape and yet their biggest moment is just ahead of them on Sunday when the NHL Draft is held. Sakic and Roy hold the golden ticket for this Sunday yet have recently announced they won't draft the consensus choice of defenseman Seth Jones. Broadcasting doubt in needing a highly touted defenseman on a defensively challenged team, they may very likely take Nathan MacKinnon. MacKinnon would be a center on a team with more than enough depth at that position.
The opening picks of the NHL Draft will be as close to the first round of the NFL Draft that hockey can get. It will be interesting to see what the Avs ultimately do and if a scramble to trade up happens based on the Avs first choice. All of it lies in the hands of past championship players and their largely untested core of young bloods.