Featured
Dylan Sadowy Scores Hat Trick in Red Wings Prospect Scrimmage Friday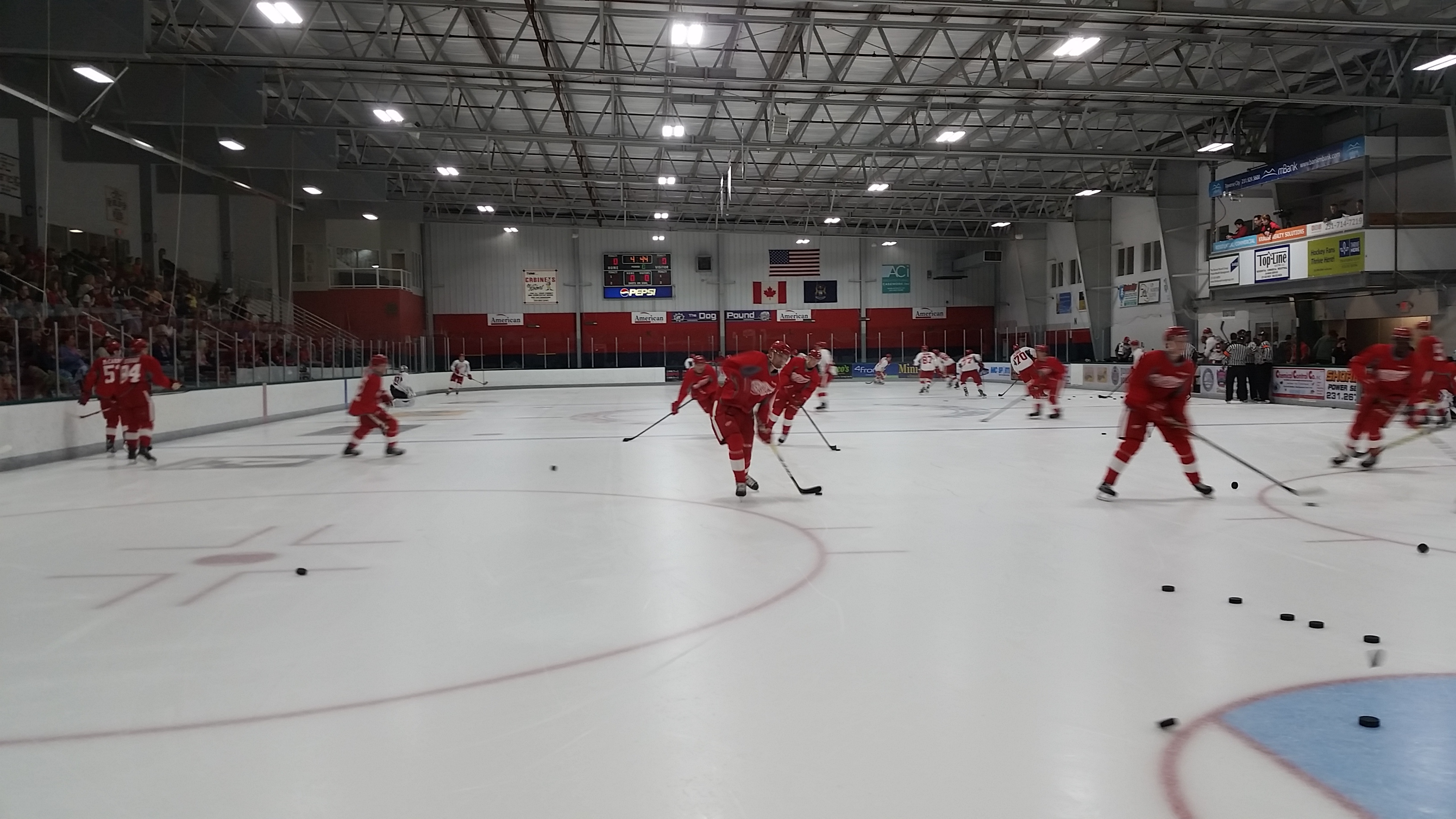 Day 3 of the Detroit Red Wings' Prospect Development Camp Friday included the inter-squad scrimmage game.
The group of prospects was placed into two sub-groups, Team Lindsay and Team Howe. Team Lindsay included first round draft pick (2016) Dennis Cholowski, Joe Hicketts and Dylan Sadowy. Team Howe included Evgeny Svechnikov, Tyler Bertuzzi and Villi Saarijarvi.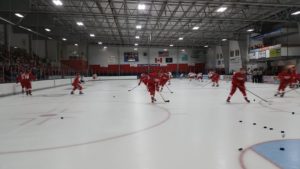 The game was divided into 5-on-5, 4-on-4 and 3-on-3 sections for a total of two 25 minute periods.
Team Lindsay scored two in the first half and four in the second half to win the game 6-3.
The night was highlighted by the pace of the play, the physicality and the competitiveness of all the players.
Grand Rapids Griffins coach Todd Nelson was impressed with the performances he saw on the night.
"I thought it was really good," he said after the scrimmage. "I thought especially off the start, the pace was extremely high. We got to see a lot of players in different situations, so it was fun to watch."
1st half:
There was no scoring until the 10-minute 3-on-3, when Team Lindsay forward Chase Pearson one-timed a slap shot from the high slot courtesy of Dennis Cholowski, high blocker-side on goalie Matej Machovsky (6:15) 1-0
Team Lindsay struck again when Christoffer Ehn led a 2-on-1 the length of the ice. He dished the puck to gritty forward Dylan Sadowy, who quickly potted the goal. (9:18) 2-0
Before the first half concluded, Team Howe's free agent forward Mike Borkowski one-timed a James de Haas pass past goalie Chase Perry. Perry was screened by a battle between Michigan-native Alex Globke and defenseman Joe Hicketts. 2-1
Observations: Dylan Sadowy was the best forward in the first half. He was throwing his body at shots, hitting and contributing offensively. He was everywhere out there.
"It was a good time, there's a lot of big boys, so a lot of body contact there (laughs)," said Sadowy, who loves to showcase his all-around play, including grit, shot-blocking, hitting, and offense.
Joe Hicketts was probably the best overall player on the ice. He threw a number of very big hits, notably driving defenseman Dan Renouf into the net and throwing a lifting hip check on defenseman Alfons Malmstrom (2016 draft pick) which sent the Swedish blueliner flying into the boards.
"That's the way Joe plays," said Nelson. "He's not a really big guy, but he plays bigger than how tall he is. That's what he's done here in the past and that's what's earned him a contract."
Defenseman Patrick Holway showed much improvement from last summer's camp. He showed a lot more physicality and boards play, great breakout passes and solid defensive play.
2nd half:
Perry and Machovsky were substituted for Joren van Pottelberghe and Filip Larsson (Team Howe).
As was the case in the first half, scoring did not begin until the 3-on-3. Team Lindsay scored first again. Luke Kirwan and Zach Nastasiuk forced a giveaway by Tyler Bertuzzi in Team Lindsay's defensive zone and the pair was off to the races. Nastasiuk took the initial shot and Kirwan finished the play. 3-1
Seconds later, Team Howe restored the one-goal deficit after a Renouf slap shot deflected off the boards behind von Pottelberge, of which Globke scored on the rebound. 3-2
Shortly after, Ehn carried the puck from blueline to blueline to earn himself a breakaway goal. The backhand-forehand deke confused the goalie Larsson. 4-2
Sadowy would score his second goal for Team Lindsay. He skated into the offensive zone all alone, crossed over the backchecking Griffen Molino and scored far side on Larsson. 5-2
Bertuzzi would get Team Howe back on the scoresheet with an impressive move, knocking the stick out of the hands of the backchecking Sadowy and throwing a forehand-backhand maneuver on JVP. 5-3
With an empty net, Sadowy would earn the hat trick, with an assist from Givani Smith (2016 2nd rounder). 6-3
"He had a good night," said Nelson of Sadowy. "Besides the goals too, I liked the way that he played. He plays hard. He's quicker than I thought he'd be. He's got good speed, and then he had good finish around the net.
Observations: Dennis Cholowski showed great breakout speed and offensive tendencies, leading a rush, but not in a way as to lead to a turnover.
"It was a very fast game," said Cholowski. "Everybody's a great player and passes were hard and on the tape, and I enjoyed every moment.
Von Pottelberghe had a few really impressive stops, including a low Svechnikov backhand which he stopped with a quick glove hand and a sequence in which he saved two quick shots with his left pad stretched out (including a rebound attempt)
Shootout:
Here are the results in word form.
1st shot:
GOAL: Dennis Cholowski, commits right and shifts left at the last second to score on Larsson.
SAVE: Evgeny Svechnikov tried a reaching backhand shot, but ran out of room and didn't get a good shot off on von Pottelberghe. Left pad save.
2nd shot:
SAVE: Givani Smith tried to pull the puck to his backhand but lost control at the last second.
MISS: Tyler Bertuzzi attempted to score five-hole on the backhand, but JVP saved it easily.
3rd shot:
MISS: Mattias Elfstrom lifted a rising backhand over the net.
GOAL: Villi Saarijarvi scores on a nice wrist shot glove-side.
4th shot:
MISS: Christoffer Ehn came down the left side, faked a shot and backhanded the puck past the net.
SAVE: Dan Renouf's wrist shot saved.
5th shot:
MISS: Chase Pearson's wrist shot was aimed blocker-side but went wide.
GOAL: Mike Borkowski fakes a shot and scored blocker-side.
Team Howe wins the shootout 3-1.
Follow me on Twitter @KevinSporkaHOHM