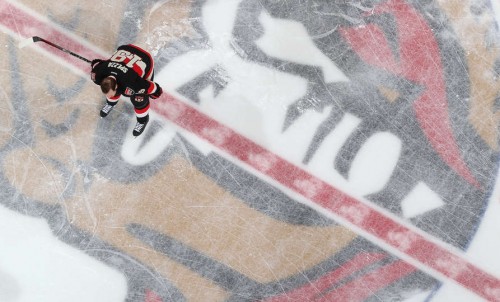 CBC's Elliote Friedman called into Ottawa's TSN 1200 Wednesday morning and said, he too, believes Jason Spezza is on his way out.
"Elliote, you're always pretty plugged in to the situation here in Ottawa as well," TSN's J.R. Rodenburg began. "What's the sense you get? Do you think that Jason Spezza, when it's all said and done, will be on the move between now and the draft?"
"I do," Friedman replied. "But don't forget that he's got a lot of say." True statement. Spezza has a no-trade clause where he's dictated a list of ten teams he cannot be traded to. That leaves 20 options for GM Bryan Murray, but they would still have to work something out.
For Friedman, Spezza's situation in Ottawa has gone to a place where there would be too many question marks distracting the Senators if he were to play out the remainder of his contract.
"I think [they've] almost reached a point there where it might be best for both him and the team to take a look at what else is out there," he said. "I think that it's a bad idea in a Canadian market to have the distraction."
"If you're not going to sign him, you don't want that question being asked 82 times a year in every building you go to."
Given that Ottawa's front office and Spezza himself have given non-nonchalant answers in terms of the current captain's future as a member of the Senators, fans too would have peace of mind if that lack of confident cohesion was not present as this team continues on its quest for a Stanley Cup.
The good news? Friedman says he thinks the market will be good for both sides, citing near-future cup contenders eliminated in the first playoff round as solid potential destinations.
"I think there's going to be a lot of interest," he said. " You look at St. Louis losing in the first round … I think Jason Spezza would be an excellent fit there." Could Spezza's reunion with former teammate Mike Fisher be a possibility? Friedman says a Nashville Predators team starving for offence could be another good fit for the 30-year-old.
Spezza will want to go to a team he believes has an immediate contender status. St. Louis fits that mould and would be back in the playoffs next season with a vengeance if they added Spezza.
That would be good for Jason and folks in Missouri, but let's not forget what the focus should be. And as the off-season creeps up, fans will begin to see if Senators management knows what that is.
The rebuild clock is ticking…