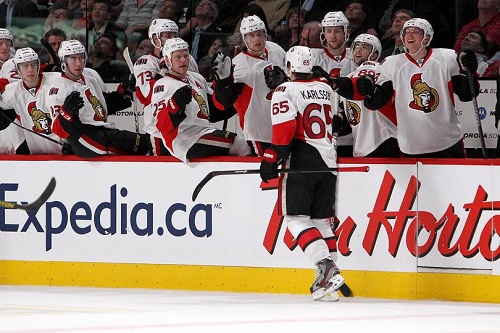 Senators coach Paul McLean told the media at the beginning of camp Wednesday that Erik Karlsson was being considered for team captain.
"The answer to that would be he was but he's not now," McLean said. "At the time when I started to consider what would be, he was certainly in the group of players we would give consideration to. At this point we feel it's a little too early for that."
Karlsson was asked whether or not he wanted the captaincy to be resolved.
"I don't think it's an issue," the 23-year-old said. " I don't think it's a responsibility that's just going to land on one guy. As a group we're just going to help share that load."
So, will there be a decision made soon? McLean said the coaching staff wants to take their time with it but according to the Ottawa Sun, the team's 8th captain could be selected by as early as next week.
The Jack Adams award-winner also commented on the team's health. And he's set the bar high.
"We're looking forward to it to see 'How good are we?'" he said. "We did a lot of growing as a team last year with the injuries and what we went through, but now we have everybody back that was injured last year."
"Now we can find out. We might think we're good but now we have an opportunity to prove it and see if we are."
One guy we haven't heard very much from is forward Clarke MacArthur. He also spoke Wednesday.
"We moved in last week and I was able to skate with the team for the whole week and get to know everyone," he said. "I'm all settled in and feeling good."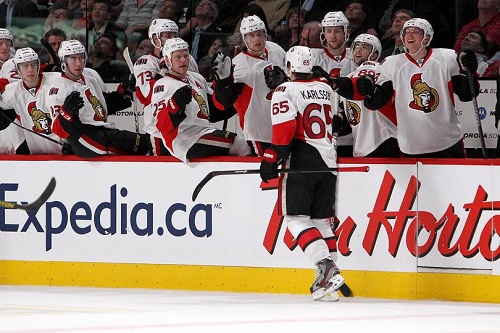 MacAthur did the thing that not many players will ever do this past summer; go from one battle-of-Ontario rival to the other.
In fact, he was at Dion Phaneuf's wedding when he learned of his acquisition by the Sens.
"Yeah, they weren't too happy with me at the time," he said.
The Leafs gave up a three-goal lead in a span of 11 minutes in last season's game seven eastern conference quarter-final meltdown, a collapse MacArthur says he's learned from.
"We stopped playing with 10 minutes left in that game and your biggest nightmares come true," he said. "It was a hard thing to handle and, you know, a good learning experience but a painful one too."
It's looking like MacArthur will be playing on the Sens' second line along with Kyle Turris and Cory Conacher.
As for Milan Michalek, skeptics of his bad knee have been, at least for now, hushed. He relieved some fan anxiety in a media scrum Monday.
"I'm ready — 100 per cent and excited to go," he said.
The non-traditional blood injection treatment he received from a specialist in Germany was a success, according to the winger.
He will play on the first line centred by Jason Spezza and Bobby Ryan on the opposite wing.