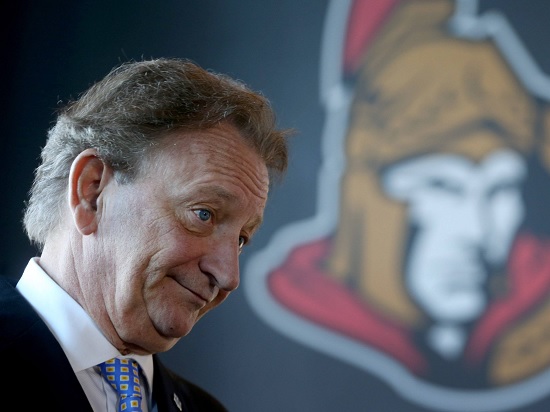 Ottawa Senators owner Eugene Melnyk has filed a defamation lawsuit against an Ottawa Sun columnist alleging that stories published by the tabloid in June suggested Melnyk was dishonest, was trying to divert money to his own charity for his own benefit, and had been "gouging" the Ottawa Senators Foundation by charging exorbitant rent.
In a statement of claim filed Sept. 4 in Ontario Superior Court in Toronto, Melnyk alleges that Ottawa Sun columnist Rick Gibbons' articles about Melnyk's dealings with the foundation had damaged his reputation. The Sens owner is seeking at least $500,000 in damages.
Eugene Melnyk's confidence also appears to be sky-high as his club enters a new era.
"I truly believe that we are a Stanley Cup winner within four years," the Senators owner said, according to the Financial Post's Joe O'Connor. "It can happen any time, but within four years."
The club selected six players – including blue-chip prospects Tim Stuetzle and Jake Sanderson – in the first two rounds of the 2020 draft, and they'll add to a roster that already includes youngsters Brady Tkachuk and Thomas Chabot.
Ottawa also secured its future netminder, bringing in 26-year-old Matt Murray on a four-year, $25-million pact.
"I can assure you that even the Ottawa Senators, who don't have a great record of bringing fans in over the past few years, will have a sellout crowd," said Melnyk.
The Senators ranked dead last in attendance in 2019-20, averaging just 12,618 fans per game, according to ESPN.
The league is tentatively targeting a Jan. 1st 2021 start date for the 2020-21 Season, and Melnyk believes there could be fans in the building by February.