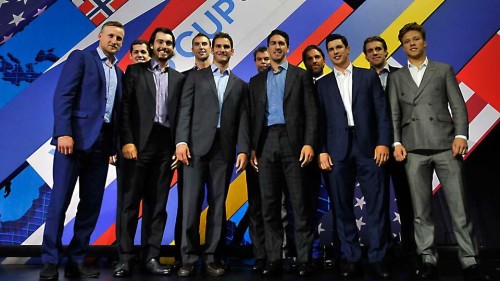 On September 9th 2015 more details for the 2016 Hockey World Cup hit the public making official confirmation of what hockey fans can expect to see next year leading into the 2016-17 NHL season.
The NHL and the NHL Players' Association will feature six national teams and two All-Star squads that face-off in Toronto through September 2016. The eight teams will be of course divided into two groups of four, with each team playing three round-robin games within their group. The top two finishers from each group will advance to a single-game semifinal where the first-place teams in each group will face the second-place teams from the others. This is a similar formatting that both the Olympics and Worlds use to determine elimination round matchups. However the only catch will be that the final will be a best of three series.
Group A
Team Canada
Team Czech Republic
Team Europe
Team USA
Group B
Team Finland
Team North America
Team Russia
Team Sweden
Team North America
The management duties for what has been referred to as the Young Stars will be shared by Edmonton Oilers President/GM Peter Chiarelli and Chicago Blackhawks Vice President/GM Stan Bowman. Chiarelli, who is Canadian, and Bowman, a Canadian-born American citizen, were selected jointly by NHL and NHLPA. Chiarelli was part of the gold-medal winning Canadian side at both the 2010 and 2014 Olympic Games. Bowman has guided the Hawks to three Stanley Cup championships in the past six years.The pair will select from a group of players who were born on or after Oct. 2, 1992. There were 85 in the NHL last season who met that age requirement, although that pool will expand significantly over the course of this season. Players from this demographic cannot skate for their national team. They are only eligible to play for the Young Stars in this tournament.
Team Europe
Team Europe will be comprised of a pan-European roster of players from birth countries outside of the Czech Republic, Finland, Russia and Sweden.
The management group will be led by German Ice Hockey Federation President Franz Reindl and former Slovakia team captain Miroslav Satan. The team will be coached by former Edmonton bench boss Ralph Krueger, a Canadian-German dual citizen who was part of Team Canada's coaching staff at the Sochi Olympics and currently serves as the chairman of England's Southampton Football Club.
Of the 974 players who skated in the NHL last season, 59 were born in countries that make them eligible for selection by Team Europe, including Anze Kopitar(Slovenia) and Zdeno Chara (Slovakia). Reindl said on Wednesday that it's possible that one or more non-NHL players could be named to Team Europe.
Other management teams that have been announced include the USA—L.A. Kings GM Dean Lombardi with assistants Paul Holmgren (Philadelphia Flyers), Brian Burke (Calgary Flames) and Jim Johannson (USA Hockey)—and Canada—St. Louis Blues GM Doug Armstrong with assistants Marc Bergevin (Montreal Canadiens), Rob Blake (Kings assistant GM), Ken Holland (Detroit Red Wings), Bob Murray (Anaheim Ducks) and Scott Salmond (Hockey Canada).Rosters
Each of the eight teams will be comprised of 23 players: 20 skaters and three goaltenders. That's two fewer skaters than made up the rosters for the 2014 Olympics.
The first deadline for roster announcements is March 1, 2016. Each team must announce at least 16 players, including at least two goaltenders, by that date with the balance announced no later than June 1.
Dates and tickets
The tournament will take place from Sept. 17 to Oct. 1, 2016. All games will be played at Air Canada Centre in Toronto. A select number of tickets for the event will go on sale to the public on Oct. 14, 2015. See the tournament website for updated information.
Rules
The tournament will be played using NHL rules and officiated by NHL officials. Other competition matters—such as the anti-doping policy and supplementary discipline—will be the responsibility of the NHL and NHLPA in consultation with third parties, including the IIHF, where appropriate.
Where to watch
ESPN owns the exclusive U.S. media rights for distribution on television and radio, with most games set to appear on ESPN and ESPN2. The games will also be available through WatchESPN on computers, smartphones, tablets, Amazon Fire TV and Fire TV Stick, Apple TV, Chromecast, Roku, Xbox 360 and Xbox One via an affiliated video provider.
In Canada, Sportsnet will carry the English-language broadcasts with TVA Sports showing the game in French.
Training camps
There will be camps and exhibition games played ahead of the tournament, but specifics regarding locations and dates have yet to be finalized. Canada is expected to hold its camp in Ottawa. Team Europe will train in North America and is said to be considering Montreal.
Schedule
Preliminary Round (round robin)
Saturday, Sept. 17
Team Europe vs. Team USA, 3:30 p.m.
Team Canada vs. Team Czech Republic, 8 p.m.
Sunday, Sept. 18
Team Russia vs. Team Sweden, 3 p.m.
Team Finland vs. Team North America, 8 p.m.
Monday, Sept. 19
Team Czech Republic vs. Team Europe, 3 p.m.
Team North America vs. Team Russia, 8 p.m.
Tuesday, Sept. 20
Team Finland vs. Team Sweden, 3 p.m.
Team Canada vs. Team USA, 8 p.m.
Wednesday, Sept. 21
Team North America vs. Team Sweden, 3 p.m.
Team Canada vs. Team Europe, 8 p.m.
Thursday, Sept. 22
Team Finland vs. Team Russia, 3 p.m.
Team Czech Republic vs. Team USA, 8 p.m.
Semifinals (single elimination; A1 vs. B2, B1 vs. A2)
Saturday, Sept. 24
Semifinal 1, TBD
Sunday, Sept. 25
Semifinal 2, TBD
Final (best-of-three)
Tuesday, Sept. 27
Final Game 1, 8 p.m.
Thursday, Sept. 29
Final Game 2, 8 p.m.
Saturday, Oct. 1
Final Game 3, 7 p.m. (if necessary)