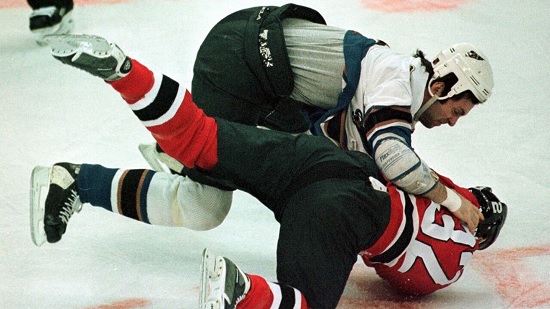 Enrico Ciccone, a former NHL defenseman turned-politician in Canada, presented a piece of legislation to the National Assembly in Quebec on Wednesday October 21st that would ban fighting in non-combat sports for athletes younger than 18.
"Of course some people will say 'look at this guy, he's a hypocrite," Ciccone told the Montreal Gazette newspaper. "He made a bunch of money and now he wants to change things.' Of course, I do. And I'm probably the best guy to do it. I'll raise that flag for the safety of our kids, any time of the day."
Ciccone was drafted by the Minnesota North Stars, which are now the Dallas Stars, in 1990. He played for the Washington Capitals, Tampa Bay Lightning, Chicago Blackhawks, Carolina Hurricanes and Vancouver Canucks before retiring in 2001 with the Montreal Canadiens.
He was never able to win a Stanley Cup but Ciccone was known for his rough playing style. In 374 career NHL games played, Ciccone racked up 1,469 penalty minutes and 85 fights.
The adverse health effects caused by concussions is why the ban should be put in place. Ciccone is seeking to ban fighting in youth sports by law because sports leagues have not done so.
"We continue to let our 15, 16 and 17-year-olds hit each other when we know the impact of concussions on health," Ciccone said according to CTV News.
While the QMJHL still permits fisticuffs, it increased its punitive measures this season. Any player who fights is assessed a 15-minute penalty, which includes a 10-minute misconduct. There's also a two-minute minor for the instigator. The amended rules call for an automatic one-game suspension following a player's third fight, with an additional game suspension for each subsequent battle.
"It is absolutely unacceptable," Ciccone said. "If sports organizations do not have the will to protect our young people in order to send a clear and unequivocal message by banning them completely, it is up to us, as legislators, to make sure we go as far as possible to protect them."
Ciccone believes he had six or seven concussions during his career that were never diagnosed. He was also fifth or sixth on a team's depth chart and was reluctant to reveal his symptoms to the athletic therapists. He said he has had memory lapses and the occasional fear for his future.
"I want to make sure, here in Quebec, we protect our kids," Ciccone said. "This is the fastest sport in the world, which has walls for boards. It's one of the only places in the world that still accepts fighting with your bare fists. To kick somebody's butt when he's (a teenager) … it doesn't happen often, but why is it still there?"
"I think we're in a different world than when I played," he said. "We're past that — not just in junior but hockey overall."
Love Reading About Hockey?

Subscribe to keep up-to-date with the latest and most interesting hockey news!
| | |
| --- | --- |
| | We hate spam just as much as you |