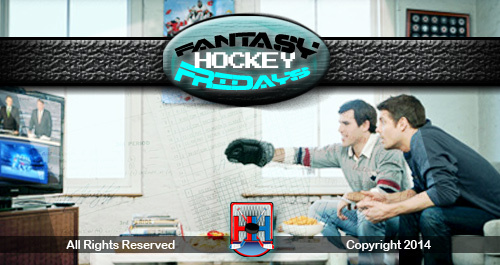 FHF Key
One-Day Only Sale = Players that are on strong hot streaks that you will need to add immediately before they are claimed by another team.
Flash Sale = Similar to the ODO category, except these players will not be as highly demanded. They will be claimed relatively quickly, but are not completely known to all teams.
Bargain Bin = Players that are currently very low in ownership percentage, but have proved worthy of adding. This category will also include less-skilled players that are currently playing on good lines and as every studious fantasy owner knows, line combinations are everything.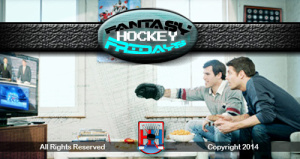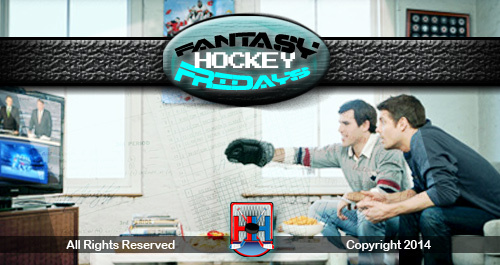 One-Day Only Sale:
Frederik Andersen – G, 83% owned (Last week: 69% owned)
Ok, if you haven't added him, what in the world could you be waiting for? He is 6-0-0 in six consecutive starts. He's on one of the league's best teams. He has a 1.32 GAA and .951 SP. He is dominating. If you made the mistake of drafting John Gibson, grab Andersen if he's still available.
Scott Hartnell – LW, 79% owned
Hartnell's stock dropped considerably over the past week, but it may be on the rise now. He has five assists in his last two games, including a four-assist night against the San Jose Sharks last night. He has yet to score a goal, but it's only a matter of time until he finds the back of the net. He remains on the top line in alongside Ryan Johansen and Nick Foligno.
Darcy Kuemper – G, 76% owned (Last week: 69% owned)
Perhaps the only netminder who has impressed more besides Andersen is Darcy Kuemper. He has only allowed two goals in four games. He has beaten the Colorado Avalanche twice and the Arizona Coyotes once. All three wins were shutouts. He has a 0.50 GAA and a .980 SP.
Radim Vrbata – RW, 76% owned (Last week: 72% owned)
Vrbata has seven points through six games with the Vancouver Canucks. He shoots the puck a lot, for those of you with leagues that count shots (he has 28 of em'). He's still on the team's top line with the Sedin brothers.
T.J. Brodie – D, 70% owned (Last week: 30% owned)
Brodie didn't score in his last two games, but his seven points in the previous six games tell you that he's worth adding. He receives top-pairing minutes, and has played over 27 minutes three times so far.
Jonas Hiller – G, 66% owned (Last week: 60% owned)
Hiller continues to impress in a Flames uniform. He is 3-0-0 in his last three games, of which the last resulted in a shutout. That's good for a .980 save-percentage in that span.
Tyler Toffoli – RW, 60% owned (Last week: 34% owned)
If you didn't heed my advice last Friday to pick up Toffoli, do so if you still can. Through seven games, he has eight points and a plus-nine rating. In his last two contests, he scored a goal and two assists, with two of those points coming on the man-advantage. Last night he played in a season-high 15:28 of ice time. He's on the second line with Tanner Pearson and Jeff Carter, as well as the top power play unit with Pearson, Carter, and captain Anze Kopitar. Toffoli was owned by just 34% of leagues last week.
Nick Foligno – LW, 43% owned
Foligno has recorded at least one point in all six games this season. In his last two, he has two goals and two assists. Overall, he has nine points (four on the power play), twenty shots, thirteen hits, and a plus-five rating. He's on the top line in Columbus alongside Hartnell and Johansen. The trio are also on the first power play unit. His Yahoo! ownership has increased 25% from yesterday, so grab him quick.
Mike Ribeiro – C, 29% owned
Although owned in very few fantasy leagues, I feel that he belongs in this category. He has been one of the reasons for Nashville's explosive start to this season. He is currently on a five-game hot streak that has seen him score three goals and three assists in the span. One of the reasons he has found success with the Predators is because of his linemates Filip Forsberg and James Neal. The line has been very consistent so far. The trio are also on the first power play unit. One potential drawback is the amount of times he shoots the puck, which is to say very few.
Flash Sale:
Tomas Plekanec – C, 59% owned
Plekanec has eight points through seven games, but his hot streak is cooling off a bit. He is goal-less for his last four games, but did have three assists in that span. Galchenyuk and Parenteau are still his wingmen, so the opportunities are still be there.
Pascal Dupuis – LW/RW, 57% owned
With Dupuis avoiding a trip to the injured reserve, he has jumped back into the lineup to score two goals in his last three games. As usual, he is still on the second line with Evgeni Malkin and Blake Comeau, as well as the second power play unit with Brandon Sutter and Steve Downie. Dupuis is usually a cheap fix for any fantasy team.
Damon Severson – D, 48% owned
The young blueliner in New Jersey is now on the top pairing and the top power play unit. He has five points through six games and shoots the puck often. He's a plus-four with a pair of power play points and a handful of hits. Severson has a lot of potential for fantasy owners.
Bargain Bin:
Trevor Daley – D, 31% owned
Daley has recorded two goals and two assists in his last three games. He is on the top-pairing in Dallas alongside Alex Goligoski. He has three power play points, of which all three of his goals were scored. He's on the top power play unit with Jamie Benn, Jason Spezza, and Tyler Seguin.
Dennis Wideman – D, 29% owned
The Calgary defenseman has four goals in his last five games and is a plus-five as well. He is on the second pairing and the second power play unit. Get him while he's 'Flame-ing hot.' Pun intended.
Nick Leddy – D, 27% owned (Last week: 19% owned)
Leddy continues to impress everyone in Long Island. With five points in his last five games, he has helped the Islanders remain in first place in the Metropolitan Division. He's on the second power play unit, but has yet to record a power play point.
Andre Burakovsky – C/LW, 15% owned
The young Swedish center was moved to left wing to center, and the move seems to have worked to everyone's benefit. He is now the pivot between Marcus Johansson and Troy Brouwer on the Capitals' second line, as well as on the second power play unit between Evgeny Kuznetsov and Joel Ward. He has six points in six games and has not had a negative plus-minus rating so far (he's a plus-five). He doesn't collect a lot of hits or penalty minutes, but he's showing a lot of skill.
Joe Colborne – C, 8% owned
Colborne is on Calgary's top line with veteran winger Jiri Hudler and sophomore center Sean Monahan. The 24-year old has eight assists in nine games, but hasn't registered a goal. He centers the second power play unit with rookie Johnny Gaudreau and Mason Raymond. However, he only has one power play point thus far.
Chris Kelly – C/LW, 8% owned
The third-line winger is doing surprisingly well this season. He's riding a five-game point streak that has seen him collect a goal and five assists. Kelly plays alongside Carl Soderberg and Loui Eriksson, but he is not on the power play with them. Kelly won't be a long-term option for your team because of his lack of ice time and power play time, but you can add him for the short-term benefits he's providing.
Damien Brunner – RW, 1% owned
Brunner has finally made his way back into the Devils lineup, and notched two assists in his last game. Although it is a very small sample size (two games), if he continues to play alongside Mike Cammalleri and Patrik Elias on the team's second line he will become a lot more valuable. He is also currently on the second power play unit, and both of his assists came with the man-advantage. Put him on your watch list.
All references courtesy of Yahoo! Fantasy Sports, Hockeydb.com, and DailyFaceoff.com
If you have any questions regarding your fantasy team, I will be more than happy to answer them. Just shoot me a tweet @yungspork
Love Reading About Hockey?

Subscribe to keep up-to-date with the latest and most interesting hockey news!
| | |
| --- | --- |
| | We hate spam just as much as you |