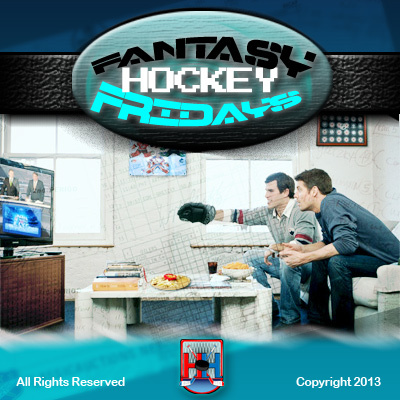 Welcome to this edition of Fantasy Hockey Fridays.  It was a fun first week of hockey, and in the world of fantasy hockey, there have already been some surprises and disappointments.  For many teams and players, the lockout rust is showing.  Teams such as the New York Rangers, Philadelphia Flyers, Detroit Red Wings and the Vancouver Canucks are at the bottom of the standings, and teams like the Columbus Blue Jackets are racking up the points.  Will this be a recurring trend this season?  We'll have to wait and see.
Notable Injuries (and some recommendations based on who's likely available in a standard eight team fantasy league):
Jiri Hudler wasn't injured, but he was mourning the loss of his father.  He was just activated, so look for him to be playing his first games with the Calgary Flames this weekend.
Dan Carcillo, a fantasy hero in leagues that count penalty minutes, hits, and/or fighting majors, will be out for most of this shortened season (indefinitely).  Look elsewhere for a similar type of player.  My recommendations would be: Jordin Tootoo (Detroit), Steve Ott (Buffalo), and Cal Clutterbuck.
I predict that Tootoo will be getting more ice time with all the injuries Detroit has.  Expect Mike Babcock to be switching the line combinations up.  Jordin already has 15 penalty minutes and some big hits…and he's just warming up.
I was surprised to find that Steve Ott was only owned on 14.6% of all ESPN leagues.  He scored a powerplay goal in his first game as a Buffalo Sabre.  The change in scenery will benefit the new "tough guy" on the team.  The main reason for his acquisition last summer was because of opposing players running into the Sabre goalie, Ryan Miller, and the general lack of grit and toughness on the team.  He gets good ice time (averages 15:33 per game) and powerplay time.  He currently has 12 hits as of Thursday afternoon.  He doesn't just like to hit, and he's definitely no stranger to shooting the puck.
Cal Clutterbuck is owned by 1.5% of all teams.  He hits so frequently that he broke the NHL record for hits in 2008-09 with 356.  Cal was a goal scorer in the Ontario Hockey League before he was drafted by the Minnesota Wild in 2006.  He had 16 shots in the first 3 games of the season, while playing an average of 14 minutes a game.
Todd Bertuzzi, Ian White, Mikael Samuelsson, and Valtteri Filppula are all injured right now.  However, Bertuzzi is expected to return to the Red Wings' lineup tonight.  White will be out 2-3 weeks.  Samuelsson and Filppula are day-to-day.  I would not recommend to keep Samuelsson based on his propensity of getting injuries.  My recommendation for a replacement for Ian White would be: Dan Girardi.
The Rangers' slump will not continue for long.  Girardi is on the top defense pairing and the second powerplay unit, which means a lot of opportunities to get shots on goal and powerplay points.  He averages just over 24 minutes of ice time per game, and he will definitely be a great plus-player.
Who You Should Sign:
-If you haven't already heard of Damien Brunner (F) of the Detroit Red Wings, just look up his shootout goal from earlier this week.  After Brunner arrived in Michigan a few weeks ago, he is STILL leading the Swiss National League A (NLA) in points with 57 today!  The next highest point scorer is Glen Metropolit with 52 points in 41 games.  But it only took Brunner 33 games to amass 57.  He is very humble and grateful to have this opportunity to play in the NHL.  Expect great things from Damien.  Oh, and he's no rookie either.  He turns 27 next month, and he's been playing in the NLA since 2006.
–Daniel Winnik (F) of the Anaheim Ducks had a great week.  In 2 games played he scored 4 goals and 1 assist.  He was also a +5 with 6 hits.  Under Bruce Boudreau, I expect Winnik to keep getting good ice time (averages 18:03/night) each game.  He has certainly been a fantasy surprise so far.
–Kyle Turris (F) of the Ottawa Senators is making is presence known in the East.  His 3 goals in 3 games is a great pace for a 48 game season.  He's a second line center, and I expect this to be a breakout year for him.  His average ice time of 16:18 per night will likely increase, as coach Paul Maclean will rely on him more.  He is also on the 2nd powerplay unit alongside Daniel Alfredsson.  And if history is any indication, playing with a potential Hall-of-Famer will yield good results.  With Ottawa exploding out of the starting gate with a 3-0-0 record, it's hard to bet against a Senator right now.
–Travis Zajac (F) of the New Jersey Devils was just signed to an 8-year contract contract, and responded with 2 goals this week.  He's a top-line center playing with Ilya Kovalchuk.  He plays on the top powerplay unit as well, with goal scorers David Clarkson, Patrik Elias, and Ilya Kovalchuk as well.  He will be trying to fill the huge void left when Zach Parise left for Minnesota last summer.
–Paul Martin (D) of the Pittsburgh Penguins has a goal and 2 assists so far, helping the Penguins in their 2-1 start.  He's playing 24+ minutes per game and 2 out of the three points he scored came on the powerplay.  He's a good choice for a consistent blueliner.
–Josh Harding (G) of the Minnesota Wild was diagnosed with multiple sclerosis not long ago.  But he's healthy enough to play in net so far.  He will split the starts about 40/60 with starter Niklas Backstrom.  In the 3 games the Wild has played so far, Harding won a decisive shutout against the much-improved Dallas Stars.
Let Him Go:
–Anders Lindback (G) of the Tampa Bay Lightning has virtually no consistent defensemen in front of him.  I don't expect his numbers (or Tampa Bay) to be very good this season.
Keep Your Eye on Them
–Lubomir Visnovsky (D) will be returning to the New York Islanders after February 9th, so look for him to be a viable fantasy option when that time comes.
–Scott Gomez (F) has signed with the San Jose Sharks.  He was a great goal-scorer with the New Jersey Devils and New York Rangers.  He went a full calendar year without scoring a goal for the Montreal Canadiens.  Gomez will likely be a third-line center unless he proves to be better.  Let's wait and see what happens with him.
–Wade Redden (D) was another surprise signing.  The St. Louis Blues were willing to take the risk, and signed him.  I was also surprised to find out that coach Ken Hitchcock will play Redden on the top defense pairing with Alex Pietrangelo.  Well, the stage is definitely set for more surprises, keep your eye on him.
HOHM Fantasy League
Transactions made since last week:
KS – Dropped Jonas Gustavsson and Added Ben Scrivens
JB – Added Patrik Berglund
DD – Dropped Zach Bogosian and Added Jay Bouwmeester
DD – Dropped Ryan Ellis and Added Marc-Edouard Vlasic
SA – Dropped R.J. Umberger and Added Andy McDonald
IB – Dropped Kris Versteeg and Added Tyler Kennedy
KS – Dropped Joe Corvo and Added Travis Zajac
SA – Dropped James van Riemsdyk and Added Nazem Kadri
BD – Dropped Brent Burns and Added Raphael Diaz
DD – Dropped Jamie McBain and Added Mike Kostka
AB – Dropped Ian White and Added James Wisniewski
SA – Dropped Devin Setoguchi and Added Ryan Malone
MK – Dropped Chris Kreider and Added Ray Emery
IB – Dropped Dennis Seidenberg and Added Fedor Tyutin
AW – Traded Kevin Shattenkirk and Colin Greening in exchange for Tyler Myers and Mike Cammalleri from SA
Updated Rosters
Bob Duggan
Steven Stamkos, Jason Spezza, Jordan Eberle, Bobby Ryan, Joe Thornton, Mike Smith, Jaroslav Halak, Alex Burrows, Dany Heatley, Paul Stastny, Justin Williams, Semyon Varlamov, Brent Burns,  Blake Wheeler, Cody Hodgson, Alex Galchenyuk, Victor Hedman, John Carlson, Travis Hamonic, Brendan Smith, Kyle Brodziak, Raphael Diaz
Alvin Cho
Evgeni Malkin, Patrick Sharp, Zdeno Chara, Alex Pietrangelo, Ryan Miller, Jamie Benn, Marian Hossa, Ryan Getzlaf, Dan Hamhuis, Miikka Kiprusoff, Milan Michalek, Drew Stafford, Oliver Ekman-Larsson, Ryan McDonagh, Shane Doan, Kyle Okposo, David Desharnais, Matt Read, Brooks Orpik, Brayden Schenn
Andrew Williams
Claude Giroux, Scott Hartnell, Eric Staal, Gabriel Landeskog, Max Pacioretty, Brian Campbell, Kari Lehtonen, P.A. Parenteau, Ray Whitney, Joni Pitkanen, Kevin Shattenkirk, David Clarkson, Devan Dubnyk, Tyler Ennis, Andrew Ladd, Marek Zidlicky, Dmitry Kulikov, Tomas Plekanec, Brandon Saad, Colin Greening, Josh Harding, Adam Larsson, Tyler Myers, Mike Cammalleri
Kevin Cawthra
Sidney Crosby, Phil Kessel, Jimmy Howard, Roberto Luongo, Jarome Iginla, Patrick Marleau, Michael Del Zotto, Joe Pavelski, Matt Duchene, Johan Franzen, Brad Marchand, Danny Briere, Mark Streit, Jason Garrison, Cam Fowler, John-Michael Liles, Sam Gagner, Filip Kuba
Steve Auld
Alex Ovechkin, Corey Perry, Tuukka Rask, Taylor Hall, Ilya Bryzgalov, Nicklas Backstrom (F), Alexander Semin, Dan Boyle, Justin Schultz, Tyler Myers, Vladimir Tarasenko, Antti Niemi, Teddy Purcell, Alex Goligoski, Michael Cammalleri, Devin Setoguchi, Chris Stewart, James van Riemsdyk, Sheldon Souray, Jakub Voracek, , R.J. Umberger, Andy McDonald, Nazem Kadri, Ryan Malone, Colin Greening, Kevin Shattenkirk
Josh Beneteau
Henrik Lundqvist, Ilya Kovalchuk, Henrik Zetterberg, Kris LEtang, Jeff Skinner, Thomas Vanek, Loui Eriksson, Mike Richards, Jason Pominville, Niklas Kronwall, Tobias Enstrom, David Krejci, Jonas Hiller, Tomas Fleischmann, Andrei Markov, Nathan Horton, Damien Brunner, Slava Voynov, Adam Henrique, Jose Theodore, Carl Hagelin, Patrik Berglund
Igor Burdetskiy
Daniel Sedin, Tyler Seguin, Martin St. Louis, Cam Ward, Shea Weber, Brian Elliott, Patrik Elias, Evander Kane, Erik Cole, Michael Ryder, Dennis Wideman, Kris Versteeg, Brent Seabrook, Justin Faulk, Nick Leddy, Evgeni Nabokov, Mikhail Grabovski, Dennis Seidenberg, David Legwand, Andrej Meszaros, Dustin Penner, Bryan Little, Tyler Kennedy, Fedor Tyutin
Mike Kluxdal
Zach Parise, Anze Kopitar, Patrick Kane, Pavel Datsyuk, Drew Doughty, Duncan Keith, Mikko Koivu, T.J. Oshie, Jack Johnson, Vincent Lecavalier, Niklas Backstrom, Mikael Granlund, Ryane Clower, Matt Carle, Erik Johnson, Jonathan Huberdeau, Jacob Markstrom, Chris Kreider, Cal Clutterbuck, Tomas Vokoun, Ray Emery
Dawson Drolet
John Tavares, Henrik Sedin, Marc-Andre Fleury, Cory Schneider, Brad Richards, Marian Gaborik, Matt Moulson, Patrice Bergeron, Joffrey Lupul, Radim Vrbata, Sven Baertschi, Martin Havlat, Christian Ehrhoff, Mark Giordano, Ryan Whitney, Zach Bogosian, Jamie McBain, Steve Ott, Ryan O' Reilly, Derek Dorsett, Sergei Bobrovsky, Ryan Ellis, Jay Bouwmeester, Marc-Edouard Vlasic, Mike Kostka
Kevin Sporka
Jonathan Quick, Erik Karlsson, Jonathan Toews, Dustin Brown, Dustin Byfuglien, Ryan Suter, Craig Anderson, Wayne Simmonds, Teemu Selanne, Dion Phaneuf, Chris Kunitz, Daniel Alfredsson, Pascal Dupuis, Kevin Bieksa, Derek Stepan, Jaromir Jagr, Alex Steen, Jonas Gustavsson, Joe Corvo, Curtis Glencross, Jordin Tootoo, Ben Scrivens, Travis Zajac
Adam Bernard
Pekka Rinne, James Neal, Milan Lucic, David Backes, Logan Couture, Carey Price, Alexander Edler, Jordan Staal, Keith Yandle, Ryan Callahan, Mike Ribeiro, Mike Green, Jeff Carter, Corey Crawford, Nick Foligno, Ian White, Dan Girardi, Jiri Hudler, Kyle Turris, Derek Roy, Luke Schenn, Steve Downie, James Wisniewski
Kayla Winsett
Rick Nash, Ryan Nugent-Hopkins, Patric Hornqvist, Nail Yakupov, P.K. Subban, Roman Josi, Braden Holtby, Martin Brodeur, Chris Mason, Valtteri Filppula, Kimmo Timonen, Stephen Weiss, Mike Fisher, Olli Jokinen, Sergei Gonchar, Martin Erat, Ryan Smyth, Anders Lindback, Paul Martin, Sergei Kostitsyn
Love Reading About Hockey?

Subscribe to keep up-to-date with the latest and most interesting hockey news!
| | |
| --- | --- |
| | We hate spam just as much as you |