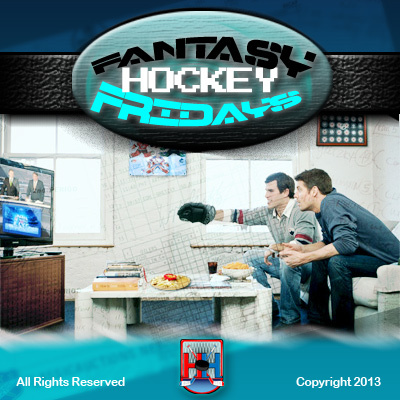 What a week Viktor Fasth has had.  He has gone from unknown Swedish goaltender, to NHL star in a matter of a couple weeks.  He has started 6 games, and won them all.  He didn't just win the games however.  He dominated them.  Through those games, his save percentage of .933 and goals-against average of 1.74 is outstanding (even more outstanding before last Saturday's 5 GA performance against St. Louis). 3 of his wins came via shootout, including his first career start.  I can't stress it enough.  If he's available, pick him up. This 30-year old goalie may not be a rookie, but this unbelievable start to his NHL career is one for the record books.
Injury Alert:
Jonas Hiller (G – ANA) remains injured (DTD) with a lower body injury, but may return as early as this weekend.
Miikka Kiprusoff (G – CGY) skated, but because of a "slight grade two MCL sprain," he is expected to miss another week or two.
Brendan Smith (D – DET) will not return in February due to a lingering shoulder injury.
Jonas Gustavsson (D – DET) is practicing, but without a set timetable for a return.
Mikael Samuelsson (F – DET) is practicing as well, and his return could be as soon as this weekend.
Todd Bertuzzi (F – DET) has been sidelined with a back injury and has already missed a few games.  He's listed as Day-To-Day with no specific return date.
Josh Harding (G – MIN) is Day-To-Day after "feeling off" after taking a different medication for multiple sclerosis according the Minnesota Wild's official website.
Patric Hornqvist (F- NSH) is out with a knee injury.  He is skating, but not practicing with the team.
Erik Karlsson (D – OTT) is likely out for the year after his left Achilles tendon was lacerated by Matt Cooke Wednesday night.  He will require surgery.
Scott Hartnell (F – PHI) is still on IR due to a foot injury.  No timetable for return has been set.
Kris Letang (D – PIT) has been activated from IR after suffering a lower body injury.
Jaroslav Halak (G – STL) aggravated his groin injury Monday night and continues to miss games.  He may return on Sunday at the earliest.
Ryan Malone (F – TB) will be on injured reserve for at least 10 days (possibly 3-4 weeks) due to a lower body injury.
David Booth (F – VAN) is skating, but is still out because of a groin injury.
Ryan Kesler (F – VAN) is practicing, but there is no set return date.
Brooks Laich (F- WSH) has been cleared for contact after suffering a groin injury, but will not return just yet.
Who to Add
Mike Cammalleri (42% F – CGY) just returned from injury after missing 3 straight games.  In his first game back, Mike scored a hat trick and added an assist against the Dallas Stars.
Lubomir Visnovsky (88.2% D – NYI) is finally back playing in the NHL.  In his first 3 games back, he registered 3 assists, playing 22:30 a night on average, and carrying a +1 rating.  Since he's on the Islanders, I can't guarantee that he'll continue to have good +/-, but he's usually a dependable fantasy blueliner.
Tyler Bozak (45% F – TOR) has scored 4 points in his last 3 games including 2 goals and 2 assists.  In total, he has 4 goals and 5 assists for the year.  5 of those 9 points came on the powerplay.
Francois Beauchemin (56.1% D – ANA) has never scored more than 34 points in a season (2005-06 season), but this season he has 6 points (2 goals and 4 assists) through 12 games.  5 of those points came in the last 5 games (4 points on the road).  He logs around 24 minutes a game and is a +10.  He also has 22 hits, which makes him an overall good fantasy player.  Anaheim is red-hot right now also.
Lee Stempniak (16.6% F – CGY) is a +5 on a very weak (defensively) team.  That's really saying something, because Calgary has given up 6 more goals than they've scored.  3 of his 9 points (5 goals, 4 assists) came on the man-advantage.  In his last 4 games played, he has scored 2 goals and 2 assists.  He plays on Cammalleri's line, which can't be a bad thing.
Who to Drop
Travis Zajac (48.4% F – NJ) has gone pointless in his last 7 games.  His last goal was on January 22nd.  He's as cold as they get.
Martin Havlat (82.6% F – SJ) has 0 points in his last 5 games.  In those 5 games, he was a minus-4.  For a goal-scorer, he only has 3 goals and 2 assists after 13 games.  He has a -1 rating for the season.  Apparently Marleau was hogging all the goals.
Zack Kassian (55.3%) is done pretending to be Wayne Gretzky.  After Alex Burrows replaced Kassian on the first line, his production tanked, as expected.  He went from having 5 goals in 6 games, to 0 goals in his last 5 games.  His 27 hits (5 hits in his last game) are still very good.
Goalies: Buy or Sell
Cam Ward (Carolina): Buy
Ward has won 4 of his past 5 games, giving up 4 goals twice (once in a loss, once in a win).  The story here is that the Hurricanes are winning games.  His last start was a 2 goal-against win the Devils in New Jersey.  The young team is quickly improving.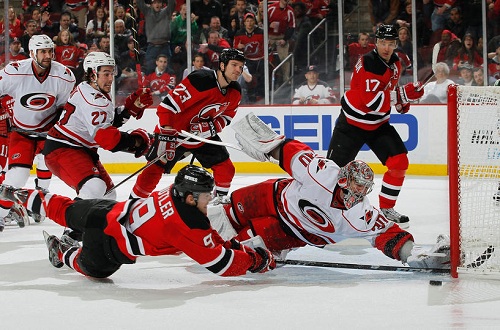 Semyon Varlamov (Colorado): Sell
Varlamov has lost his last 3 starts, all at home (Phoenix, Anaheim, Dallas).  In his last 7 games, he's lost 6.  His record now stands at 3-6.  He'll eventually come back to form, but for now, look for goaltending help elsewhere.
Braden Holtby (Washington): Sell
The Washington Capitals are struggling mightily right now.  He managed to shut out the Florida Panthers a few games ago, and he has won his last 3 starts, but only because his team bailed him out.  In his last 2 starts combined, he has allowed 8 goals, bringing his season GAA to 3.90 and SP to .877.
Brian Elliott (St. Louis): Sell
The joint Jennings Trophy recipient last season was supposed to bridge the gap in the Central Division while Jaroslav Halak was injured.  However, this wasn't the case.  His last 5 games all resulted in losses.  In his last 7 games, he has given up 4 goals three times, and 5 goals twice.  His season stats includes a 3-5 record, 3.57 GAA, and .849 SP.  Halak will likely be returning very soon.  Hold off on signing the other Blues netminders.
Joey MacDonald (Calgary): Buy
MacDonald will receive a decent amount of starts while Miikka Kiprusoff is injured.  Leland Irving took over temporarily as the starter in Calgary, but MacDonald has more NHL experience.  Look for him to perform well, despite shaky defense.
Sergei Bobrovsky (Columbus): Sell
Bobrovsky has split the time in net more equally with Steve Mason after he struggled early in the year.  His record in 7 starts only includes 2 starts.  .896 SP and 2.98 GAA are simply not good enough.
James Reimer (Toronto): Buy
Currently Reimer is on injured reserve, but don't expect him to miss too many games.  He's won 3 straight games.  In his first 6 starts this year, he gave up 4 goals twice.  In his last 3, he recorded a shutout, a one-goal-against win, and a two-goal-against win.  His stats have improved to .929 and 2.31.
Ben Scrivens (Toronto's enjoying good goaltending right now): Buy
Scrivens will continue to receive all the starts until Reimer returns.  He has won just 1 game in his last 3, but in one of those losses, he allowed just one goal.  Another he allowed 2 (win), and his last game he let in 3 (on the road against Carolina).  His stats include .912 SP and 2.66 GAA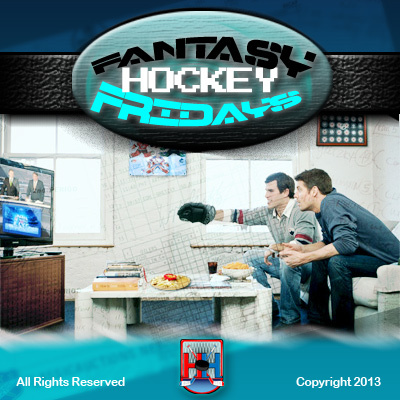 Part 2:
Here are the 12 writers and their initials:
BD – Bob Duggan (Buffalo Sabres)
AC – Alvin Cho (Winnipeg Jets)
AW – Andrew Williams (Carolina Hurricanes)
KC – Kevin Cawthra (Vancouver Canucks)
SA – Steve Auld (Toronto Maple Leafs)
JB – Josh Beneteau (Team Canada/Various NHL news)
IB – Igor Burdetskiy (Founder and Editor-in-Chief of HOHM)
MK – Mike Kluxdal (Minnesota Wild)
DD – Dawson Drolet (Calgary Flames)
KS – Kevin Sporka (Detroit Red Wings)
AB – Adam Bernard (New York Rangers)
KW – Kayla Winsett (Nashville Predators)
HOHM Roster Transactions (in chronological order since last week)
2/9:
AC – Dropped Drew Stafford and Added Martin Hanzal
BD – Dropped Brendan Smith and Added Andy Greene
SA – Added Brendan Gallagher
2/11:
JB –Dropped Brian Boyle and Added Lubomir Visnovsky
AW – Dropped Gabriel Landeskog and Added Jakub Voracek
JB – Added Stephane Robidas
KS – Dropped Derek Stepan and Added Thomas Greiss
KS – Dropped Thomas Greiss and Added Ray Emery
2/12:
SA – Added Rene Bourque
2/13:
MK – Added Ryan McDonagh
MK – Dropped Jared Spurgeon and Added Jiri Hudler
BD – Dropped James Reimer
JB – Dropped Stephane Robidas
2/14:
MK – Dropped Erik Johnon and Added Gabriel Landeskog
KS – Dropped Petr Mrazek and Added Joey MacDonald
KS – Dropped Jordin Tootoo and Added Brandon Prust
SA – Dropped Brendan Gallagher
Bob Duggan
Steven Stamkos, Jason Spezza, Jordan Eberle, Bobby Ryan, Joe Thornton, Mike Smith, Jaroslav Halak, Alex Burrows, Dany Heatley, Paul Stastny, Justin Williams, Semyon Varlamov, Blake Wheeler, Cody Hodgson, Alex Galchenyuk, Victor Hedman, John Carlson, Travis Hamonic, Raphael Diaz, Zack Kassian, Joel Ward, Andy Greene
Alvin Cho
Evgeni Malkin, Patrick Sharp, Zdeno Chara, Alex Pietrangelo, Ryan Miller, Jamie Benn, Marian Hossa, Ryan Getzlaf, Dan Hamhuis, Miikka Kiprusoff, Milan Michalek, Oliver Ekman-Larsson, Ryan McDonagh, Shane Doan, David Desharnais, Brayden Schenn, Alexei Emelin, Derek Morris, Max Pacioretty, Brenden Dillon, Viktor Fasth, Martin Hanzal
Andrew Williams
Claude Giroux, Scott Hartnell, Eric Staal, Brian Campbell, Kari Lehtonen, P.A. Parenteau, Joni Pitkanen, David Clarkson, Devan Dubnyk, Tyler Ennis, Andrew Ladd, Marek Zidlicky, Dmitry Kulikov, Tomas Plekanec, Brandon Saad, Josh Harding, Adam Larsson, Tyler Myers, Mike Cammalleri, Steve Sullivan, Patrik Berglund, Ales Hemsky, Jakub Voracek
Kevin Cawthra
Sidney Crosby, Phil Kessel, Jimmy Howard, Roberto Luongo, Jarome Iginla, Patrick Marleau, Michael Del Zotto, Joe Pavelski, Matt Duchene, Johan Franzen, Brad Marchand, Danny Briere, Mark Streit, Jason Garrison, Cam Fowler, John-Michael Liles, Sam Gagner, Filip Kuba, Tom Gilbert
Steve Auld
Alex Ovechkin, Corey Perry, Tuukka Rask, Taylor Hall, Ilya Bryzgalov, Nicklas Backstrom (F), Alexander Semin, Dan Boyle, Justin Schultz, Vladimir Tarasenko, Antti Niemi, Teddy Purcell, Alex Goligoski, Chris Stewart, Sheldon Souray, Nazem Kadri, Ryan Malone, Kevin Shattenkirk, Mikkel Boedker, Chris Neil, Matt Frattin, Ryan Kesler, Rene Bourque
Josh Beneteau
Henrik Lundqvist, Ilya Kovalchuk, Henrik Zetterberg, Kris Letang, Jeff Skinner, Thomas Vanek, Loui Eriksson, Mike Richards, Jason Pominville, Niklas Kronwall, Tobias Enstrom, David Krejci, Jonas Hiller, Tomas Fleischmann, Andrei Markov, Nathan Horton, Damien Brunner, Slava Voynov, Adam Henrique, Jose Theodore, Lubomir Visnovsky
Igor Burdetskiy
Daniel Sedin, Tyler Seguin, Martin St. Louis, Cam Ward, Shea Weber, Brian Elliott, Patrik Elias, Evander Kane, Michael Ryder, Dennis Wideman, Brent Seabrook, Justin Faulk, Nick Leddy, Evgeni Nabokov, Mikhail Grabovski, David Legwand, Dustin Penner, Bryan Little, Fedor Tyutin, Sami Salo, Daniel Winnik, Saku Koivu
Mike Kluxdal
Zach Parise, Anze Kopitar, Patrick Kane, Pavel Datsyuk, Drew Doughty, Duncan Keith, Mikko Koivu, T.J. Oshie, Jack Johnson, Vincent Lecavalier, Niklas Backstrom, Mikael Granlund, Ryane Clower, Matt Carle, Jonathan Huberdeau, Cal Clutterbuck, Tomas Vokoun, Dougie Hamilton, Ryan McDonagh, Jiri Hudler, Gabriel Landeskog
Dawson Drolet
John Tavares, Henrik Sedin, Marc-Andre Fleury, Cory Schneider, Brad Richards, Marian Gaborik, Matt Moulson, Patrice Bergeron, Joffrey Lupul, Radim Vrbata, Sven Baertschi, Martin Havlat, Christian Ehrhoff, Mark Giordano, Ryan Whitney, Steve Ott, Ryan O' Reilly, Derek Dorsett, Sergei Bobrovsky, Jay Bouwmeester, Marc-Edouard Vlasic, Mike Kostka
Kevin Sporka
Jonathan Quick, Erik Karlsson, Jonathan Toews, Dustin Brown, Dustin Byfuglien, Ryan Suter, Craig Anderson, Wayne Simmonds, Teemu Selanne, Dion Phaneuf, Chris Kunitz, Daniel Alfredsson, Pascal Dupuis, Kevin Bieksa, Jaromir Jagr, Alex Steen, Curtis Glencross, Travis Zajac, Joey MacDonald, Brandon Prust, Ray Emery
Adam Bernard
Pekka Rinne, James Neal, Milan Lucic, David Backes, Logan Couture, Carey Price, Alexander Edler, Jordan Staal, Keith Yandle, Ryan Callahan, Mike Ribeiro, Mike Green, Jeff Carter, Corey Crawford, Dan Girardi, Kyle Turris, Luke Schenn, James Wisniewski, Michael Grabner, James van Riemsdyk, Matt Read, Jamie McGinn
Kayla Winsett
Rick Nash, Ryan Nugent-Hopkins, Patric Hornqvist, Nail Yakupov, P.K. Subban, Roman Josi, Braden Holtby, Martin Brodeur, Chris Mason, Valtteri Filppula, Kimmo Timonen, Stephen Weiss, Mike Fisher, Olli Jokinen, Sergei Gonchar, Martin Erat, Ryan Smyth, Anders Lindback, Paul Martin, Sergei Kostitsyn
(Stats used are from Hockeydb.com, ESPN.com, and dailyfaceoff.com)
Follow me on Twitter @yungspork
Questions about your fantasy team? Contact me on Twitter or by email at KSporka@HOHmag.com
Love Reading About Hockey?

Subscribe to keep up-to-date with the latest and most interesting hockey news!
| | |
| --- | --- |
| | We hate spam just as much as you |