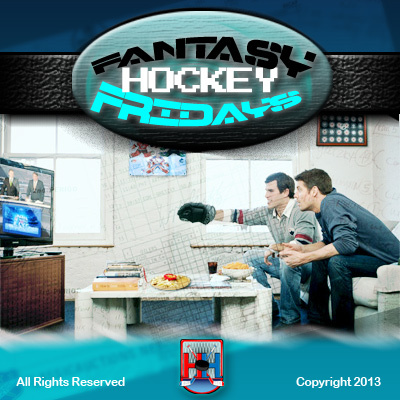 Injury Report
­Cam Fowler (D – ANA) is back skating after suffering an upper body injury.  Still no timetable for his return though.
Jeff Skinner (F – CAR) is suffering from a concussion.  He will remain out indefinitely.  This is not good for the young Hurricane forward.  Keep him on your roster only if you have an IR slot.  Otherwise look for other options.
Marian Hossa (F – CHI) had just returned from a concussion, and started this season on a tear.  For those of you that didn't know, Jannik Hansen of the Vancouver Canucks "reached out to grab a flying puck" and in the process drove his forearm into the back of Hossa's head.  Hansen was only suspended for a game, so I don't think he has a concussion again, although in Sidney Crosby's case, the second less-impactful hit did more damage internally.  We'll have to wait and see what happens.
Corey Crawford (G – CHI) has had an upper body injury, which seemingly has not affected the red-hot Blackhawks with Ray Emery playing the best hockey of his life.  For those of you awaiting Crawford's return, there is some good news.  He was back skating this week.
Gabriel Landeskog (F – COL) has not returned since he received a concussion, but he has been practicing (non-contact) since Tuesday.
Milan Hejduk (F – COL) left the Avalanche's game against the St. Louis Blues with a torso injury.  He is listed as Day-to-Day.
Brandon Dubinsky (F – CLS) has a sprained knee and is on injured reserve.  According to the Columbus Dispatch, he will be re-evaluated next week.
Cam Atkinson (F – CLS) (ankle) was back playing last night against the Detroit Red Wings.
Kari Lehtonen (G – DAL) has a groin injury, and is currently on the injured reserve list.  Dallas coach Glen Gulutzan said he's progressing, so the injury doesn't seem to be long-term.
Ray Whitney (F – DAL) is still on IR with a foot injury, but may begin skating soon, according to the Dallas Morning News.
Todd Bertuzzi (F – DET) has no timetable for a return from his back injury.
Johan Franzen (F – DET) was again out of the Red Wings' lineup last night with an injury to his hip.
Kris Versteeg (F – FLA) is Day-to-Day with a chest injury and is skating again.
Niklas Backstrom (G – MIN) (illness) started last night against the Edmonton Oilers.
Patric Hornqvist (F – NSH) returned to action this week after suffering a knee injury in January.
Rick Nash (F – NYR) did not make the trip to Ottawa this week due to an undisclosed issue.
Craig Anderson (G – OTT) is now Day-to-Day with a sprained ankle after a collision with Chris Kreider (NYR) during last night's game.
Milan Michalek (F – OTT) has yet to return to action due to a twisted knee.  He is currently listed as Day-to-Day.
Matt Read (F – PHI) got injured during the Flyers' game against the Pittsburgh Penguins on Wednesday.  He is Day-to-Day with an upper body injury.
Scott Hartnell (F – PHI) was cleared to return to practice, but is still expected to miss another week or so.
Radim Vrbata and Derek Morris (F, D – PHO) are expected to play this Saturday, after suffering a lower body and upper body injury respectively, according to the Arizona Republic.
Vladimir Tarasenko (F – STL) was injured in Wednesday night's game against the Colorado Avalanche.  His status is currently Day-to-Day with a head injury.
Jaroslav Halak (G – STL) returned to the Blues' lineup Wednesday night after suffering a re-aggravated groin injury.
Ryan Malone (F – TB) is back skating, but not with the team, according to the Tampa Bay Times.
James Reimer (G – TOR) is back to light skating this week, according to the Toronto Star.
Matt Frattin (F – TOR) will remain on IR for approximately another 10 days, according to Jonas Siegel of TSN Radio.
Brooks Laich (F – WSH) took part in off-ice workouts earlier this week, according to the Washington Post.
Mike Green (D – WSH) did not finish practice on Wednesday because of his upper body injury, according to the Washington Times.
Tobias Enstrom (D – WPG) will remain out for at least a couple more weeks due to a shoulder injury, according to Jets' coach Claude Noel.
Who to Add
1. Carl Hagelin (82.3% F – NYR) Hagelin has 8 points in his last 5 games, including 5 goals.  Lately he's been averaging around 5 shots per game since playing with Derek Stepan and Marian Gaborik on the second line.  He is currently on the 1st powerplay unit with Gaborik, Stepan, Brad Richards, and Michael Del Zotto.
2. Steve Ott (26.3% F – BUF) is probably one of the most underrated fantasy players available.  He's leading the entire NHL in hits with 70 (for leagues that count hits).  He has accumulated 38 penalty minutes as well.  Ott has also managed to play an average of 17 minutes per game and remain a plus-player on a weak Buffalo Sabres team.
3. Francois Beauchemin (94.8% D – ANA) makes it back on this list, since he's not 100% owned yet.  His league-leading +14 is too good to ignore.
4. Brandon Prust (19.6% F – MTL) is becoming a very valuable fantasy option.  He is playing with rookie Alex Galchenyuk and Lars Eller, and he found himself on the scoresheet two days in a row this week, recording a goal and an assist.  He's a +7, which is very impressive, but his most impressive stat is his league leading 71 penalty minutes.  In addition to all the fighting majors, Prust has 33 hits
5. Zach Bogosian (46.1% D – WPG) is back in action after he had wrist surgery during the off-season. Last season, he recorded 5 goals and 25 assists in 65 games.  He should produce some points quickly.
6. Jakub Voracek (91.4% F – PHI) is probably the hottest fantasy player in the league right now.  In his last 13 games he has scored 6 goals 11 assists.  In his last 6 games, he has produced 4 goals and 7 assists for 11 points.  In total he has 19 points in 19 games, with 5 of those points coming on the powerplay.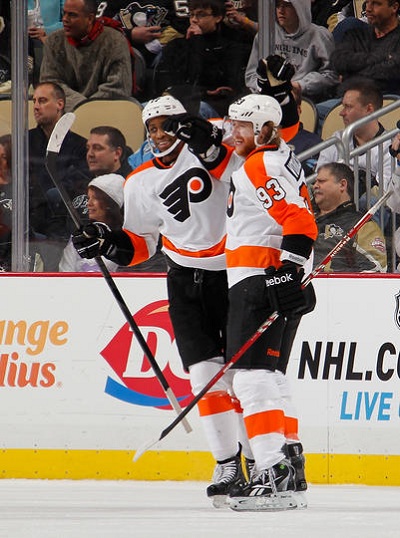 Who to Drop
1. Tom Gilbert (58.3%  D – MIN) hasn't had more than one point in the last 6 games, and not more than 2 points in his last 9.  He's a -4, and is definitely an underachiever among underachievers in Minnesota this season.  He only has 19 shots in 14 games, even with playing an average of about 23 minutes per games.
2. Daniel Winnik (44.2%  F – ANA)'s hot streak is definitely over.  His last goal was January 26th.  He's still a +9, but he's still playing with the same linemates that helped him score the 5 goals, so there's no excuse.
3. Valtteri Filppula (77.7%  F – DET)'s production has taken a dip this season due to a large amount of injuries on the Detroit Red Wings.  The lines have been shuffled so many times that Filppula hasn't had consistent chemistry.  He scored last night against the Blue Jackets, but his previous goal was February 7th.  Keep him on your watchlist while the injured Wings gradually return.
4. Nail Yakupov (84.1%  F – EDM) is not the same player that he was at the start of the season.  I'm not sure if he has rookie nerves, but he's a -9 player.  His ice time is starting to take a cut.  Last night he only played under 12 minutes.  He has 1 point (1 assist) in his last 6 games.  His last goal came 9 games ago.
5. Nathan Horton (96.8%  F – BOS) scored 2 goals last night, which doesn't quite make up for his 1 goal in his previous 5.  Before last night's game, he had scored just 4 goals and 3 assists in 14 games.  He's on the second powerplay unit, but has yet to register a powerplay point.
6. Tyler Myers (43%  D – BUF) was once an All-Star.  This season he was scratched by now former coach Lindy Ruff because of his lack of production.  Myers has only 2 goals and 1 assist while being a -6.  He has just 17 shots in 16 games.  The struggling Sabres need him to start putting up some points.
Goalies: Keep or Drop
1. Ilya Brygalov – PHI – Last night Bryzgalov gave up 4 goals to the Florida Panthers (3 in the first period, in the span of exactly 2 minutes).  Wednesday he gave up 5 goals to the Pittsburgh Penguins in a sloppy win.  He has not been good, except for a shutout against the New York Islanders earlier in the week.  His GAA has risen to 2.75, and his SP is now at .900.  The Flyers aren't playing well as a team also, so starting Bryzgalov isn't a good idea.  Drop
2. Jonathan Quick – LA – The reigning Conn Smythe winner STILL only has 4 wins this season, after playing 12 games.  His stats are almost identical to those of Bryzgalov.  Prior to his win against the Edmonton Oilers 3 days ago, Quick lost 3 games in a row, giving up 3 goals in each.  Drop
3. Anders Lindback – TB – In an earlier edition of FHF, I stated that there are "virtually no consistent defensemen in front of him."  This is exactly the case now.  After I originally said that, Lindback went on a tear, but starting on February 5th, things went downhill.  He has won 2 games in his last 6.  He gave up 5 goals to the Florida Panthers last Saturday.  His SP has fallen below 90% (.895) and his GAA has soared past 3 (3.12).  Drop
4. Ben Scrivens – TOR – While James Reimer has been injured, Scrivens has played excellent.  He has started the last 6 games Toronto has played, winning 3 of them.  The first of those 6, he allowed just 1 goal in a loss (.970).  He had one gaffe against Tampa Bay Tuesday night, giving up 4 goals on 13 shots, but last night, he made up for that mistake by letting in just 1 goal against the Buffalo Sabres.  His season SP stands at a solid .931 and his GAA is an incredible 2.10.  Keep
5. Nikolai Khabibulin – EDM – Khabibulin has started 3 out of the last 6 games the Oilers have played, putting up stellar numbers in net.  In those 3 starts, he had a SP of .940 and a GAA of 1.91.  I expect the "Bulin Wall" to receive many more starts this season with numbers like those.  Keep
6. Jonathan Bernier – LA – With Jonathan Quick playing poorly, Bernier has stepped in and saved the day.  He has started 3 of the Kings' last 5 games, winning each of them, and allowing just 1 goal in each.  His SP is now .916 and his GAA is 1.80.  Those numbers are even better if you forget about his start against the Anaheim Ducks February 2nd, where he allowed 4 goals on 21 shots.  He's quickly making his case for the starting job in Los Angeles.  Keep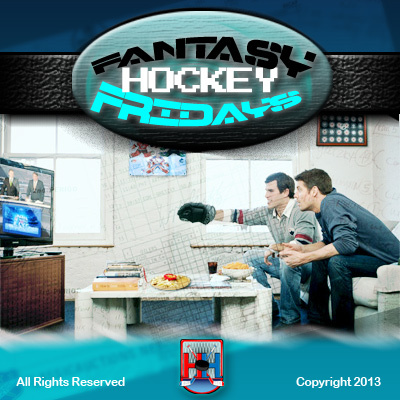 Part 2: HOHM Fantasy League (HOHMFL)
Here are the 12 writers and their initials:
BD – Bob Duggan (Buffalo Sabres)
AC – Alvin Cho (Winnipeg Jets)
AW – Andrew Williams (Carolina Hurricanes)
KC – Kevin Cawthra (Vancouver Canucks)
SA – Steve Auld (Toronto Maple Leafs)
JB – Josh Beneteau (Team Canada/Various NHL news)
IB – Igor Burdetskiy (Founder and Editor-in-Chief of HOHM)
MK – Mike Kluxdal (Minnesota Wild)
DD – Dawson Drolet (Calgary Flames)
KS – Kevin Sporka (Detroit Red Wings)
AB – Adam Bernard (New York Rangers)
KW – Kayla Winsett (Nashville Predators)
HOHM Roster Transactions (in chronological order since last week)
2/15:
AC – Dropped Miikka Kiprusoff (IR) and Added Zach Bogosian
SA – Added Troy Brouwer
2/16:
KS – Dropped Joey MacDonald and Added Johan Hedberg
2/17:
AC – Dropped Milan Michalek and Added Derek Roy
AC – Dropped Derek Morris (IR) and Added Marc Staal
2/18:
AW – Dropped Josh Harding and Added Ben Scrivens
KS – Droped Johan Hedberg and Added Jean-Sebastian Giguere
KS – Dropped Travis Zajac and Added Carl Hagelin
KS – Dropped Erik Karlsson (IR) and Added Stephane Robidas
2/19:
BD – Dropped Joel Ward and Added Andy McDonald
IB – Dropped Dustin Penner and Added Jake Allen
IB – Dropped Daniel Winnik and Added Colin Wilson
IB – Dropped Mikhail Grabovski and Added Mason Raymond
IB – Jake Allen and Added Jonas Gustavsson
2/20:
KS – Traded Chris Kunitz and Dion Phaneuf to SA
SA – Traded Kevin Shattenkirk and Rene Bourque to KS
AC – Dropped Derek Roy and Added Benoit Pouliot
2/21:
JB – Added Travis Zajac
2/22:
BD – Dropped Travis Hamonic and Added Cody Franson
Love Reading About Hockey?

Subscribe to keep up-to-date with the latest and most interesting hockey news!
| | |
| --- | --- |
| | We hate spam just as much as you |