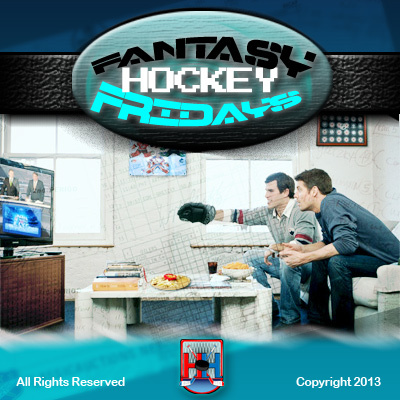 Part 1:

Injury Report
Miikka Kiprusoff – CGY – skated this week, but still a ways away from returning.
Erik Johnson – COL – is still suffering from a concussion, but has begun to skate without the team this week.
Brandon Dubinsky – CLS – might return to action sometime next week after suffering a knee injury.
Derek Brassard – CLS – is out 1-2 weeks with an upper-body injury. The injury is not a head injury, according to the Columbus Dispatch.
Ray Whitney – DAL – is skating, but with no timetable for return.
Valtteri Filppula – DET – missed the last two games with a shoulder injury, but is currently listed as day-to-day
Nikolai Khabibulin – EDM – landed on IR this week with a groin injury. He will have an MRI soon.
Cal Clutterbuck – MIN – is on injured reserve with a thigh injury, and is expected to miss a couple more games.
Rene Bourque – MTL – has a concussion and hasn't played since Feb. 21st. No word on a return date just yet.
Raphael Diaz – MTL – also has a concussion, but is listed as day-to-day
Martin Brodeur – NJ – has a back injury and has missed the last few games because of it. It likely isn't anything too serious.
Milan Michalek – OTT – could return to action this weekend at the earliest after suffering a knee injury.
Craig Anderson – OTT – is back practicing with the team after sustaining an ankle injury.
Jason Spezza – OTT – is skating with the team this week.
Evgeni Malkin – PIT – is concussed and out indefinitely. He is skating on his own, according to the Pittsburgh Tribune-Review.
Vladimir Tarasenko – STL – is concussed and has not begun to skate since the injury occurred last week.
Ryan Malone – TB – should be returning soon after recovering from a lower body injury, but is still on IR for now.
James Reimer – TOR – was activated from IR this week.
Ryan Kesler – VAN – will be out 4-6 weeks with a broken foot.
Who to Add – Skaters (Forwards and defencemen)
1. Tomas Kopecky (24.2% owned F – FLA) – has 6 points (5 goals, including a hat trick two games ago) in his last 5 games. He now has 13 points for the year (8G 5A). His -5 isn't great, but he managed to be a +1 in those 5 games combined.
2. Francois Beauchemin (D – ANA) – is a huge dark horse for fantasy hockey this year. He's not known for being a scoring defenseman, yet he's managed to score 7 points (all assists) in his last 5 games. Before those 5 games, he hadn't registered a single powerplay point. In those 5 games, 5 of those assists were powerplay assists. His best stat is his +13 rating. The Ducks are doing great this season, and he's a big reason why. In total, Beauchemin has 2 goals and 11 assists in 18 games played.
3. Troy Brouwer (F – WSH) – like Kopecky, is playing for another underachieving team, but has managed to find some luck of late. In his last 5 games, he has scored a goal and 2 assists. His offensive stats aren't the best, but his 44 hits and 8 powerplay points certainly make up for any lack of scoring. He also has 22 penalty minutes, stemming from his aggressive style of play. He has 12 points (8G 4A) in 19 games played this year.
4. Johnny Oduya (D – CHI) – has had success on the best team in hockey. He plays 22 minutes a night on average. He has yet to score a goal, but his 7 assists and +10 rating are very valuable. He doesn't shoot the puck too often, but he's not usually a scoring defenseman.
5. Chris Neil (11.2% F – OTT) – If your league counts PIMs and hits, Neil is your guy. For a tough guy, he has still managed to score 3 goals and 2 assists in 21 games played. He's a +2. He also has 68 penalty minutes, 43 shots on goal, and 73 hits! Those numbers are very impressive for any roster.
6. Cody Franson (D – TOR) – is another defenseman on a really good team right now. He has 13 points in 19 games played for the Leafs this season. He's a +11 with 28 shots on goal. He doesn't just pass the puck however; his 40 hits show that he has other facets to his game.
Who to Add – Goalies
1. Ben Bishop 42.8% – OTT – while Craig Anderson has been injured, Bishop has filled the role of netminding in Ottawa perfectly. He has won his last 4 starts in a row. His season stats now include a save-percentage of .935 and a goals-against average of 2.17. His backup, Robin Lehner, was stellar in net this week against the Bruins in Boston. He surrendered just 2 goals on 46 shots in a game that went to overtime. With Anderson returning however, Lehner will be sent back down.
2. Jonathan Bernier 15.6% – LA – is quickly (no pun intended), but quietly, stealing the starting job away from Jonathan Quick, the reigning Conn Smythe Trophy recipient. His case? Four wins in his last 4 games, allowing exactly 1 goal in each of them. His SP has improved to .931, and his GAA to 1.64.
Who to Drop – Skaters
1. Jiri Hudler (43.3% F – CGY) – Hudler was a player I recommended earlier in the season due to his strong start. But he really cooled down and fast. Last night he managed 3 assists (1 powerplay assist) which is great. In his last 8 games, he has gone goal-less. His last goal was Feb. 13th. In those 8 games, he registered one lone assist. His +/- has dipped to -2.
2. Andy Greene (67.8% D – NJ) – started the season strong. By February 9th, he had 2 goals and 6 assists. He has not done a single thing to secure his place on any roster since then. His last point was in that game.
Who to Drop – Goalies
1. Tomas Vokoun 16.1% – PIT – If I made up an award for "Biggest tease followed by a complete meltdown of epic proportions," Vokoun would surely win it. He started the season by defeating the New York Rangers on the road, twice (the second time was a shutout). His stats for the month of January included a SP of .940. His last 3 starts however, have resulted in losses. Embarassing losses. The most recent loss he gave up 4 goals to Florida. The time before that, 6 goals to Philly.
2. Anders Lindback 85.5% – TB – The Lightning have great offense. However, their defense is more porous than a sheet of bubble-wrap that's already been popped. His last start resulted in him being pulled after allowing 3 goals on 10 shots. He too had a rough outing in Florida (must be a tough place to play in), giving up 5 goals (in a win?). .890 and 3.27 are simply not good enough.
3. Johan Hedberg 12.7% – NJ – Ok, Hedberg would certainly give Vokoun a run for his money with that award. His first 3 starts included a shutout win and two 1-goal against wins against Boston, New York Islanders, and Pittsburgh, all on the road. Since then…he lost to the Islanders (5 GA), Capitals (5 GA), Jets (4 GA), and Jets again (2 GA).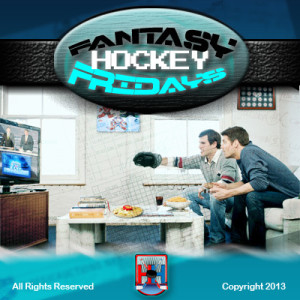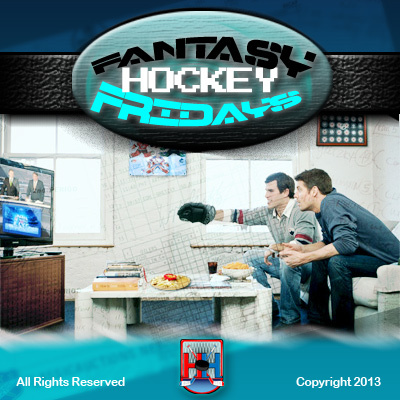 Part 2: HOHM Fantasy League (HOHMFL)
Here are the 12 writers and their initials:
BD – Bob Duggan (Buffalo Sabres)
AC – Alvin Cho (Winnipeg Jets)
AW – Andrew Williams (Carolina Hurricanes)
KC – Kevin Cawthra (Vancouver Canucks)
SA – Steve Auld (Toronto Maple Leafs)
JB – Josh Beneteau (Team Canada/Various NHL news)
IB – Igor Burdetskiy (Founder and Editor-in-Chief of HOHM)
MK – Mike Kluxdal (Minnesota Wild)
DD – Dawson Drolet (Calgary Flames)
KS – Kevin Sporka (Detroit Red Wings)
AB – Adam Bernard (New York Rangers)
KW – Kayla Winsett (Nashville Predators)
Our Roster Moves This Week
2/23:
JB – Dropped Travis Zajac and Added Brendan Gallagher
2/24:
IB – Dropped Jonas Gustavsson and Added Ben Bishop
AB – Dropped Brad Boyes and Added Jiri Tlusty
AC – Dropped Brent Burns and Added Francois Beauchemin
2/25:
JB – Dropped Tomas Fleischmann and Added Brandon Sutter
2/26:
KS – Dropped Stephane Robidas and Added Johnny Oduya
2/28:
AB – Dropped James Wisniewski and Added Stephane Robidas
SA – Dropped Ryan Malone and Added Marcus Foligno
KS – Dropped J-S Giguere and Added James Reimer
KS – Added Jonathan Bernier
Follow me on Twitter @yungspork