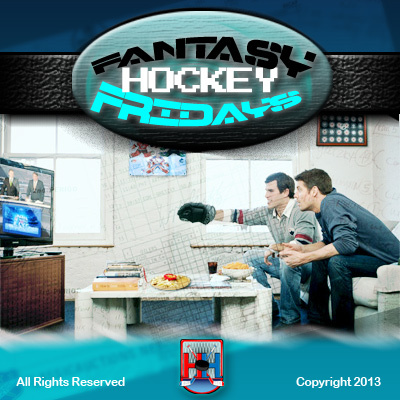 Injury Report
Who's Back?
Miikka Kiprusoff (G – CGY) has returned to action after spending about a month on IR.
Who's Day – to – Day?
Dan Ellis (G – CAR) wasn't feeling well, prompting the Hurricanes to call up Justin Peters to start Thursday night's game.
Patrick Sharp (F – CHI) left Wednesday's game after being driven into the boards hard late in the game.
Marian Hossa (F – CHI) was scratched from Wednesday's game with an upper-body injury.
Milan Hejduk (F – COL) didn't play Wednesday due to a torso injury.
Erik Johnson (F – COL) didn't play Tuesday or Wednesday due to a concussion.
Valtteri Filppula (F – DET) is skating, but with a shoulder injury still lingering.
Jordan Eberle (F – EDM) is DTD with a hand injury sustained in Sunday's game.
Cal Clutterbuck (F – MIN) still has a leg injury, but is practicing with the Wild.
Lubomir Visnovsky (D – NYI) flew back to Slovakia to attend his friend's son's funeral. He might miss Saturday's game.
Martin Havlat (F – SJ) has a lower-body injury and has missed the last 2 games.
Mathieu Garon (G – TB) left Monday's game with an undisclosed lower-body injury.
Who's on IR?
Cam Ward (G – CAR) is out 6-8 weeks with a "third degree MCL sprain.
Brandon Dubinsky (F – CLS) remains out with a knee injury.
Derek Brasard (F – CLS) is also out with an upper-body injury.
Jack Johnson (D – CLS) is skating with a shoulder injury but still on injured reserve.
Ray Whitney (F – DAL) is practicing, but is still out with a foot injury with no definite timetable.
Nikolai Khabibulin (G – EDM) isn't skating or close to returning according to the Oilers' website.
Kris Versteeg (F – FLA) could return this weekend after a rib injury, according to ESPN.
Martin Brodeur (G – NJ), according to GM Lou Lamoriello will miss this weekend's games due to a back injury.
Marc Staal (D – NYR) is out with an eye injury that occurred after he took a slap shot deflection to the face in Tuesday's game.
Jason Spezza (F – OTT) has been cleared to increase his workout activities according to Darren Dreger of TSN.
Craig Anderson (G – OTT) is still out with an ankle injury and didn't travel with the team this year.
Matt Read (F – PHI) is about 3 weeks away from returning, due to a rib injury.
Radim Vrbata (F – PHO) is still on IR with a lower body injury and did not play this week.
Evgeni Malkin (F – PIT) is suffering from a concussion, but is skating with the team.
Andy McDonald (F – STL) is on IR due to a knee injury.
Vladimir Tarasenko (F – STL) is working out, but remains on injured reserve with a concussion.
Skaters to Add
Clark MacArthur (54.9% F – TOR) – MacArthur has 10 points in his last 10 games, including 4 goals. He's a +10 in those games. He has 43 shots on net in 22 total games played.
Ryan O'Reilly (66.7% F – TOR) – O'Reilly is back. He's scored 1 goal and 2 assists in his last two games (1G 1A against the Hawks, helping Colorado send Chicago to their first regular season loss this season. He had 9 shots that game.
Viktor Stalberg (30.8% F – CHI) – Stalberg has almost identical stats as MacArthur. He has 6 points in his last 7 games played. He has 61 shots on net in 25 total games played. He's a +9 playing on the dominant Blackhawks team.
Matt Martin (0.1% F – NYI) – He's pretty much just known for hitting. However, if your league counts hits, Martin can help you win that category without help from any other players. He leads the league in hits with 116 (a few games ago he had 11 hits).
Michael Grabner (25.8% F – NYI) – Grabner has 10 goals for the season, with 3 goals coming in the last four games. The risk with Grabner is his lack of ice time. He plays less than 16 minutes a night on average.
Goalies to Add
Robin Lehner and Ben Bishop (OTT) – Anderson is still on the sidelines, which means these guys get a chance to keep impressing. Lehner just defeated the New York Rangers last night, only allowing 2 goals. His other 2 starts this season have also been 2 GA games. His SP and GAA in those games are .948 and 1.91. Bishop has only given up more than 2 goals one time this year (his last game he allowed 55 GA to Toronto). His season record is 4-4 with a SP of .925 and GAA of 2.54.
Jonas Hiller (ANA) has won 4 of his past 5 games, including a shutout against Phoenix this week. His lone loss in that timeframe came 2 nights before against the same team. His SP is a weak .896 and his GAA is a mediocre 2.93, but that's quickly changing.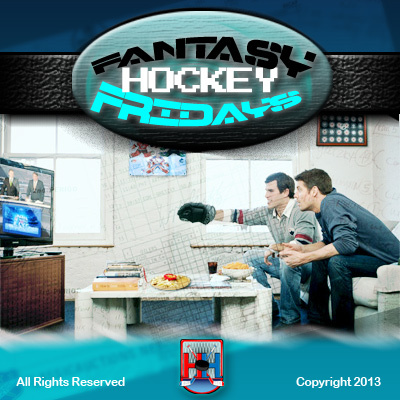 Part 2: HOHM Fantasy League (HOHMFL)
Here are the 12 writers and their initials:
BD – Bob Duggan (Buffalo Sabres)
AC – Alvin Cho (Winnipeg Jets)
AW – Andrew Williams (Carolina Hurricanes)
KC – Kevin Cawthra (Vancouver Canucks)
SA – Steve Auld (Toronto Maple Leafs)
JB – Josh Beneteau (Team Canada/Various NHL news)
IB – Igor Burdetskiy (Founder and Editor-in-Chief of HOHM)
MK – Mike Kluxdal (Minnesota Wild)
DD – Dawson Drolet (Calgary Flames)
KS – Kevin Sporka (Detroit Red Wings)
AB – Adam Bernard (New York Rangers)
KW – Kayla Winsett (Nashville Predators)
HOHM Transactions in the past week:
3/3:
SA – Dropped Marcus Foligno and Added Jordin Tootoo
JB – Dropped Jose Theodore and Added Derek Stepan
SA – Dropped Jordin Tootoo and Added Viktor Stalberg
3/4:
AC – Dropped Benoit Pouliot and Added Lee Stempniak
AB – Dropped Jamie McGinn and Added Derek Roy
IB – Dropped Brian Elliott and Added Dan Ellis
KS – Added Nikolai Kulemin
3/5:
AB – Added Mark Fraser
IB – Dropped Cam Ward and Added Anton Khudobin
IB – Dropped David Legwand and Added Michael Grabner
BD – Dropped Zack Kassian and Added Brad Boyes
3/6:
C – Dropped Marc Staal and Added Miikka Kiprusoff
IB – Dropped Anton Khudobin and Added Justin Peters
3/7:
BD – Dropped Raphael Diaz and Added Joe Corvo
3/8:
AC – Dropped Patrick Sharp and Added Matt Read
Follow me on Twitter @yungspork
Love Reading About Hockey?

Subscribe to keep up-to-date with the latest and most interesting hockey news!
| | |
| --- | --- |
| | We hate spam just as much as you |