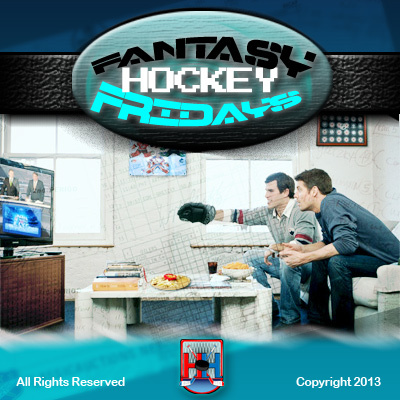 Injury Report
Who's Back?
Brandon Dubinsky (F – CLS), Artem Anisimov (F – CLS), Valtteri Filppula (F – DET), Brent Burns (DàF – SJ), Alex Steen (F – STL)
Who's Day-to-Day?
Viktor Fasth (G – ANA) – Upper Body Injury
Jamie Benn (F – DAL) – Wrist – did not play last night
Michael Ryder (F – MON) – Left Wednesday's after taking a hard hit
T.J. Oshie (F – STL) – Ribs – was scratched last night
Who's Out?
Chris Kelly (F – BOS) – Out indefinitely with a broken tibia
Patrick Sharp (F – CHI) – Might skate this weekend
Milan Hejduk (F – COL) – Neck – practiced Wednesday
Todd Bertuzzi (F – DET) – Back – isn't progressing much at all
Kris Versteeg (F – FLA) – Knee – will undergo season-ending knee surgery
Rene Bourque (F – MTL) – Concussion – is skating and might return next week
Raphael Diaz (D – MTL) – Concussion – is working out but is not cleared for skating
Patric Hornqvist (F – NSH) – Upper-Body Injury – out at least through Sunday
Colin Wilson (F – NSH) – Upper-Body Injury – out at least through the weekend
Martin Brodeur (G – NJ) – Back – is skating, but won't travel with the team this weekend
Michael Grabner (F – NYI) – Shoulder – IR placement is retroactive to March 10
Jason Spezza (F – OTT) – Still another 2-4 weeks for Spezza
Craig Anderson (G – OTT) – Ankle – injury aggravated during rehab last week
Vladimir Tarasenko (F – STL) – Concussion – skated lightly this week, not close to a return.
Vincent Lecavalier (F – TB) – Lower-Body Injury – out 3 weeks
Joffrey Lupul (F – TOR) – Forearm – practiced (limited) Wednesday
Brooks Laich (F – WSH) – Groin – skated lightly this week
Mike Green (D – WSH) – Groin – skated this week
Tobias Enstrom (D – WPG) – Shoulder – practiced this week (non-contact)
Skaters to Add
1.) Jake Muzzin (74.8% D – LAsss) – In his last 6 games for the Kings, Muzzin has 3 goals and 4 assists on the backend. He's also a +10 for the season, and a +6 in that recent period. His 37 hits and 4 powerplay points can also benefit your team. He has 11 points (5 goals) for the year and has 31 penalty minutes.
2.) Brad Boyes (49.3% F – NYI) – Boyes has always been known as a goal-scorer for the St. Louis Blues from 2007 to 2009. In the 2007-08 campaign, he scored 43 goals. Last season with Buffalo was a huge disappointment. He managed just 8 goals and 15 assists in 65 games. This year he has accumulated 7 goals and 16 assists in just 27 games. He has goals in 2 straight, and points in 3 straight (2G 3A). +/- is always a problem on the island, but if your team has depth in that category, go ahead and pick him up.
3.) Brian Gionta (57.6% F – MTL) – Gionta has 4 points in his last 3 games (2 goals), and has 6 goals in his last 8 games. For the year he has 9 goals and 7 assists for 16 points in 27 games. He has 71 shots on net, which is also a consistent statistic for him. His +3 rating isn't bad either.
4.) Patrik Berglund (88.5% F – STL) – If ever there was a definition of "puck-hog", there is no doubt that Berglund's face would be there. He has 13 goals while assisting on just 4 others. In his last 5 games, he has scored 4 times. His shooting percentage is 28%, which says a lot about his accuracy and positioning. 47 shots isn't an astounding statistic, but his scoring makes up for that.
5.) Devin Setoguchi (7.4% F – MIN) – You read that correctly, he is owned in just 7.4% of all ESPN Fantasy leagues. It might be time to put Setoguchi on your radar. He has goals in 2 straight. From February 14th to February 28th, he registered just one shot on net each game (except one game where he had two shots). Since March 1st, his shots totals have been much higher. He is now shooting close to 4 shots per game on average, which explains his last two goals. He might be worth the gamble.
Goalies to Add
1.) Sergei Bobrovsky (79.5% CLS) – All aboard the Blue Jacket band-wagon everyone! Since Columbus' first game in March, he has one all but 2 games (5-0-2). The two games he lost went to a shootout. He shutout the Vancouver Canucks, and allowed just one goal in each of the other 6 (except for his 2-goal against contest against Detroit). 6 goals against in 5 games are incredible, especially on such a defensively weak team like Columbus. His season stats are now an outstanding 2.11 and .927 over 18 games.
2.) Jonas Hiller (89.9% – ANA) – First it was Viktor Fasth that was the star goaltender in Anaheim this season. However it didn't take long for Hiller to bounce right back from injury. His first game back was a 3-2 win against the Blue Jackets. He finished the month of February off with an overtime win against the Avalanche. His month of March has been unbelievable. Hiller has started 6 games so far in March, and has won 5 of them. This stretch includes a shutout (4 starts ago against Phoenix). After that game he has won 3 straight (2 GA – STL, 1 GA – MIN, 2-1 SO – DAL). His month's stats include a save percentage of .947.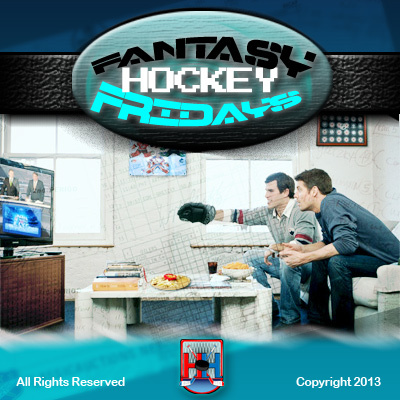 Part 2:
HOHM Fantasy League (HOHMFL)
Here are the 12 writers and their initials:
BD – Bob Duggan (Buffalo Sabres)
AC – Alvin Cho (Winnipeg Jets)
AW – Andrew Williams (Carolina Hurricanes)
KC – Kevin Cawthra (Vancouver Canucks)
SA – Steve Auld (Toronto Maple Leafs)
JB – Josh Beneteau (Team Canada/Various NHL news)
IB – Igor Burdetskiy (Founder and Editor-in-Chief of HOHM)
MK – Mike Kluxdal (Minnesota Wild)
DD – Dawson Drolet (Calgary Flames)
KS – Kevin Sporka (Detroit Red Wings)
AB – Adam Bernard (New York Rangers)
KW – Kayla Winsett (Nashville Predators)
Our Transactions in the Past Week
3/9: No Transactions
3/10:
AB – Dropped Kyle Turris and Added Brian Gionta
3/11:
AC – Dropped DrewShore and Added Milan Michalek
KS – Dropped Curtis Glencross and Added Patrick Sharp
KS – Dropped Brandon Prust and Added Zac Rinaldo
3/12:
IB – Dropped Colin Wilson and Added Andrew Cogliano
KS – Dropped Rene Bourque and Added Matt Martin
KS – Dropped Kevin Bieksa and Added Braydon Coburn
3/13:
IB – Dropped Michael Grabner and Added Vinny Prospal
IB – Dropped Ben Bishop and Added Anton Khudobin
3/14:
AC – Dropped Lee Stempniak and Added Ray Whitney
IB – Dropped Anton Khudobin and Added Jake Allen
AC – Dropped Viktor Fasth and Added Robin Lehner
3/15:
KS – Dropped Nikolai Kulemin, Carl Hagelin, and Added Braydon Coburn
Follow me on Twitter @yungspork