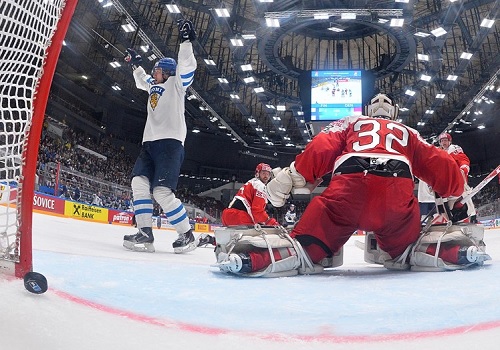 Focusing on defense first, the Finns capitalized on Danish mistakes, and Denmark just wasn't equipped to return the favor. It was classic Finnish hockey from Kari Jalonen's men. The result was no surprise. Heading into the semi-finals, Finland remains the tournament's only team with a perfect record, and its goal differential is now an impressive 34-7.
"We knew there were no free tickets to Moscow," Jalonen said. "We had to pay the price. Denmark had a great tournament here. It was tough to break their defense."
Mikael Granlund led the way with two goals, and Jarno Koskiranta, Patrik Laine and Jussi Jokinen also scored for Finland. Captain Mikko Koivu chipped in two assists.
Lars Eller replied for Denmark.
"We tried and we tried, but they were too good for us today," said Danish coach Jan Karlsson. "So we have to congratulate Finland."
Finnish starting goalie Mikko Koskinen made 16 saves for the victory, while Denmark's Sebastian Dahm had 23 stops.
Star Finnish center Aleksander Barkov sat out with the flu and Jani Lajunen took his place on the Laine line.
"I played with Patrik before," said Lajunen. "We know what everyone is doing, and Jussi is good, so it was easy for me to slide in there."
Asked if Barkov would return for the semi-final, Laine quipped: "I can do a lot of things, but I'm not a doctor."
The Finns are seeking their third World Championship gold medal of all time. They previously triumphed in 1995 in Sweden and in 2011 in Slovakia. Last year in the Czech Republic was the first year since 2010 that they did not play for a medal.
For the up-and-coming Danes, simply making the quarter-finals is a success. They've had only one previous top-eight finish, in 2010, when they topped Finland 4-1 in their tournament opener. Including today's quarter-final, that was the only time Denmark has ever defeated Finland in eight all-time meetings.
"It is hard to assess the difference from the last time we were in the quarter-finals," said Eller. "I think we have taken big steps as a country. "
Overall, it's a positive sign for the Danes as they look forward to hosting the IIHF World Championship for the first time ever in 2018 (Copenhagen and Herning). They've kept their place in the elite division continuously since 2003. From this tournament, Denmark can take pride in accomplishments like defeating the Czech Republic for just the second time in Worlds history.
"I think we had a great tournament," said Karlsson. "We had one really bad game against Russia and then a bad 20 minutes against Sweden. Otherwise, I am really proud of this team. To win, you have to have a good goalie, and we had it in Dahm."
Laine was all over the Danes in the first period, firing three shots on goal. Eternally patient in the neutral zone, the Finns kept Denmark without a shot for more than 10 minutes, relying on their strength, speed and low-risk puck distribution.
The red-and-white team came in with the tournament's best power play, converting at 34.6 percent. Denmark got the game's first opportunity when Koivu was penalized for up-ending Nikolaj Ehlers in the neutral zone. It lasted just 12 seconds, however, as Danish captain Morten Green was caught holding Mika Pyorala along the side boards. The Danes had the best chance 4-on-4 when Storm ditsy-doodled past the Finnish defense and set up team goal-scoring leader Nicklas Jensen in the slot.
However, the Danish defense would commit more costly errors as the quarter-final wore on.
Granlund gave Finland a 1-0 lead at 14:29, showcasing his quick hands as he got the puck from Koivu in tight, used defenceman Mads Boedker as a decoy, and roofed it before Dahm could react.
At 1:45 of the second period, Koskiranta made it 2-0 Finland with his third of the tournament. Koskiranta worked a give-and-go with Pyorala on the rush and deflected a backhand on goal, which Danish blueliner Steffan Lassen accidentally put into his own net while attempting to clear it. Not long afterwards, Lajunen nearly had Finland's third goal when he rang one off the crossbar.
"With a little bit of luck on our side we might have been even more competitive," said Storm.
At 12:42, Eller cut the deficit to 2-1 with – unsurprisingly – a power play goal. Mads Christensen dished the puck to him in the right faceoff circle and the Montreal Canadiens veteran one-timed it past Koskinen's blocker.
With 1:03 left in the period, Laine restored Finland's two-goal edge, taking a pass from Juuso Hietanen, who had pinched in deep, and then looping unmolested into the slot to beat Dahm with a high wrister. The 18-year-old winger twirled his stick in celebration after potting his team-leading seventh goal. It was a back-breaker.
"Laine's goal was a tough one for us," said Karlsson.
In the third period, Finland wrapped the Danes in a blue-and-white defensive blanket. Jannik Hansen rang one off the post with about three minutes, but that was as close as Denmark would get.
The Danes pulled Dahm for the extra attacker, and Jokinen out-muscled two Danish backcheckers to add the empty-netter with 2:14 left. Granlund made it 5-1 for his 11th point of the tournament just 21 seconds later, gobbling up a giveaway by blueliner Daniel Nielsen. Soon, after the final siren, the Finns were exchanging business-like, congratulatory fist bumps.
"Finland has a great team," said Storm. "They are big and strong and a good skating team. They will make it far if they keep playing like this."
Denmark's three best players of the tournament were announced: Sebastian Dahm, Nicklas Jensen, and Daniel Nielsen.