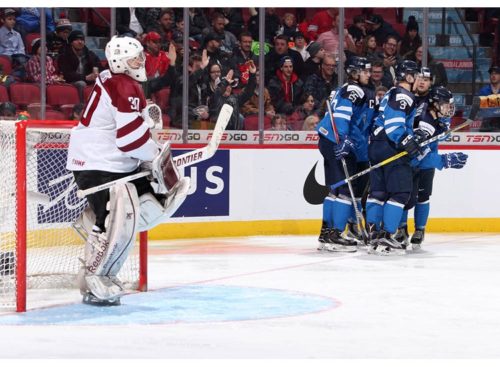 Finland booked its ticket to the 2018 IIHF World Junior Championship in Buffalo, New York with a 4-1 relegation win over Latvia in Game Two on Tuesday night.
The Finns won Game One of the best-of-three series 2-1 at the Bell Centre on Monday.
Assistant captain Villi Saarijarvi got the third-period winner for Finland and added an assist. Juuso Valimaki scored twice, and Eeli Tolvanen chipped in a goal and an assist, while Aapeli Rasanen had two helpers.
"We were finally able to score," said Finnish captain Olli Juolevi about the third period. "After we scored the first goal, they were probably a little bit frustrated after that and they took those bad penalties there. That helped us to secure the win. Still, it was not a good game, but that's not the big thing right now. The big thing is we finished the series 2-0 and we are finally off."
Renards Krastenbergs replied for Latvia.
Finnish goalie Veini Vehvilainen won his final duel with Latvia's Mareks Mitens. Shots favored Finland 42-23 in this choppy, penalty-ridden affair, and they had three power-play goals.
The Finns finish ninth, their worst placement in any IIHF competition since 1955. Last-place Latvia is demoted to the 2018 IIHF Ice Hockey U20 World Championship Division I Group A.
"We'll be back," said Krastenbergs. "We'll go [to Division I] next year, we'll win, and we'll come back better."
The placement was a major disappointment for Finland after winning gold on home ice in Helsinki last year. The Finnish federation's decision to fire coach Jukka Rautakorpi and replace him with Jussi Ahokas mid-tournament was unexpected. But it worked out as well as it could under the circumstances.
Ahokas led Finland to 2016 U18 gold in Grand Forks, North Dakota in April. Rautakorpi had seen declining results at his previous three World Juniors, finishing fifth in 1999, sixth in 2008, and seventh in 2009.
Offensively cursed, the Finns totaled just 12 goals in six games. It was their second-worst World Junior output ever. In 2015, also in Montreal, they had eight goals in five games.
"There was pretty much zero confidence after those first three games," Juolevi said of losing to the Czechs, Danes, and Swedes. "It was tough. But we stayed together and we believed we had to be patient and we could score those goals, especially in the last two games. It was not easy when you can't score that many goals."
Latvia, which has 13 roster members playing in North America this season, was participating in its sixth elite World Junior Championship. Only twice in history have the Baltic underdogs avoided relegation (2009, 2012).