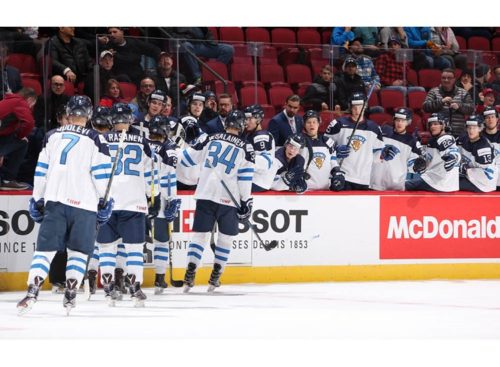 Kristian Vesalainen broke a third-period tie as Finland edged Latvia 2-1 to kick off the best-of-three relegation series in Montreal on Monday.
Vesalainen's long shot with 11 minutes left deflected in off defender Deniss Smirnovs, and the Finns celebrated with relief.
"I just shot the puck to the net and I don't know what happened," said Vesalainen. "Pretty lucky goal."
The underdog Latvians allowed a tournament-worst 29 goals in four group stage games, but hung tough here to keep this one close. Finland outshot Latvia 45-24, and Latvian starting goalie Marek Mitens was tremendous.
"It's not easy when you have just one goal after 40 shots or something like that," said Finnish captain Olli Juolevi. "Those guys got more confidence and their goalie was super-hot after that. But the good thing is we finished the job."
Like Latvia, the snake-bitten Finns scored six goals in group play, also a tournament low. The Finns won gold at last year's tournament in Helsinki, and originally expected to compete in the quarter-finals. However, they opened with three regulation losses to the Czechs, Danes, and Swedes, and were doomed to the relegation round after Switzerland's 5-4 shootout win over Denmark.
In a surprising move, coach Jukka Rautakorpi was fired before Finland's game against Switzerland and replaced by Jussi Ahokas, who coached Finland to U18 gold in April.
Game Two goes Tuesday at the Bell Centre. Game Three is Thursday (if necessary).