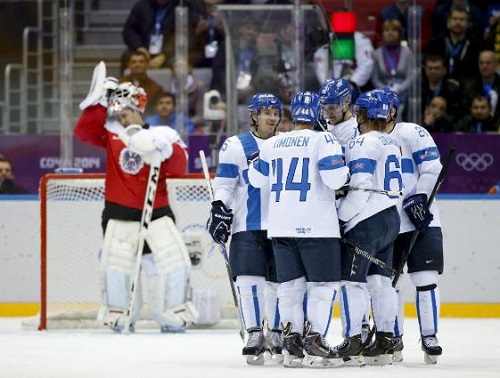 In the Group B opener between Finland and Austria, the Finns came hard unloading 52 shots on Bernhard Starkbaum to post a commanding 8-4 victory.
Minnesota Wild's Mikael Granlund and Torpedo Nizhny Novgorod (KHL) Jarkko Immonen scored two goals each while the Boston Bruins Tuukka Rask made 16 saves on 20 shots. But the secondary story of the match was Finnish team captain Teemu Selanne missing the last two periods with neck and shoulder soreness. Team trainers tried to massage it out, but Selanne did not return.
"He's an old man, so he needs some rest, more than the other guys," joked Finnish forward Petri Kontiola of Traktor Chelyabinsk (KHL) on Selanne's soreness.
The Finns and Austrians traded early goals in the 1st period before the Finns took control near the end of the period going into intermission up 4-2. Jussi Jokinen of the Pittsburgh Penguins scored the game winner early in the 2nd period and the Finns couldn't be shutdown as they scored another goal in the 2nd -their second goal eight seconds removed from Jokinen's- and two more in the 3rd.
Rask, commenting on his early giveaways "The first goal, everybody was caught sleeping there … after that second goal, everybody kind of woke up and got back to playing again." The Finnish netminder is going to have to tighten up his game if his team hopes to not only medal but have a better shot at the Gold with tough matchups ahead against Group B opponents Norway and tournament powerhouse Canada on Sunday.
Rask allowed four goals on 20 shots against Austria, nobody's favorite to win or medal.
Selanne is expected back in the lineup against Norway on Friday.