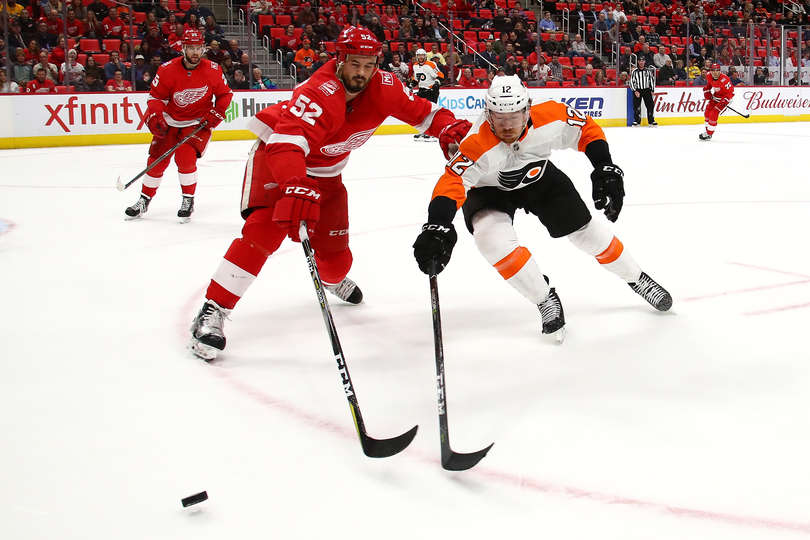 The Detroit Red Wings played host to the Philadelphia Flyers on Tuesday night. The Flyers had won 8 of their previous 10 games (8-2-0) while riding a three-game winning streak, while the Wings hoped a shutout on Monday would propel them to victory on consecutive nights.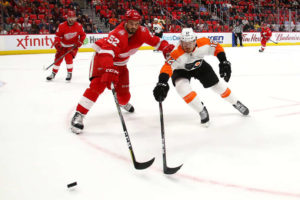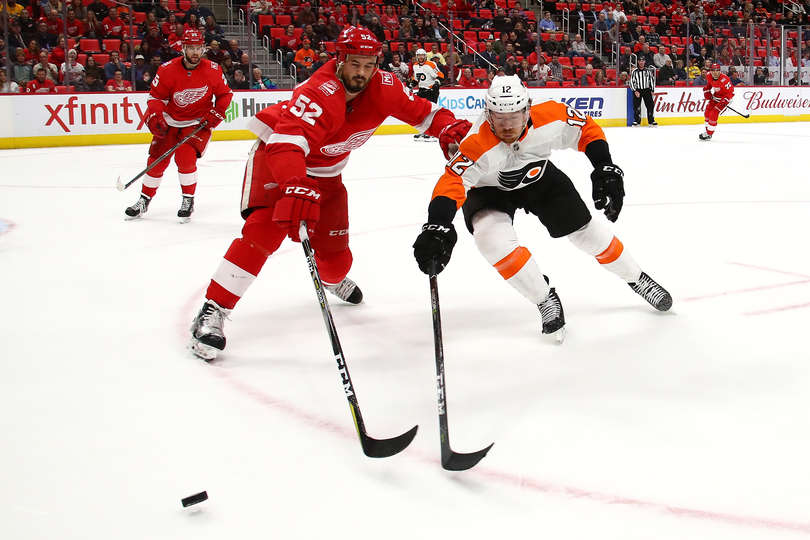 Detroit found the scoreboard first on a rare goal by defenseman Jonathan Ericsson. Philly led the first period by a slim margin of 5-4 in shots in an otherwise forgetful period.
The Flyers exploded in the second period, firing 18 shots toward Petr Mrazek. This resulted in two goals. The first came just 1:10 in. After Jakub Voracek retrieved the puck along the corner boards, he quickly dished it to defenseman Andrew MacDonald, who then half-slapped it past goalie Petr Mrazek.
Then, with 37 seconds remaining, Voracek gave Philly the lead as a flurry of chances ended with the puck in the net. Sean Couturier and Claude Giroux assisted.
Scoring chances for few for the Wings on the night, with one of the better chances coming near the midway mark of the third, as the speedy Dylan Larkin earned himself a breakaway chance. It was broken up by a poke check from goalie Brian Elliott.
Detroit managed to tie the game just past the midway mark as Frans Nielsen managed to tuck the puck past Elliott near the crease. Tomas Tatar and Luke Glendening (who also assisted on the Ericsson goal) had the assists.
Later. Tyler Bertuzzi drew a rough boarding call behind Elliott's net, of which Detroit did not make use of the ensuing power play. Bertuzzi had been playing an excellent multi-dimensional game all night, and his physical play throughout the third period was well-received.
He would earn another grade-A scoring chance soon after, as he came flying toward the crease, lunging toward the puck, but firing just wide of the net.
In the ensuing overtime period, the Flyers scored 27 seconds in, on what appeared to be a clear offside call. Travis Konecny scored to win the game for the Flyers and the Red Wings earned their 8th overtime loss of the season (1-8). It was a bit of a controversial call, as it appeared that the puck had exited and re-entered the zone before the Flyers player could tag. A review was undertaken and it was deemed a good goal.
After the game, coach Jeff Blashill wholeheartedly agreed with the call, saying that the play was indeed onside and said that the referee made a really good call.
Follow me on Twitter @KevinSporkaHOHM