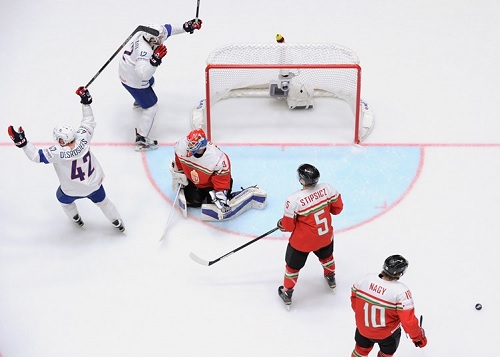 Two goals by Sacha Treille and a late first period power play goal gave France its second win in three tries in the Preliminary Round of the 2016 World Championships.
"Having five points after three games, it's good." Captain Laurent Meunier said. "I think now we can start to concentrate on moving up, trying to accomplish something. Now we have three big games against the biggest teams in our group: Canada, Finland, and the United States. We're going to try to beat them and get some points."
Hungary came out with a sense of purpose and enjoyed a dominant first two minutes of the game. Csanas Erdely had a clear look at the net between the faceoff circles but Jordann Perret blocked his shot. Then, off a draw that was won by France, Bence Stipsicz took a shot that hit the crossbar.
After weathering the initial storm, France scored its first goal when Nicolas Ritz tipped in a Yohann Auvitu point shot at 9:14. Maxime Moisand also assisted over the goal.
Hungary showed a never-say-die attitude in responding to being down. Morton Vas scored to level the game. It was a power play goal that came with Florian Chakiachvili serving a penalty for high sticking. Gergo Nagy sent a shot on goal that Cristobal Huet saved but a big rebound was there for Vas to capitalize.
With five minutes left in the first, Andras Benk had a chance but could not connect. Daniel Koger took a nice stretch pass into the French zone and got off a backhand shot despite Teddy da Costa backchecking. Up to that point, Hungary was playing its best period of hockey in this tournament.
Even with all their hard work, Hungary lost the opportunity to take the lead for good when France scored goals over the final two and a half minutes of the period.
France regained the lead with 2:32 left in the first when Sacha Trielle scored. A third was added when Damien Fleury scored with Janos Vas in the penalty box for slashing. Fleury skated in on an extremely sharp angle to starting goaltender Miklos Rajna's right. Without a true angle to shoot, Fleury put in front of the net and it deflected off Kevin Wehr's skate and in the net.
"It just wasn't our day." Rajna said. "We started pretty good,and then a couple of bad bounces and we got down by two goals pretty quick. Then we couldn't really bounce back."
After a second period that saw very few scoring chances, France added a fourth goal when Chakiachvili scored at 18:03.
Once again Hungarian fans were in full force chanting for their team. Just prior to the game, these very fans were around the concession areas clapping and singing. Hungarians here at Yubileiny Arena are proud, energized fans who despite the result on ice, won't quit on their team.
Istvan Sofron cut the lead in half when he tipped in a wrist shot from Morton Vas at 7:58. Istvan Bartalis also assisted on the play. Bartalis is leading his team in tournament scoring with three points.
On the evening Morton Vas had a hand in both of Hungary's goals, scoring one and assisting on the other.
France needed to kill a five-on-three penalty at 16:11 when Ritz was called for kneeing and Valentin Claireaux lost his cool and was called for cross checking after the whistle. Upon killing it off, Sacha Treille added a second goal on the evening.
Hungary next faces Finland on Wednesday and France goes up against the United States on Thursday.
"We've got some tough games to play." Pierre-Edouard Bellemare said. "I think we played solid two out of three so far. You never know. It's a tournament where every team can try to beat every team. It happened before with us. We're just going to take it one game at a time."