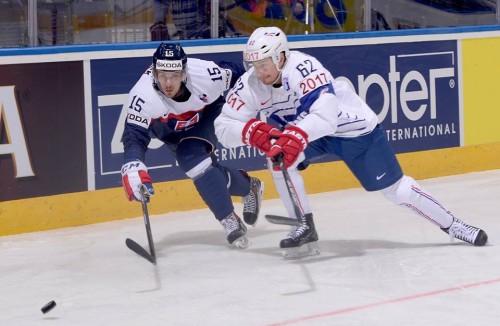 The fourth day of preliminary play at the 2014 World Championship would once again prove to have buzzing headlines. After upsetting Canada in their opening game and then being upset by Italy, France was back in role of being an underdog taking on winless Slovakia.
Slovakia held a 3-1 lead after two periods of play over France and look well on their way to picking up their first win of the tournament. However, France once again proved to never rule them out as they went on to score four unanswered goals in the final ten minutes of the game to cap off a shocking upset over Slovakia by a final score of 5-3. The win gives France five points and a whole new shot at making a run to claim a playoff spot in Group A.
As for winless Slovakia, their one point and recent struggles both in Sochi and in Belarus have all but ruined their odds at qualifying for the playoffs in the tournament. Damien Fleury's game-winning goal which came came a minute after France had just tied the game, will haunt Slovakia moving forward. In-fact Slovakia has now blown a third period lead in all three contests. Four days into the tournament and now we have had at least one upset on each single day thus far. Can it get any better?