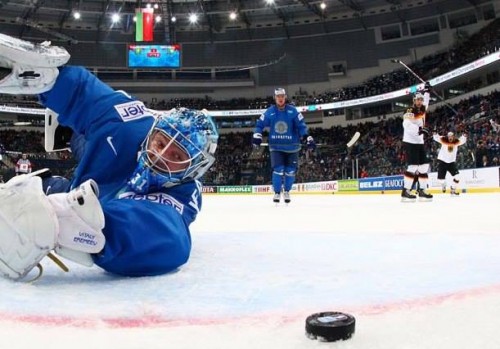 In a opening game that favored the Germans but just as easily could see an upset from the hands of Kazakhstan made for an entertaining matchup that went the full distance earlier today. Kazakhstan opened up the scoring at the 10:08 mark of the first period with a tip in goal from Andrei Gavrilin by Germany netminder Rob Zepp. Although Kazakhstan only managed four shots in the early frame of the game, Germany on the other hand pestered Kazakhstan netminder Vitaliy Yeremeyev with 16 shots. Matthias Piachta ripped a slapshot late in the first period for Germany to knot the game up even at a goal a piece.
Both teams were revved up and exchanging great scoring chances in the second period as well as the third but ultimately needed extra time to settle the game. However, even with Germany applying constant pressure through a five minute overtime, Kazakhstan managed to hold on and let a shootout determine the game. In the shootout tied at 1-1 with goals by Alexander Barta and Dmtri Upper, found Germany's hero Thomas Oppenheimer who went on to score on Germany's final shot to give the German's a 2-1 victory over Kazakhstan.
With the shootout victory, Germany picked up two points meanwhile Kazakhstan picked up one point for the shootout loss. A game like this in essence may either help Kazakhstan due to them picking up a point or end up hurting Germany as they failed to pick up all three points by not winning in regulation. Only time will tell as the tournament continues but just two days in and plenty of upsets and exciting games have already been played here in host nation Belarus.