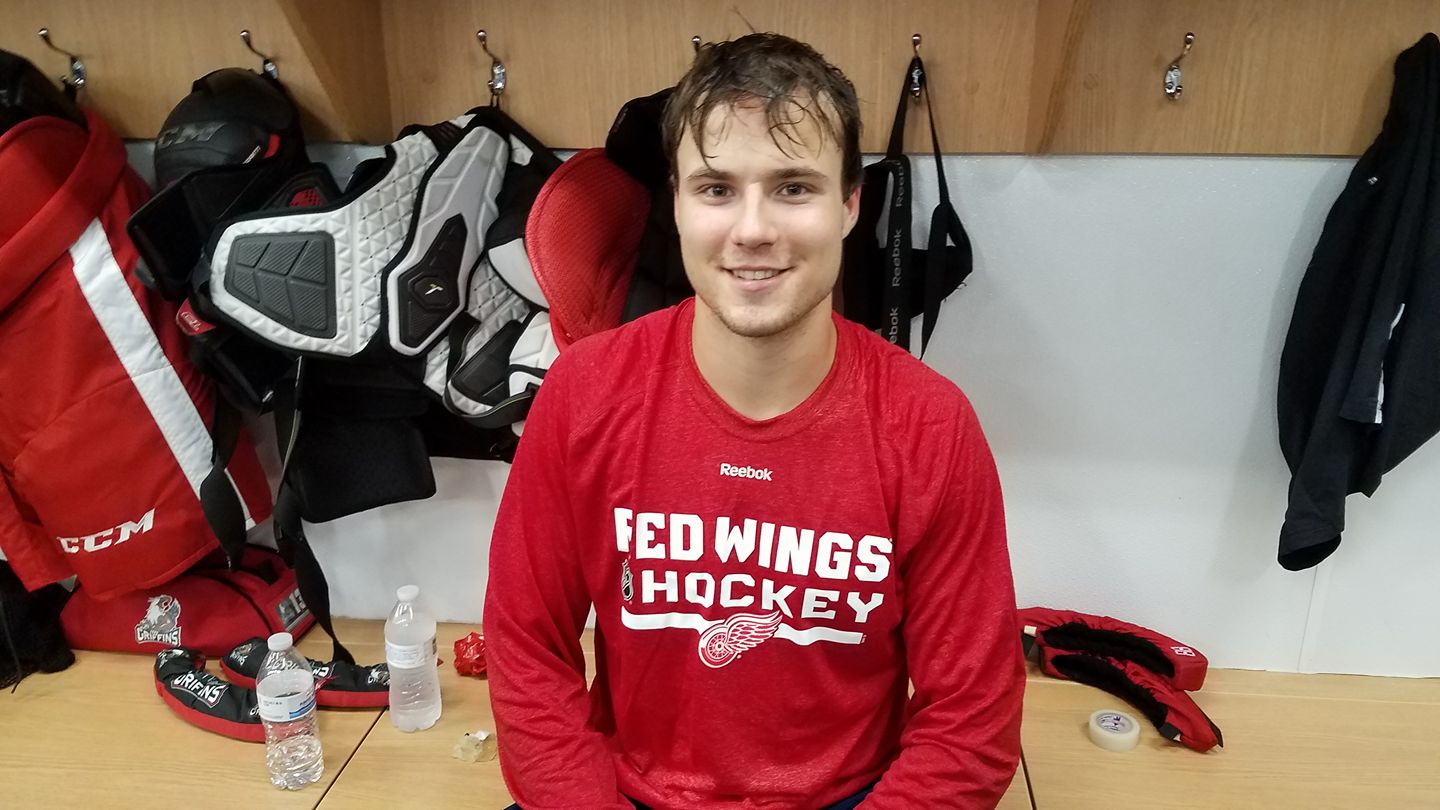 Player profile:
Drafted: 2017, 3rd round #71
Last year's team: Sioux Falls Stampede (USHL)
Next year's team: Boston University (NCAA)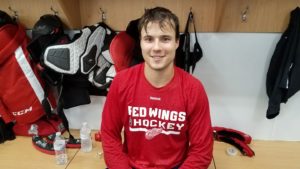 Describe your thoughts being drafted by Detroit.
Well, I kind of knew to expect it. Detroit seemed to be pretty interested in me and I think the interview at the combine went pretty well, but it was a pleasant surprise. This is a very beautiful organization. I couldn't ask for a better place to be.
What are your first impressions of the camp?
Well it's been kind of hard. I haven't been on ice in a long time. But, lots of new stuff. I'm learning all the time, a lot of stuff. I've learned many things about this organization and met a lot of friends, so it's been a very fun time so far.
What made you decide on the USHL?
I wanted to go to the USHL, so it could prepare me for college hockey…Last season was very rough for me, especially my team. I think we came second to last in our conference. So, it was a tough season, but I think personally I grew up a lot on the, like, mental side of the game.
Describe your playing style.
I think I'm a two-way defenseman, and I think I can make good breakout passes. I think my strength is that I'm a good shutdown defenseman.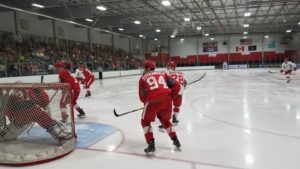 If you had to compare yourself to an NHL player, who would that be?
Maybe [Mattias] Ekholm from Nashville.
Is there a particular player that you grew up liking?
I actually was a forward when I was growing up. So I watched like, Pavel Datsyuk, and [Alex] Ovechkin. I used to watch more forwards than defensemen.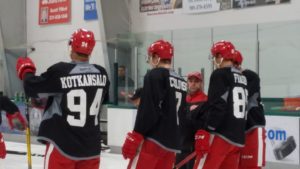 What are some of your strengths in your game?
I think my all-around game is good. I think I can do everything well. I think that's my biggest asset, that coach can put me into any [situation], whether it's power play or PK.
What are some things you feel you need to work on this offseason?
Well, right now, getting kind of the first steps faster, and a little bit of my conditioning; I want to be able to play bigger minutes, and so I'll work on that, and getting shots through is probably the biggest thing for me.
What are your expectations or what do you hope to accomplish next season in college?
I think, at least what I've heard, that we have a very good team there. Obviously I want to get to the Frozen Four with the team. Personally, I just want to get a good spot there and play as much as I can, and develop as a player.
Have you talked to any of the guys here that have played at the college level?
Yeah, I have many friends, there's obviously here many guys that have played in college, and then I have back home in Finland guys who have had their freshman years done, so I know kind of what to expect.
Follow me on Twitter @KevinSporkaHOHM