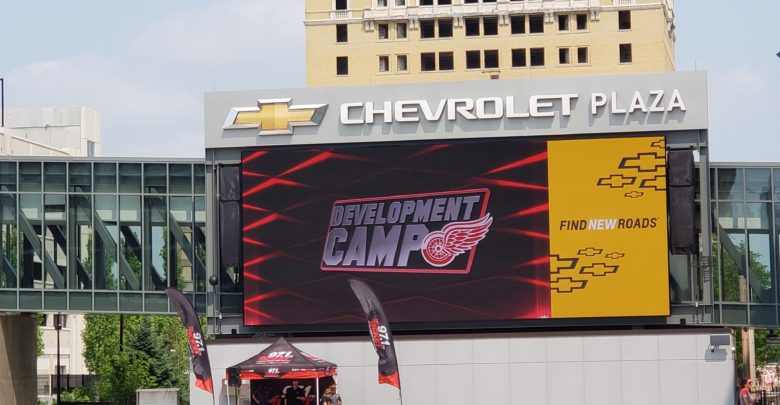 Detroit's prospects put on an offensive display Saturday afternoon in a scrimmage that ended in a 7-6 overtime victory. 6th overall pick in the most recent draft, Czech winger Filip Zadina, scored the game-winner in OT and an amazing goal in the 'just-for-fun' shootout which followed.
"It's fun watching skill," said Shawn Horcoff, Director of Player Development. "You can tell these guys have a bright future."
Top line combinations:
David Pope – Joe Valeno – Otto Kivenmaki (Team Lindsay)
Givani Smith – Michael Rasmussen – Filip Zadina (Team Howe)
Only 6 forwards were held without a point, as 19 players registered a least a point.
The first period saw Team Lindsay goals by Otto Kivenmaki (2018 7th round pick), the team's smallest forward who notably "bulked up" to a 5-8, 154 lb frame, and Jack Adams (2017 6th round pick), the team's largest forward at 6-5, 204 lb. Michael Rasmussen, last season's first round draft selection, expected to challenge for a roster spot in training camp, registered a goal for Team Howe.
Kivenmaki's mark was unassisted, while Zach Gallant (2017 3rd round pick) and defenseman Malte Setkov (2017 4th round pick) of Denmark assisted on the second and third goals.
"Whatever his weight is, he's really hard to knock off the puck, and I think through maturity and time, that's going to come," said Horcoff of Kivenmaki. "He's a guy that's got elite skill and talent. You can see it. It's going to take him a year or two to put that weight on, but he's a guy that, you know, today there's more and more smaller players playing the game, but in order to do that you've got to have that skill and he has it."
The floodgates were opened in the second, as five more goals were scored. Taro Hirose (Michigan State) scored first for Lindsay (assisted by Jonatan Berggren of Sweden, the Wings' 33rd overall selection), followed by goals from Adams (his second, assisted by Gallant again) and David Pope (2013-drafted forward, recently signed to a professional contract), unassisted. They led 5-1. Team Howe responded with goals from Brady Gilmour (2017 7th round pick), from Lane Zablocki (2017 3rd round pick) and Mattias Elfstrom (2016 7th round pick), from Zadina. The late round forwards were putting on a show. 5-3 after two.
In the third, Howe's Luke Morgan (Michigan) led the scoring off. Lindsay restored the lead, as Colt Conrad of Western Michigan made it 6-4. Chase Pearson (2015 5th round pick) and Givani Smith (2016 2nd round pick) evened the score to bring it to overtime.
Jack Adams' teammate at Union College, Sebastien Vidmar of Sweden, assisted on Morgan's goal, while free agent invitees Maxim Golod and Marcus Crawford (signed by Grand Rapids in April) assisted on the other two.
It took Filip Zadina all of 16 seconds to end OT with a single shot to win the game for Team Howe.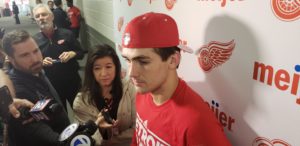 In the shootout, in addition to Zadina's flashy goal, Pavel Gogolev (invitee) had an outstanding Nikita Kucherov-like move, scoring through the five-hole. Valeno also scored through the five-hole, and Berggren made it 3-0 with a tuck-in goal between the skate and the post, as newly drafted Victor Brattstrom could not make a save.
Filip Zadina's amazing shootout move following the scrimmage. #redwings #drwdc #developmentcamp pic.twitter.com/1EcgszvvSk

— Kevin Sporka – HOHM (@KevinSporkaHOHM) June 30, 2018
The Big Guns
The Zadina line was noticeably impressive, and the linemates had nothing but praise for each other following the scrimmage. Here's what they had to say about each other.
Givani Smith on Zadina: "The first thing when I skated with him in practice was how hard his shot is, that quick release."
Rasmussen: "It was great. Both of them are awesome. G's a big player and he gets down low and in front of the net and stuff. 'Fil's' obviously very skilled. He can shoot the puck really well and gets himself good spots to shoot. "If you can get him the puck with two or three feet in front of him, he'll shoot it and have a good opportunity to score. He doesn't need very much room that's for sure. So definitely cool to play with both those guys."
Zadina: "We are pretty good players, so we know kind of how to move the puck. So it's not that hard for us to have good chemistry."
—
With so much talent on display during the week, excitement should understandably build going into September's training camp. Zadina and Rasmussen will push for a spot on the team, as will Evgeny Svechnikov of the Grand Rapids Griffins. On the blueline, Filip Hronek of the Griffins will likely make the team out of camp, and Dennis Cholowski will also challenge for a roster spot.
Follow me on Twitter @KevinSporkaHOHM