In the 2014 NHL Draft, the Detroit Red Wings had the highest first round pick since 1991 when they chose Martin Lapointe 10th. So naturally, you'd think this would be a great draft for the organization. Well, let's analyze it. Here are my grades of each pick, followed by an overall grade.
But first, let's take a glance at the depth chart to find out what positions the team needed.
In the system:
Center: 3 (Tomas Nosek, Louis-Marc Aubry, Landon Ferraro)
Having dealt away their best center in the system (Calle Jarnkrok) in the David Legwand deal (big mistake) this was a major hole for the team to fill in the draft.
Left Wing: 3 (Marek Tvrdon, Andreas Athanasiou, Andrej Nestrasil)
Detroit could use some help on the left end as well. With no high-end prospect in this position, this would appear to be a necessity.
Right Wing: 6 (Teemu Pulkkinen, Anthony Mantha, Zach Nastasiuk, Martin Frk, Colin Campbell, Mitch Callahan)
I would say they're pretty well set on the right end. With Mantha, Pulkkinen, and Frk just waiting for their time to shine, it's a very well-solidified position.
Defense: (Ryan Sproul, Xavier Ouellet, Richard Nedomlel, Nick Jensen, Alexei Marchenko, Mattias Backman)
Even with the departure of offensive defenseman Adam Almqvist, Detroit's defensive prospects have great potential. There is no need to further bolster the back-end through the draft.
Goalies: 4 (Petr Mrazek, Jake Paterson, Tom McCollum, Jared Coreau)
There will come a day when Petr Mrazek will be a full-time NHL netminder, but with Jonas Gustavsson returning to the Red Wings, he will have to continue to wait. Coreau split time with Grand Rapids and Toledo (Walleye) last season and went 1-16-6 (combined) with a save-percentage south of .880. Paterson, on the other hand, went 24-18-2 (3.41, .906) in his fourth season with the Saginaw Spirit. It's not a big hole to fill, but a drafting a goalie certainly wouldn't hurt.
Round 1
15th – Dylan Larkin (U.S. National Development Team)
Position: Center/Left Wing
This was a great selection for Detroit. Larkin is from Waterford, MI and will get a chance to play for his hometown team. He will continue to play hockey in Michigan for U-M next season. He was a near-point-per-game player on the U.S. National U-18 Team last season (56 points in 60 games). He's got good size and can play center or left wing, both positions that the team needs.
You can read more about Larkin in my recent article here: Detroit Red Wings Draft Michigan Native in First Round
Grade: A+
Round 2
The Red Wings traded away their second-rounder in the David Legwand trade. They would only have lost a third-rounder if they missed the playoffs, but it was worth it to get man-handled by the Bruins in the first round of the playoffs right? At least the streak is still alive right. …
Round 3
63rd – Dominic Turgeon (Portland Winterhawks, WHL)
Position: Center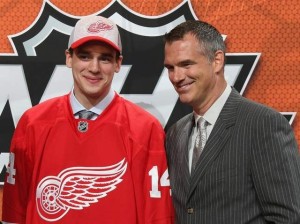 Turgeon projects as a second or third-liner that can make smart plays and be strong on the puck. Experts say he needs to work on his skating, but his hockey IQ is his best asset. Dave Reid (NHL Network) compared him to David Legwand, which will be good if the real Legwand doesn't re-sign with Detroit. Let's see here. 1 Legwand – 1 old Legwand + 1 new Legwand = 1 Legwand (double-checks math). Great pick. Again, it fills a big need down the middle.
You can read more about Turgeon in my latest article here: Detroit Red Wings Draft Son of Pierre Turgeon in Third Round
Grade: A
Round 4
106th – Christoffer Ehn (Frolunda, Sweden Jrs.)
Position: Center/Left Wing
Pop quiz question one. When's the last draft year the Red Wings did not pick a Swede? If you said 1995, you are absolutely wrong. It was 1992. Question two: How many centers does it take to replace a Calle Jarnkrok? Apparently three. Ehn played in three levels of Swedish leagues last year. In the Frolunda J18 (under-18) Allsvenskan he scored 9 points (4 goals) in 7 games. At the J18 Elit level he scored 9 points (4 goals) in 8 games. He then moved up to the Frolunda J20 SuperElit level after 15 games.
He would play 45 games, scoring 11 points. In the post-season with the J20 team, he scored 3 goals in 3 games, while scoring 4 points in 5 games at the J18 Allsvenskan level. In addition, he played two games in the SHL (highest Swedish league, formerly Elitserien). Ehn also played in the World Junior Championship for Team Sweden, notching 3 assists in 7 games. He was ranked 89th among European skaters by Central Scouting. He is the tallest of the three centers drafted at 6-ft-3.
Grade: B+
Round 5
136th – Chase Perry (Wenatchee Wild, NAHL)
Position: Goalie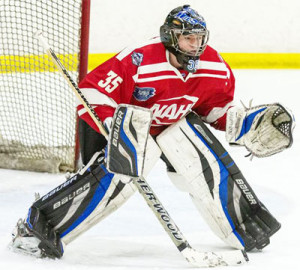 Chase Perry was the only player drafted from the North American Hockey League. If you're interested in knowing the last time Detroit drafted three or more American-born players, you'll have to go all the way back to 1993. That year they drafted five: Jon Coleman (MA), Kevin Hilton (MI), Ryan Shanahan (NY), Jamie Kosecki (NY), and Gordy Hunt (OH).
Before last season, Perry played three seasons at Andover High School (Minnesota). His stats from his last two seasons of high school hockey are 2.80/2.70 and .919/.910. With Wenatchee, he played 35 games and finished with a 2.34 GAA and .905 SP. In the playoffs he was even better, finishing with a 1.83 GAA and .933 SP. He's 6-ft-2.5, so he's got good size for a goalie. He is committed to Colorado College next season. Perry was ranked 8th among North American netminders by Central Scouting.
There's not too much risk in selecting a goalie in the 5th round. Eliteprospects.com said last November that "Perry has the natural size NHL teams crave and the athleticism to compliment it. His flexibility and reaction speed mean he makes those second and third saves. He challenges shooters and shows good positioning with his hands." Ryan Kennedy of The Hockey News describes him as "big, flexible and athletic." He also writes that Perry was named to the NAHL all-rookie team last season.
Grade: B+
Round 6
166th – Julius Vahatalo (TPS, Finland Jrs.)
Position: Left Wing
Vahatalo is a native of Vahto, Finland, where he played with the TPS under-20 team in 2013-14. There he scored 39 points (18 goals) in 33 games. He also got promoted to the SM-Liiga where he played 18 games, scoring three goals. The previous season he started off playing for TPS U18 (Jr. B. SM-sarja), but after scoring 24 points (including 11 goals) in 13 games, he got boosted to the Jr. A SM-liiga (U20). Next year, he is set to play full-time at the top level in the Finnish leagues. Aside from 2010 draft pick Teemu Pulkkinen, the last Finn drafted was Juho Mielonen (2005 6th round, 175th).
The last Finn to find success with the Red Wings was Valtteri Filppula (2002, 3rd round, 95th). Only three other players have been selected from the country in the team's history (none of which ever played in the NHL). So Vahatalo will break that trend. At 6-ft-5, 192 lb, he's got NHL size, so there's no issue there. It seems like he's always been a point-per-game player throughout his career. Playing for TuTo U16 in the Jr. C I-divisioona, he scored 47 points in 12 games. That year (2010-11) he played in four leagues, getting promoted three times to higher levels. That seems to say a lot about his work ethic. Good low round selection.
Grade: B+
Round 7
196th – Axel Holmstrom (Skelleftea, Sweden Jrs.)
Position: Center
With a name like Axel Holmstrom, it just screams Detroit Red Wings doesn't it? No relation to the Finnish-born Axel Holmstrom (also a forward, three year age difference), Holmstrom is also not related to the one you're thinking about (Tomas). One of the ten prospects that THN's Ryan Kennedy featured on his "Prospect Hot List" back in May, along with Chase Perry, Axel shined at the world under-18 championships, scoring 11 points in just 7 games. Kennedy mentioned that he played on a line with 8th-overall selection Willie Nylander. "An injury at the start of the season cast a shadow on the strong young pivot," said Kennedy. "But now the world knows just what kind of skill he can bring." He has excelled at nearly every level in the last two seasons.
The Hockey News ranked him 67th overall in their annual Draft Preview (if that holds true, this is a steal at 196th). He was also ranked 90th among European skaters by Central Scouting. Last year he scored 38 points (15 goals) in 33 games playing for Skelleftea J20 (SuperElit). The previous season he scored 47 points in 22 games for the J18 team (J18 Elit), 17 points in 9 games for the J18 team (J18 Allsvenskan) and 3 points in 10 games for the J20 team (SuperElit). Holmstrom also played on the Swedish U18 team at the Ivan Hlinka tournament in 2013-14. At 6-ft-0 he weighs more (196 lb) than Vahatalo does at 6-ft-5 (192 lb). This is a great selection by Detroit. And if Tomas Holmstrom could win four Stanley Cups being drafted in the 10th round (there are only 7 now), 257th overall, than Axel certainly can succeed as well.
Grade: A+
201st – Alexander Kadeykin (Moscow Oblast Atlant, KHL)
Position: Center
Kadeykin turns 21 this year, so he's been passed-over in recent drafts. However, because of that, he's already been able to play professionally in the Kontinental Hockey League. He is just the second player Detroit has drafted from the KHL (the other is Alexey Marchenko). Aside from Marchenko, the last six Russian players picked by Detroit have played a combined 71 games (all 71 games were played by Dmitry Bykov). The last successful Russian pick was Pavel Datsyuk (1998 6th round, 171st overall). In four seasons playing in the MHL (Russia's junior league), Alex scored 131 points in 135 games (47 goals). Last year he played full-time in the KHL, scoring 23 points in 54 games. He is yet another big-bodied center at 6-ft-5, 216 lb. The KHL factor is virtually nonexistent in the seventh round, since there is little risk involved.
Grade: A-
In conclusion, Detroit filled every hole needed in their depth chart. With just three centers and three left wingers, they added three natural centers, one left winger, and two others that can play either center or left wing. All of these selections have great NHL size and have a mix of grit, two-way play, and scoring abilities combined. In addition, they found a solid goalie with a lot of potential. They didn't make any unnecessary picks (i.e. defensemen). Every selection made perfect sense.
Final Grade: A
Follow me on Twitter @yungspork