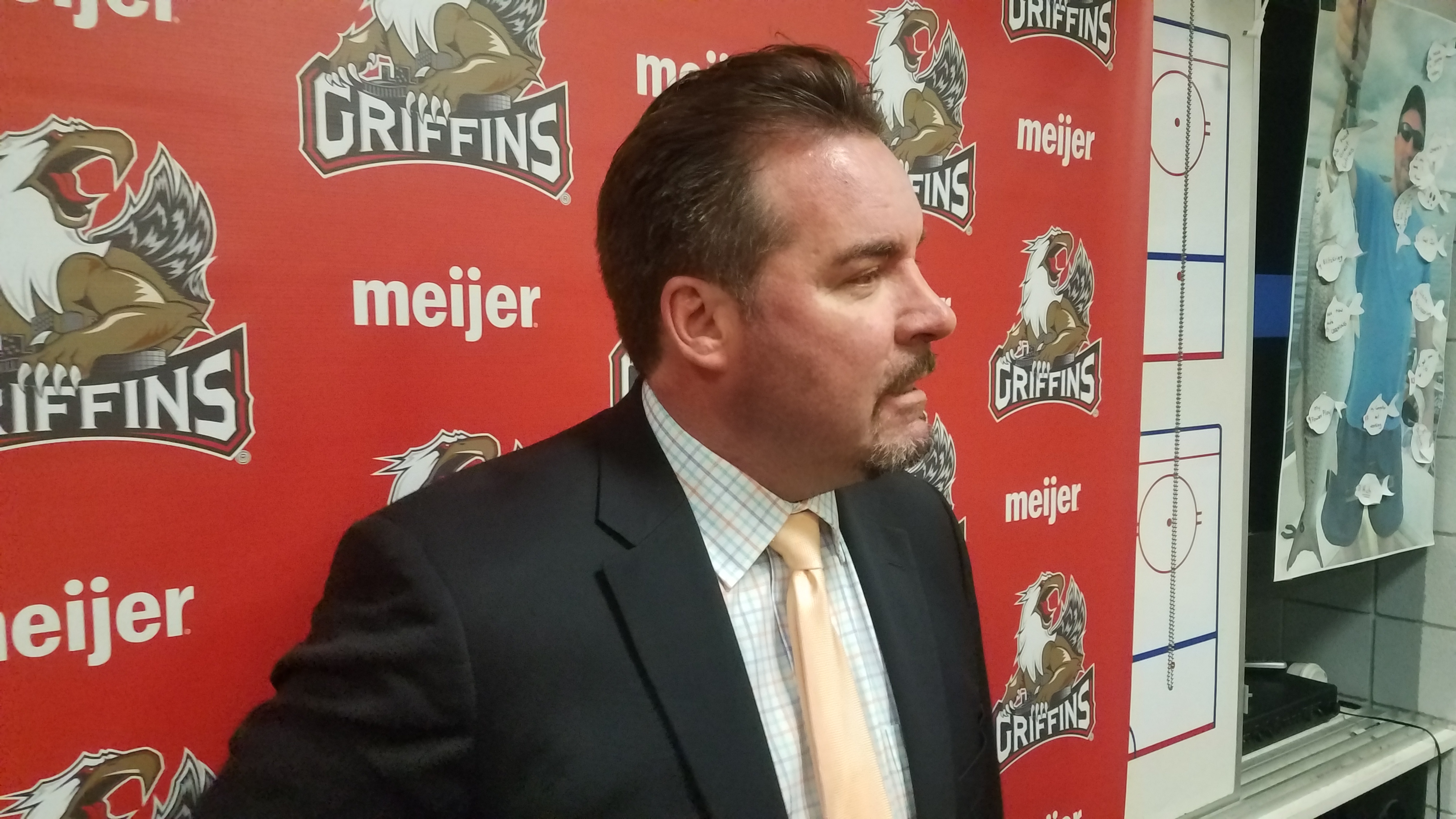 The Grand Rapids Griffins hosted the San Jose Barracuda on Friday night as the defending Calder Cup champion Griffins continued their push for the playoffs. They came into the night in third place in the Central Division, while the Barracuda sat last in the Pacific Division.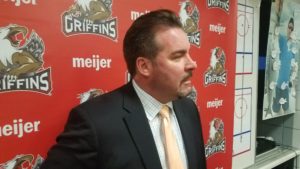 The Griffins dominated the first period, outshooting their opponent 19-6, while the game remained scoreless despite countless chances. San Jose netminder Antoine Bibeau was outstanding, as GR could have easily had two or three goals before the intermission.
Dominic Turgeon kicked off the scoring chances with a breakaway in the first 20 seconds. Bibeau stopped his forehand-backhand move. Robbie Russo was next with a great slap shot, but was also robbed by Bibeau. Later, Turner Elson redirected deflected a shot by Turgeon on net. Lastly, Luke Esposito attempted to redirect a shot by Dylan Sadowy near the end of the period that went just wide.
GR netminder Tom McCollum had one true test in the opening period, and it came on a quick break by Alexander True with 1:36 to play.
All this hard work would pay off for the Griffins, as defenseman Dylan McIlrath scored only 16 seconds into the middle frame on a rebound slap shot. The initial shot came from Turgeon, with point-producing forward Matt Puempel earning the secondary assist.
"I think there's a sense of urgency with our group in here that we have to keep on winning games until our team clinches," said coach Todd Nelson. "Right now we're scoreboard watching, watching to see what other teams are doing below us. So we can do ourselves a favor and take care of our own business. And things will work out."
The Barracuda came on strong to start the second, despite the early goal against. They had 10 shots in the first 8 minutes. With this pressure, Defenseman Jacob Middleton tied the game, while McCollum was screen in the crease. Julius Bergman and Alex True assisted.
In the third period, veteran Ben Street scored on a great cross-crease pass by Colin Campbell. Six minutes later, True tied it with a high-shot redirect from the point, and the game headed to overtime, and then a shootout. It was the fourth consecutive game to need a shootout for Detroit.
"We've been down this road before and the guys were business as usual," said Nelson. "We've had some success lately going into overtimes, so the guys didn't panic. It was just a situation where we're trying to get that next one. We've played so many overtime games lately that the guys feel comfortable playing 3-on-3."
"Yeah. It's been what, four in a row?," said Street. "It's an extra period of hockey. At least we're coming out on the right side of a lot of them, but it's getting a bit old."
Rudolfs Balcers and Luke Esposito scored in Round 2, and Matt Puempel finally won it for Grand Rapids in the fourth round.
The Griffins earned two much needed points in the standings, inching them closer to the Calder Cup Playoffs.
When the Red Wings' season concludes, they will then have Tyler Bertuzzi, Jared Coreau, Evgeny Svechnikov, and Joe Hicketts back on the roster.
"I thought we had a really good start," said Nelson. "We did a really good job in the first period of keeping pucks down low and managing the puck. I think in the second period, San Jose started getting their legs a bit. And from there it was pretty evenly matched the rest of the game. But in the first period I thought the goalie made some big saves…because the game could have been out of hand if it wasn't for the goalie, just because we had so many good chances, and it could have easily have been 4-0."
Coach Nelson is optimistic that the Griffins can make another deep playoff run, despite some turnover from last year's roster, including Tomas Nosek going to Vegas and Martin Frk playing in Detroit.
"I think so. I think, we have a different team than last year. We have to win different ways. Matt Lorito's out, we've got some guys called up, but every team goes through that. I think that, with the guys we have and the guys who get sent back to us, if we can stay healthy, we'll have a pretty good chance."
The regular season ends on April 14.
Follow me on Twitter @KevinSporkaHOHM