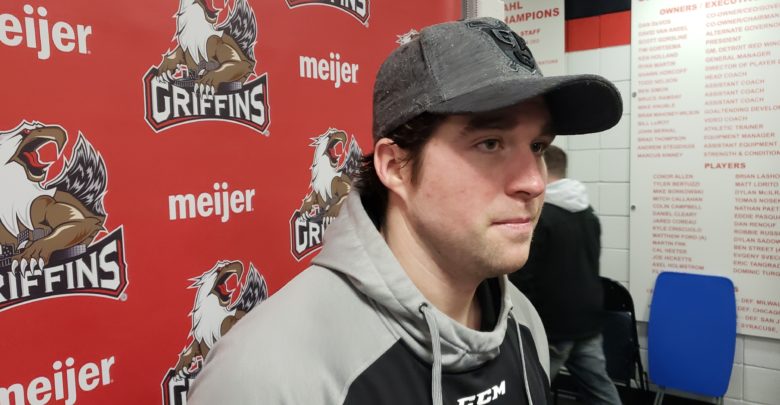 The Grand Rapids Griffins and San Jose Barracuda faced off in the first of back-to-back games at Van Andel Arena last night. It was a lackluster performance by the Griffins, as they were shutout, allowing four goals and a plethora of breakaway chances from the visitors.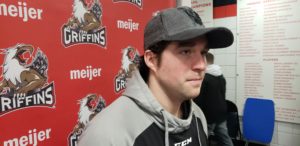 The first period was tightly contested. Grand Rapids led in shots 12-7 despite nothing to show for on the scoreboard. Things fell apart quickly for the Griffins in the second, however. A slick passing play led to a goal from Maxim Letunov. Jayden Halbgewachs and Manuel Wiederer set him up perfectly with a net-front feed of which Letunov backhanded easily past goalie Patrik Rybar.
"They're fast," said Chris Terry. "I thought it was a really fast-paced game tonight. It was fun; it was fun to play in. They're opportunistic when they get the puck. They're looking to counter really quick. Their D are very active. Again, we can take advantage of that and we can utilize that to our strengths."
Four minutes later, Wiederer carried the puck in alone on a breakaway, snapping a five-hole goal and further carrying the momentum in San Jose's favor.
"I don't think the momentum shifted," said Terry. "I thought our power play generated a lot of chances tonight. It's the story of the year. We move the puck, we have the puck in the zone for a minute thirty, we shoot, we get it back, [and] it just doesn't go in the net. I think two mistakes kind of cost us, those first two goals off the faceoff. And then, obviously that breakaway hurt, and kind of we were chasing the rest of the way."
Still in the second, Jonathon Martin scored from the right circle, short-side on Rybar. It was a shot that Rybar should have easily stopped.
The fourth goal came on the power play as Nicholas DeSimone wristed a shot through traffic from the blueline.
Frustrations boiled over a few times for the Griffins as numerous small scrums arose over the course of the game. It was a one-sided affair, despite some pretty impressive goaltending from Josef Korenar, who now boasts a stellar 15-3-1 record. The shutout is his third of the season.
"They're a good hockey team," said Coach Ben Simon. "They're an aggressively forechecking team. They do a great job in their defensive zone of keeping us out to the outside. They've got some big defensemen that make it hard to get to the net front. And both their goaltenders. You saw one tonight that was phenomenal. There's a reason why he's second in the league in goals-against and fifth or sixth in save percentage. And then Bibeau is fantastic as well. They've got a lot of good pieces."
"As the game goes along, obviously frustrations mount from our side that we haven't scored or we've given up a goal," said Terry. "The rest of the way is going to be tight games, hard checking. It's going to be a little chippy. That's kind of the edge that these last 30 games will have."
Filip Hronek
Hronek has had success with the Detroit Red Wings this season on two call-ups but is now back with the Griffins. One of Detroit's brightest defensive prospects understands the management side of transactions like this and knows it's part of the business.
"It was fun, you know, to get experience," said Hronek. "I was there for a little bit. I try to take some positives from there and move forward. I felt good up there, and I had my confidence,"
Coach Simon noted that Hronek "tried to do too much at times" throughout Friday's contest.
"I think he has to realize this is still a very hard league to play in, and as you go down levels, there's a little less structure within the game itself," said Simon. "You're not going to have as clean a game here. You have to kind of manage your game and I think at times he got away from that. But, anytime you're going from a different team to a different team, different level to a different level, I think there's a little bit of an acclimation period. Whether that's a period, whether that's a game, whether that's a week, it's going to happen. It's to be expected."
It isn't easy to transition between different levels of hockey multiple times in a season, but that is something that Hronek will have to manage.
Hronek noted the main difference he noticed from the two leagues. "The speed for sure. You know, the guys up there are more skilled I think and can make the small plays."
"Filip's been here long enough and knows how we operate here and what's expected of him not only within the structure of the team but as an individual," Simon continued. "So I don't think there's anything lost in translation. He went up and played very well in Detroit, came down here, wasn't disappointed or discouraged. He's looking forward to playing over the All-Star break and the bye week that Detroit had. He wasn't disgruntled by any means."
Filip Zadina
Zadina had a rough game. On a late third period power play, he was set up perfectly on the doorstep twice in a row and all he had to do was jam it in the open net. He whiffed entirely on the first opportunity, and fanned on the second, barely making contact with the puck. It was indicative of his play all night, not making the most of his chances. Coming off a disappointing showing at the World Junior Championship earlier this month, Zadina has a lot of work to do on his game.
Power play woes
The Griffins sit 31st in the AHL in power play success despite being at the top of their division currently. Their conversion rate is a mere 13.6%. 11 teams carry a percentage of 20% or more. Amazingly, they are tied for second in the league in overall points, despite that fact.
"The good news is we're in first place without a power play," noted Terry. "Imagine what we could be like when we get a power play."
The top power play unit on Friday consisted of Matt Puempel, Wade Megan and Axel Holmstrom up front, and Filip Hronek and Filip Zadina on the left and right points. On paper, that would appear lethal, but in practice, it remains unproven.
A chance to bounce back
The Griffins and Barracuda play each other again tonight at Van Andel. Grand Rapids will hope to have a much-improved showing this time around.
Follow me on Twitter @KevinSporkaHOHM
Love Reading About Hockey?

Subscribe to keep up-to-date with the latest and most interesting hockey news!
| | |
| --- | --- |
| | We hate spam just as much as you |