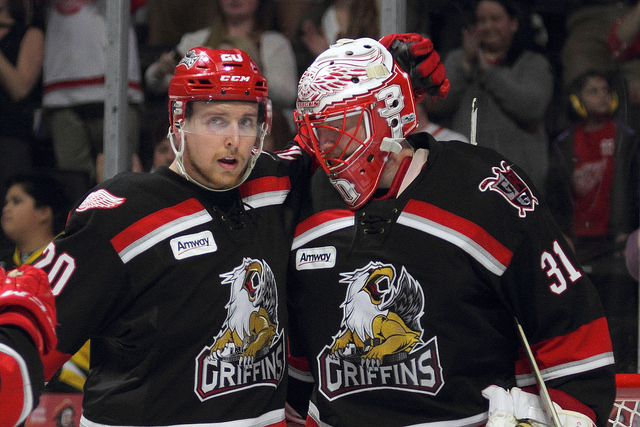 The Grand Rapids Griffins entered Friday night with a 2-1 lead over the San Jose Barracuda. With a decisive 6-2 win, they now have a chance to clinch a spot in the Calder Cup Finals with games on back-to-back nights.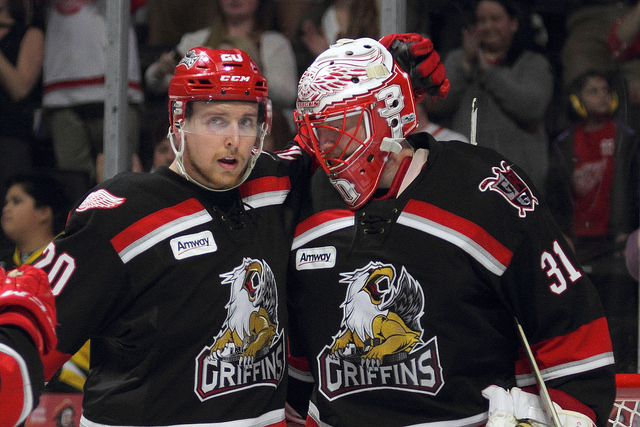 "This has been a tough series for us," said Eric Tangradi. "I think we sat around for 8 days, and then the schedule sets up for 7 games in 13 days, all while flying across the country."
It was a close first period with shots nearly even throughout the first 20 minutes of play. San Jose's Barclay Goodrow rang one off the near-side post of goaltender Jared Coreau on the game's first scoring chance. Soon after, Kevin Labanc stole the puck from a Griffins defender and fed a quick one-timer to Marcus Sorensen, but Coreau came up with an outstanding save.
"They have some guys that shoot and pass the puck and make really good plays," said Coreau. "I had lots of good blocks from my D and my forwards."
Near the midway mark of the first, octopi began to fly at Van Andel Arena, making the atmosphere feel more like Joe Louis Arena.
Barracuda Colin Blackwell managed to score the first goal at 13:47. After a great breakaway scoring chance and a great poke check by Coreau, officials called a penalty shot, as Blackwell was slashed on the attempt. On the second chance, he scored backhand-forehand on Coreau, as the Griffins netminder was caught sliding on the fake.
The second period belonged entirely to the home team Griffins. After ending the first with a slight 9-8 edge in shots, they finished the middle frame with a commanding 39-13 advantage. From this shot barrage came four unanswered goals.
"You've got to try to keep yourself away from getting too excited," said Coreau about the one-sided period. "I said after last game too, you don't want the excitement to excite you, because that's when you can get a little bit too jumpy. You know, you don't see a shot for maybe five minutes and then they get a good chance, and so you've just got to keep yourself calm and stay focused on the next shot, whenever it may be."
Tyler Bertuzzi continued his point-per-game pace in the playoffs with his 6th goal and 12th point in as many games. He found the rebound from a Kyle Criscuolo shot and reached around Grosenick for the goal. Veteran forward Eric Tangradi had the secondary assist.
Next, Tangradi scored his own goal, his 14th point in his 12th game. He carried the puck out of the corner, crossing over the crease and scoring on the backhand. Mitch Callahan assisted on the play.
"I just kind of felt him on one shoulder and spun to the other and was able to get to the net," said Tangradi. "[I] had some traffic there and was able to finish it in the five-hole."
Tomas Nosek struck third, scoring his team-leading 7th goal. The zone possession began with a great individual effort by the Czech forward. It was retrieved and sent back to Nosek, and he scored top shelf in tight on Grosenick.
Later in the second, veteran American League defenseman Brian Lashoff had an unheralded play, reaching out his stick to redirect the puck in the neutral zone. The puck was intended for a Barracuda player, who would otherwise have had a clear breakaway opportunity.
Finally, Martin Frk, who was waived, picked up by the Carolina Hurricanes, waived again, and re-acquired by Detroit, and then sent back to Grand Rapids this season, scored on a breakaway set up by Nosek. Grosenick expected a high glove-side wrist shot, but Frk carefully placed the shot below the glove and in for the 4-1 lead.
"Yeah, I was going on my glove side," said Frk. "The goalie coach said he's got a very good glove, so I didn't want to go high really on him. I just try to keep it low. It was a lucky shot. I was almost tired too, I couldn't skate anymore, and finally I get [my] first goal of the series too. So I was really happy with that."
"Yeah I think it was kind of a little bit broken play," he said. "I knew there was a guy and he kind of peeled off a little bit to his bench and I just get on my horse and try to skate in the middle. Nosy got the puck on the boards and he just put the perfect pass on my stick. When I got the breakaway, I just had to put it in and I was lucky enough to score a goal."
"When you look at the first period, we weren't breaking the puck out very well," said coach Todd Nelson. "We were losing battles on the walls and I thought we got better with that in the second, which resulted in more offensive zone time for us. In the first, they came after us really strong. They kept the play in our end. You know, maybe we didn't give up a whole lot, [but] they were still grinding us down low. I think in the second we did a better job on the walls and breaking the puck out. That's something we're going to have to do for sixty minutes tomorrow."
San Jose came out of the second intermission and quickly scored a goal from Adam Helewka. However, the three-goal lead was restored 50 seconds later by forward Ben Street, who scored high blocker-side on Grosenick. It was an off night for the netminder, who sported a 2.33 goals-against average and .921 save-percentage coming into the game.
Evgeny Svechnikov scored with 2:43 remaining from defensemen Joe Hicketts and Robbie Russo, which sealed the 6-2 victory and the 3-1 series lead.
The chippy contest had a total of 108 penalty minutes (Grand Rapids had 47) and 32 individual calls in the penalty register, including five ten-minute misconducts.
"I think near the end there they were getting frustrated, playing their third and fourth lines, trying to get whatever energy they could," said defenseman Dylan McIlrath.
"Yeah, it was an emotional one," said Tyler Bertuzzi. "Everyone stepped up today. I thought we played a really good, physical game."
The team expects the Barracuda to come out strong, as their season depends on it.
"They're going to come out very strong [tomorrow] like they did in Game 2 in San Jose," said Callahan.
"They're a good team, so we've got to match their intensity and outcompete them in the first five minutes. Luckily we have home ice to maybe do it."
Follow me on Twitter @KevinSporkaHOHM