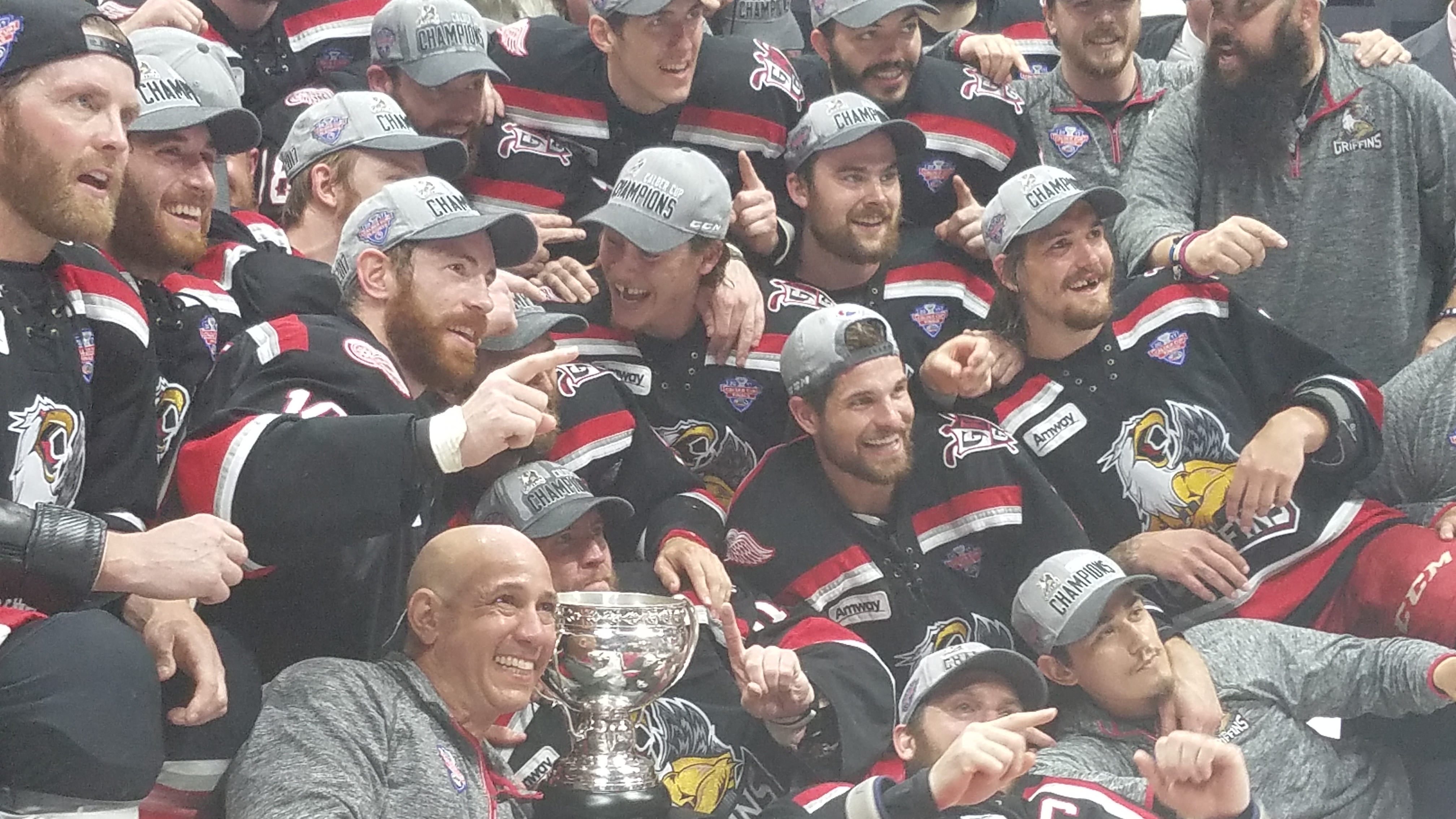 The Grand Rapids Griffins have won the 2017 Calder Cup Championship following a dramatic 4-3 victory over the Syracuse Crunch in Game 6. Tyler Bertuzzi was awarded the title of Playoff MVP, while Martin Frk (who was waived twice before returning to the Griffins early this season) scored the game-winning goal, clinching the team's second victory in five years.
[Full recap at the bottom of the article]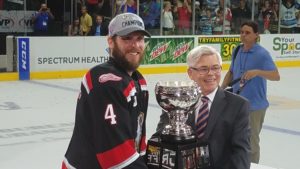 In 2013, the Griffins defeated the Crunch four games to two, in Syracuse. However, this time they were able to close out the series in Grand Rapids, in front of a sold-out crowd at Van Andel Arena.
The Griffins did not lead in the contest until Frk's third period goal. It was a back-and-forth affair all night long, but the leadership of the team did not falter, and they performed when called upon.
They failed to close out the series on the road after a disappointing loss that saw them allow five goals in the first period, but it allowed them to win it all in front of the fans.
"You want to end the series right away, but they came right away on us and we lost the game in the first period (Game 5)," said Frk. "Winning it at home is always so much sweeter than winning it on the road."
"Obviously we wanted to do the job in Syracuse but credit to them," said defenseman Dylan McIlrath. "They were obviously the hardest team we've ever played against, and they brought it up until the final buzzer. But to do it in front of our fans and have this special celebration. There's nothing like it."
One Lead Is Enough
Although the team did not lead until the third period, they were able to successfully give a strong performance in the final frame.
"In between periods we have the leadership, we have the character guys," said Dylan McIlrath. "We're a calm bunch. We knew we had a job to do. 20 minutes and we could win a championship, and that's what we did. Credit to our leadership and everyone involved for buying in."
Goalie Jared Coreau also gave credit to the experienced players on the team.
"That experience helps," he said. "They have different ways of looking at things. They don't get too rattled; they don't get too high or too low…For the young guys, it's going to be huge as they progress in their career."
It can often be hard to win games while playing from behind for a majority of the time.
"It shows character," said Coreau. "It shows what you're made of. It can be hard in terms of just mentally thinking about it. But being pros, we won this for a reason. We could battle through that stuff."
Bertuzzi's MVP Win
"I think he's just such an intense player," said Coreau. "Playoff hockey is his kind of hockey. It is way different. The hits are harder. Shots are faster. Everything's just quicker. I don't know if it's his hockey sense or it's just his sheer will to win and drive to win."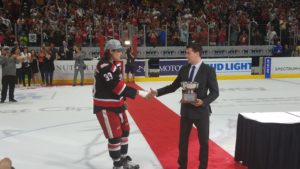 Bertuzzi finished the post-season with 9 goals and 19 points. Only Tomas Nosek had more goals (10) and only Ben Street and Nosek had more points (21, 22).
After this playoff performance, he will surely have a chance in the NHL next season.
Coreau's Calder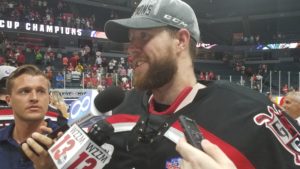 Although Jared Coreau did not have an outstanding Finals (22 GA, 3.67 GAA), he had an outstanding post-season as a whole. He still finished with a 2.84 GAA and .909 SP despite the Syracuse offense. And a number of goals the team allowed were not his fault either.
Coreau played 14 games with the Red Wings this season, going 5-4-3, and that experience seemed to propel him to the championship win.
"I think that 2 ½ to 3 months I was up was probably the most beneficial thing," he said. "Learning how to be a real pro and being around some of those guys that won the Stanley Cup, you just see how they carry themselves, and I think that's how I tried to emulate myself down here."
He agreed when asked if the intensity of the game was the highest of the post-season.
"I think so. Back, forth they kept taking the lead. When we scored there was still 7 and a half minutes left. That's a lot of hockey, in that last two minutes. That's the kind of team they are. They're that good. They kept it in our zone. They surged. I made the initial stop and everyone was good at putting the rebounds out."
Frk's Roller Coaster Season
"When you look at the whole year, it was a crazy year," said Frk. "A lot of games. The playoffs are always tough. We knew what we had to win the championships and we did it."
With his future up in the air, Frk is grateful for the opportunities the Red Wings have given him.
"It was a special moment, I can't say any bad things about the whole four years I've been here with Detroit. It was a pleasure for me and my family when I got drafted to be here. It's just amazing that we won the championship. It's special."
"The Red Wings always do a great job signing guys to bring them here in Grand Rapids so they did it again. Our whole team was amazing. You know, everyone did our best in the playoffs. And that's what we get. We got the championship. I bet the Red Wings are probably the best organization. They know what they're doing. It's just a great feeling."
Will McIlrath Get Another Shot at the NHL?
The big defenseman has bounced around from city to city throughout his career, and Grand Rapids was his 5th stop of the season.
"I mean, all the trades, all the different cities, the hotels, seems like nothing right now. And I can hoist the Calder Cup with this group of guys…this organization, it makes it even more special."
Dylan hopes his impact was noticed by Detroit's management. Regardless of future decisions, his visible impact on the ice was key in the Griffins' win. His constant and consistent physical play helped the team battle through some really physical teams.
"I hope so," said McIlrath when asked if he thinks his play made a strong impression. "I was just playing my game. That's kind of why they brought me in, to have a player like me that they felt they were missing. It seemed like the perfect match and clearly it was [since] we're hoisting the Calder Cup."
—
Game Recap
The game did not begin well for Grand Rapids. They were called for two early first period penalties, and goaltender Jared Coreau was required to make a few difficult saves, one in which he robbed Crunch forward Joel Vermin from point-blank range.
The Crunch managed to score as Yanni Gourde put the puck into the net after a giveaway that saw Coreau behind the net. It was an unfortunate bounce, but the Griffins kept the pace, albeit slightly behind most of the game.
Late in the first, the Griffins had a trio of power plays, including a five-on-three for 37 seconds. They failed to maintain pressure in the offensive end, and went into the intermission down a goal.
In the middle frame, forward Matt Ford tied the game at one during carryover power play time. The goal came just 18 seconds in. Ford wristed a shot past the glove of Crunch netminder Mike McKenna. Tomas Nosek assisted.
Warren, Michigan native Matt Taormina restored the one-goal lead for Syracuse, as he potted an easy goal following a rebound in the slot.
Mitch Callahan then scored for the Griffins following a great pass by linemate Ben Street, which effectively led to an empty net goal, with McKenna out of position and unable to make the save on the play.
However, Syracuse bounced right back to continue the goal-scoring trend as Gourde scored his second, and they led by a score of 3-2 after two.
In the third period, Grand Rapids dominated, with scoring chances aplenty all throughout the final twenty minutes.
Nosek was the victim of a devastating open-ice hit by defenseman Jake Dotchin, and the hit was immediately followed up by a Tyler Bertuzzi goal early in the period.
Finally, Martin Frk finished his roller coaster of a season with the game-winner with 7:19 to play.
Although Syracuse pressed hard in the waning minutes, Coreau and the defense held their only lead for dear life, and it paid immediate dividends.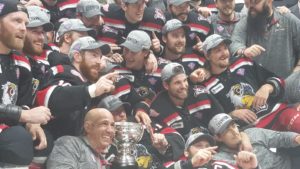 Follow me on Twitter @KevinSporkaHOHM