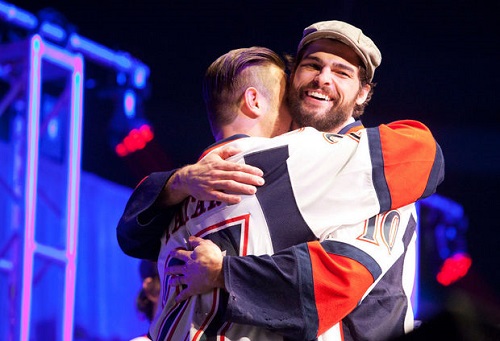 The Grand Rapids Griffins have won their first Calder Cup in team history. It was just the second time the team has made it to the Finals, with the other time coming when they were still part of the IHL (Turner Cup Finals – 2000).
It took six games to complete the series, when it appeared early on that the Griffins would dominate. They took an early lead in the series, 3-0. They started out winning Games 1 and 2 on the road in Syracuse, and returned home to win Game 3. Games 4 and 5 were sellouts, giving Grand Rapids an average playoff attendance of 5,566, which was 2nd best in the league (only Hershey had more at 7,559). Playoff hockey is not taken for granted in the city, since their team hadn't made the playoffs since 2009.
The team that has started the Calder Cup Finals up 3-0 has never lost the series, and Grand Rapids made sure that the record held true for them. Following Game 3, no Griffin expected the Crunch to go down easily. Coach Blashill noted that the first three games were so close, that they could have gone either way; so close that one more good bounce could have swayed the tide to the other side.
Game 4 was a heart-breaker for the crowd, as the referee behind the net signaled goal after a scrum in front of Syracuse netminder Cedrick Desjardins. A referee behind the play called for a review and the goal was overturned. As the officials skated off the ice surface, they were pelted with cups full of pop and water bottles from fans with surprisingly good aim. It was a crushing blow, and gave Syracuse momentum heading into the next game the very next day.
Game 5 was dominated more so by the Griffins than Game 4, since they outshot the Crunch 41-17. They lost the game 5-2 (after an empty-netter), and even more momentum was swung Syracuse's way heading back into the War Memorial Tuesday night.
Grand Rapids had not played bad hockey in any stretch of the imagination. Rather, Syracuse's desperate hockey was working, and the play of Desjardins was outstanding. Griffins goalie Petr Mrazek had not been sharp. In Game 5 he only stopped 13 of the 17 shots he faced, and he didn't give his team a chance to win.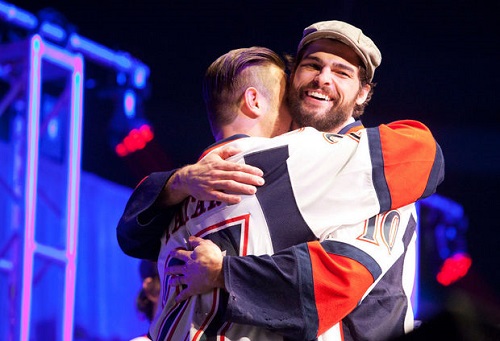 Coach Blashill did not seem panicked or stressed following the previous two games. In response to questions involving Mrazek's play, he replied "[He's] a guy who thrives on pressure…"
Blashill seemed calm and collected, and was confident that after a three day rest, that his team would be ready to compete and win on the road.
Forward Gustav Nyquist had said: "We like [their] rink. We won two in a row there. It'll be a good battle Tuesday." He also noted how nice it'll be for the team to get some rest between the games.
Tuesday saw a refreshed Griffins squad. Richard Panik, who had been dominant all series long, scored first, late in the first period last night, further continuing the momentum swing, and firing up the War Memorial crowd.
Grand Rapids waited until the second period to strike. Mitch Callahan and Tomas Tatar combined to give their team the lead. Defenseman Andrej Sustr tied it up, but it would be the last goal that Syracuse would score.
Midway through the final stanza, Griffins defender Brennan Evans put his team back on top. It would remain 3-2 until the final minute of play. Tatar and Joakim Andersson potted empty-netters and sealed their victory.
Tatar was rightfully awarded the Calder Cup MVP. He scored 16 goals and 21 points in the playoffs. 7 of those 16 goals came on the man-advantage.
Jan Mursak finished with 11 goals and 17 points, while Luke Glendening, Landon Ferraro, and Riley Sheahan all finished with 16 points.
Future Red Wings netminder Mrazek finished the post-season with a 2.31 GAA and a .916 SP, even after a not-so-impressive Finals performance. His stats were almost identical to his regular season numbers (2.33 GAA, .916 SP), which proves that he makes up for a bad game with a stellar one very quickly.
About 4000 fans showed their support Tuesday afternoon at a victory rally party inside Van Andel Arena. It was an emotional event and was free to all who were able to attend.
For a select few of these players, some will graduate to the parent club Red Wings, and others will continue to grow in Grand Rapids. Tatar, Nyquist, and Andersson will surely be full-timers, and players such as, Glendening, Almquist and Mrazek will need additional seasoning.
One thing is for sure. The future of the Red Wings is looking better than ever. And to quote @AlexWichert, one of my Twitter followers: "…Get your sunglasses out, because the future is bright."
Follow me on Twitter @yungspork