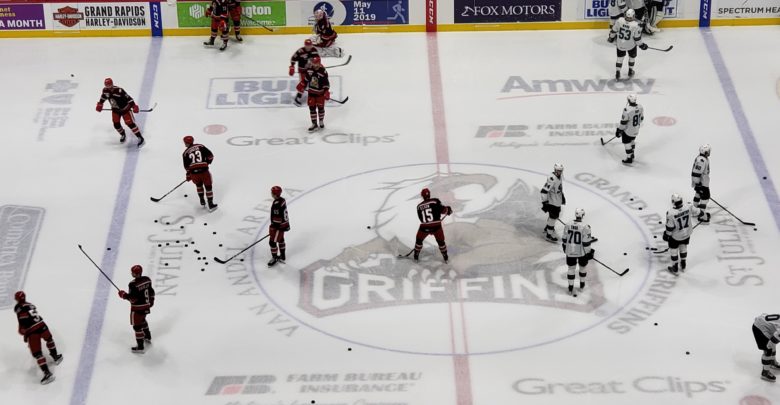 The Griffins hosted the San Jose Barracuda on the second of back-to-back nights Saturday. They were shut out by a score of 4-0 on Friday, led by goalie Josef Korenar. This time, a new duo of goalies faced off in Harri Sateri (GR) and Antoine Bibeau (SJ), and the home team emerged victorious, winning in a shootout.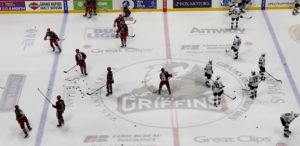 —
It was a bad start for the Griffins. Two first period goals on 12 shots was not the message the team wanted to send in this rematch.
Alexander True led off the scoring with a wrist shot which Sateri should have saved. The low shot avoided the outstretched glove of the goalie.
This was followed up by a one-timer bomb on the power play courtesy of Rourke Chartier from the left circle. Sateri had little chance of stopping the laser.
When asked what the message was after the first period, Chris Terry said the team was basically told to "tidy it up."
"We take a lot of pride playing here at the Van Andel," he continued. "We don't lose two in a row at home so we needed to step up and make sure…we had a good crowd tonight; we didn't want to see them disappointed."
"We didn't like the turnovers at the bluelines (after the first period)," said Filip Zadina. "Coach told us we've got to do everything better. We were talking to each other and said we have to be better on the ice and it's why we won today."
Grand Rapids stormed back for a great response in the middle frame. Zadina led the charge. Following a fantastic no-look backhand pass from Terry, Zadina backhanded a shot past Bibeau to make it a one-goal game (@ 1:18).
"I thought we were really resilient tonight," said Terry. "I think, opportune penalty kills at the right time. Again, the power play generated momentum. After the first period, when Zadina scored it kind of set the tone. We weren't going to go down lightly."
"It was a good situation on the ice," said Zadina. "It was the first shift (of the period) for me. We were just trying to get the puck to the net and trying to fight through. He passed it really well and I was open in front of the net. It was a good goal for us. We just started like playing a new game right after the goal. Then we scored a second goal so it was a good game."
This was bookended by a goal with 1:03 remaining by Carter Camper, assisted by Colin Campbell. That's a lot of Cs. The late 2-on-1 was executed to perfection as Bibeau's sliding desperation save could not stop the well-placed one-timer from Camper.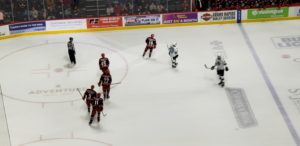 "Just the team in general I thought did a better job of getting to the hard areas and competing a little bit harder for pucks,' said Coach Ben Simon. "I didn't like our start to the game but I like the fact that we were pretty resilient and showed a little bit of character in the second period to battle back. And then, obviously gets to a shootout, I thought Harri got stronger as the game went on and sealed it with the shootout."
The third period was closely contested and neither team could break the tie. Camper had an opportunity to score on an empty net but was on his backhand and couldn't get much lift from the shot.
In a frantic overtime period, the Griffins had numerous chances to score, but had difficulty hitting the net. Jacob Middleton had a breakaway on Sateri as time expired.
"I thought he got stronger as the game went on," said Simon of Sateri's play. "He's a battler. He competes hard. He battles. He's a worker. He's been playing very well his last six or seven games. I think his numbers are proof of that. Again, he's a pro. He comes and he competes every day in practice."
"Unbelievable," said Terry of Sateri. "Too many breakaways that we give up., but obviously he's been unbelievable for us. He's been the backbone for us."
Only one goal was scored in the shootout as Grand Rapids' Matt Puempel put one past Bibeau for the winner.
It was a well-deserved win for Sateri. Both he and Patrik Rybar have been a solid tandem for the Griffins all season long.
"I think it helps to have two strong goalies all year," said Simon. "That's why San Jose is a phenomenal team. You saw Korenar last night. You saw Bibeau tonight. Any time you have two good goalies that give you a chance to win a hockey game, you're in a good spot. As good as San Jose is and as good as their goaltenders are, I think ours are just as good."
Power Play
The team's power play woes continued Saturday as they went 0-for-5 on the night. Despite having the talent and the firepower to succeed with the man-advantage, the special teams success has not been there this season.
"I wish I could," said Simon when asked what the potential solution is on the PP. "We hit three or four posts tonight. The goaltender made some big saves. It's coming along. It's baby steps. I think that we've got the right guys out there. As long as they're not giving up chances. The second unit gave up a few chances against and was a little more high risk. Our other unit I thought did a great job producing a little positive momentum."
Terry echoes the frustration but thinks the team is close to figuring it out.
"Hit the net," he posited. "I had three or four really good looks. They don't go in, but we're doing all the right things. It's probably getting old saying the same stuff over and over again. But, we're shooting, we're getting rebounds. We're close. We're right there. Maybe four days off, you know, refresh the mind and we'll get back at it in Texas."
All-Star Weekend
The AHL All-Star weekend took place following Saturday's NHL All-Star Game with Sunday's Skills Competition and Monday's game. Chris Terry is the Griffins' representative and took place in the accuracy shooting contest yesterday.
He said the game is his favorite part of the festivities. "I think the format, now that it's 3-on-3, it's entertaining. It's a lot of fun. You know, high scoring, 2-on-1s, breakaways, but overall the whole experience is a lot of fun."
He relishes the opportunity to play in these types of events.
"You know, I had an injury last week. Luckily healed up. I'm not going to play in All-Star games my whole life, so I'm going to take advantage of that when I can and cherish those [opportunities]. It's an honor to be chosen to represent this team."
Follow me on Twitter @KevinSporkaHOHM