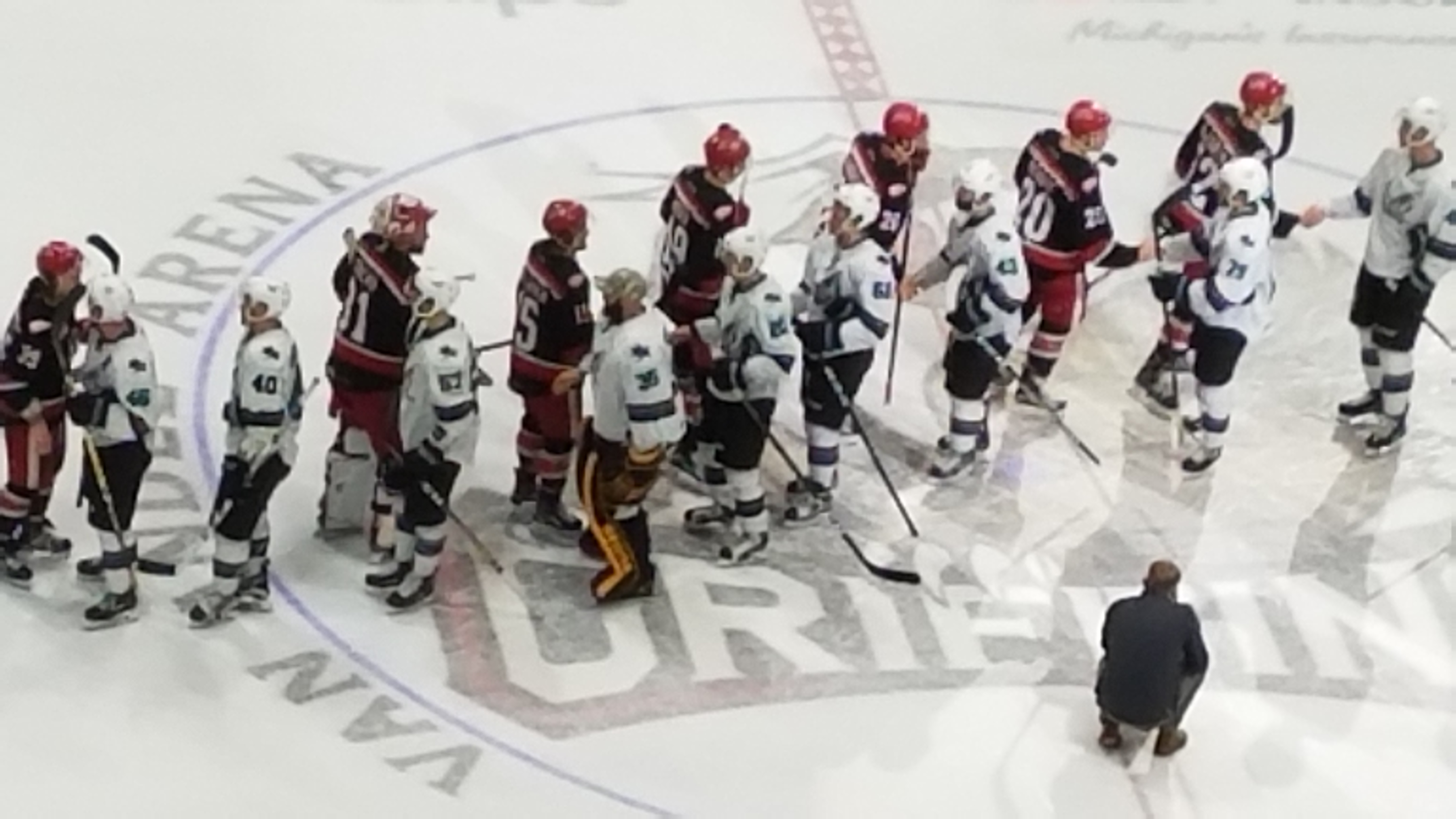 8,876 fans were in attendance to witness the Grand Rapids Griffins defeat the San Jose Barracuda in Game 5 Saturday, to advance to the Calder Cup Finals. They won the Robert W. Clarke Trophy as Western Conference champions.
Coreau was outstanding, stopping 39 of 41 shots.
San Jose dominated early, outshooting the Griffins 8-1 at the midway mark of the period. Fortunately, that one shot represented a goal for the home team. Defenseman Brian Lashoff scored on a slap shot from the top of the left circle only 24 seconds into the game. Tyler Bertuzzi and Tomas Nosek assisted.
"Let's face it, that's an amazing hockey team we played over there," said Nathan Paetsch. "They were the best team in the [conference] for a reason. A lot of firepower and they came at us, they didn't go away like some teams might in that situation."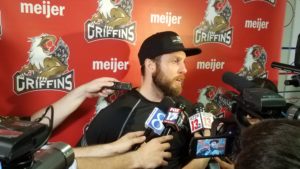 In the period's latter half, Matthew Ford increased the lead to two goals following a one-timer from the slot. The play was set up by Colin Campbell behind the net.
Barracuda forward Timo Meier scored early in the second period, following a defensive miscue by the Griffins.
Matt Lorito made it 3-1 from Nosek and Martin Frk. Lorito showed great hand-eye coordination as he caught the puck, set it down, and quickly scored next to the crease.
Lorito struck again in the second period on a pass from Evgeny Svechnikov, scoring from the right faceoff circle. He nearly had a hat trick as a rush had Evgeny Svechnikov feed a perfect setup pass. However, Troy Grosenick came up with a stellar save.
As Grosenick starting skating to the bench, the Barracuda scored in the waning minutes of the third period. Daniel O'Regan found the net with help from Nick DeSimone and Dan Kelly.
San Jose pressed hard in the last few minutes, as Grand Rapids had difficulty clearing the zone following a pair of great keep-ins. With desperation setting in, the Barracuda did everything they could to come back, but Coreau's play held the 4-2 lead until the final buzzer.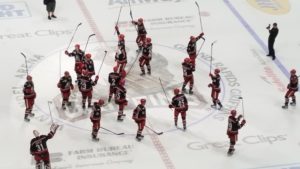 After sweeping Round 1 against Milwaukee and skating past Chicago in five games in Round 2, the Griffins have only lost two playoff games thus far.
"We got key goals at key times and we had big saves at the right times," said head coach Todd Nelson. "We played four lines; they played mostly three. It's nice having the team depth that we can run four lines. And if you look at all the games, their first periods were really good against us. Even though we were up 2-0 in the first period tonight, I think if you watched the game without the goals, you'd notice that they were carrying a lot of the play."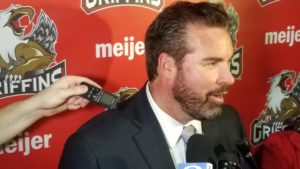 Paetsch, a veteran of the American Hockey League and first-year Griffins captain, doesn't take anything for granted, and he wants to ensure that his teammates appreciate every moment of this playoff run.
"This is my 14th year, I know how hard this is," said Paestch. "It's hard. This is my second trip to the finals in 14 years. It's really special. I hope everybody, especially the young guys, realize this is a once-in-a-lifetime opportunity. It may be twice for some guys, maybe never. We're just lucky to be able to be in that situation and have this type of team that management built, and the coaching staff that we had, and everything coming together."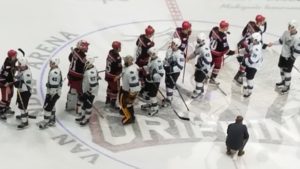 According to Coach Nelson, the team will have two days off before preparation begins on Tuesday.
A Familiar Foe
The Griffins and Syracuse Crunch met in the 2013 Calder Cup Finals, in a matchup that pitted friends Jeff Blashill (Grand Rapids) and Jon Cooper (Syracuse) against each other. Of course, now they are the current coaches of Detroit and Tampa Bay respectively. The Griffins won that series in six games, with goalie Petr Mrazek leading the charge.
Now that responsibility falls on Jared Coreau, who was outstanding in the series, allowing only 11 goals in 5 games.
Syracuse has three of the top five leading scorers in the post-season, while Grand Rapids has three in the top-10. Cory Conacher leads the way with 9 goals and 20 points.
Seven Griffins have scored more than 10 goals, including soon-to-be Red Wings Tomas Nosek and Tyler Bertuzzi, as well as top prospect Evgeny Svechnikov.
A Look Ahead
The Calder Cup Finals begin on Friday June 2. All games take place at 7:00 ET. Grand Rapids has home-ice advantage.
Game 1 – Friday 6/2 @ Grand Rapids
Game 2 – Saturday 6/2 @ Grand Rapids
Game 3 – Wednesday 6/7 @ Syracuse
Game 4 – Friday 6/9 @ Syracuse
Game 5 – Saturday 6/10 @Syracuse
Game 6 – Tuesday 6/13 @ Grand Rapids
Game 7 – Wednesday 6/14 @ Grand Rapids
Follow me on Twitter @KevinSporkaHOHM