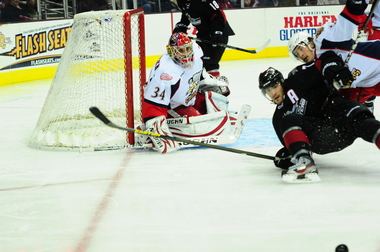 The Grand Rapids Griffins are now in first place in the North Division. They have now won an amazing 6 straight games in a row. After a miserable 1-5 start to the season, the Griffins have turned to star prospect and now starting goalie, Petr Mrazek of the Czech Republic.
Mrazek was drafted by the Red Wings 141st overall in 2010. At the age of 20 he already has stellar numbers. Playing for the Ottawa 67's of the OHL last season, he was 30-13-6 with a 2.84 GAA and a .917 SP. The previous year he went 32-15-3 with a 2.84 GAA and a .920 SP. And since he was given the reins of the Griffins' net, he has gone 5-0 (including a shootout win (no shootout goals against)). With an outstanding 2.34 GAA and a .921 SP he has sparked new life into the team.
Last Friday the Griffins took on the Lake Erie Monsters. The Monsters took an early 1-0 lead in the first period on a powerplay goal from David van der Gulik (assisted by Karl Stollery and Andrew Agozzino). Agozzino scored early in the 2nd period (assisted by David van der Gulik and Tyson Barrie), and Mitchell Heard scored 10 minutes into the period (unassisted) to give Lake Erie a dominant lead. But the Griffins weren't down and out for much longer. Max Nicastro scored a minute later (assisted by Jeff Hoggan), and Tristan Grant scored 1:30 later (assisted by Louis-Marc Aubry and Mitch Callahan). Van der Gulik scored again to make it 4-2 (assisted by Agozzino), and Gustav Nyquist (powerplay) pulled the Griffins to within one goal (assisted by Chad Billins and Brendan Smith).
Tomas Jurco led off the scoring in the third period (assisted by Francis Pare and Chad Billins) to tie the game at 4. Then, 9 seconds later, GOAL! Jurco scores again (assisted by Pare again) to give Grand Rapids a 5-4 lead. Monsters captain Bryan Lerg scored with 1:09 left in the 3rd (assisted by Tyson Barrie and Thomas Pock) and the game was sent to overtime.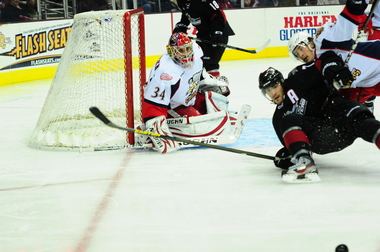 3:38 into OT, who else but Nyquist (powerplay, assisted by Tatar and Joakim Andersson) wins the game in dramatic fashion. Mrazek saved 29 out of 34 shots and Calvin Pickard stopped 22 of 28 shots for Lake Erie.
Nyquist (Right Winger) leads the team in scoring with 8 goals (4 PPG) and 9 assists for 17 points (+8). Chad Billins (Defenseman) is second in scoring with 14 assists/points. Tatar is third in scoring with 5 goals (4 PPG) and 8 assists.
The Griffins take on the Chicago Wolves Friday the 23rd at home. The next two games are Saturday (at Peoria), and Sunday (vs. Milwaukee).
Follow me on Twitter @yungspork