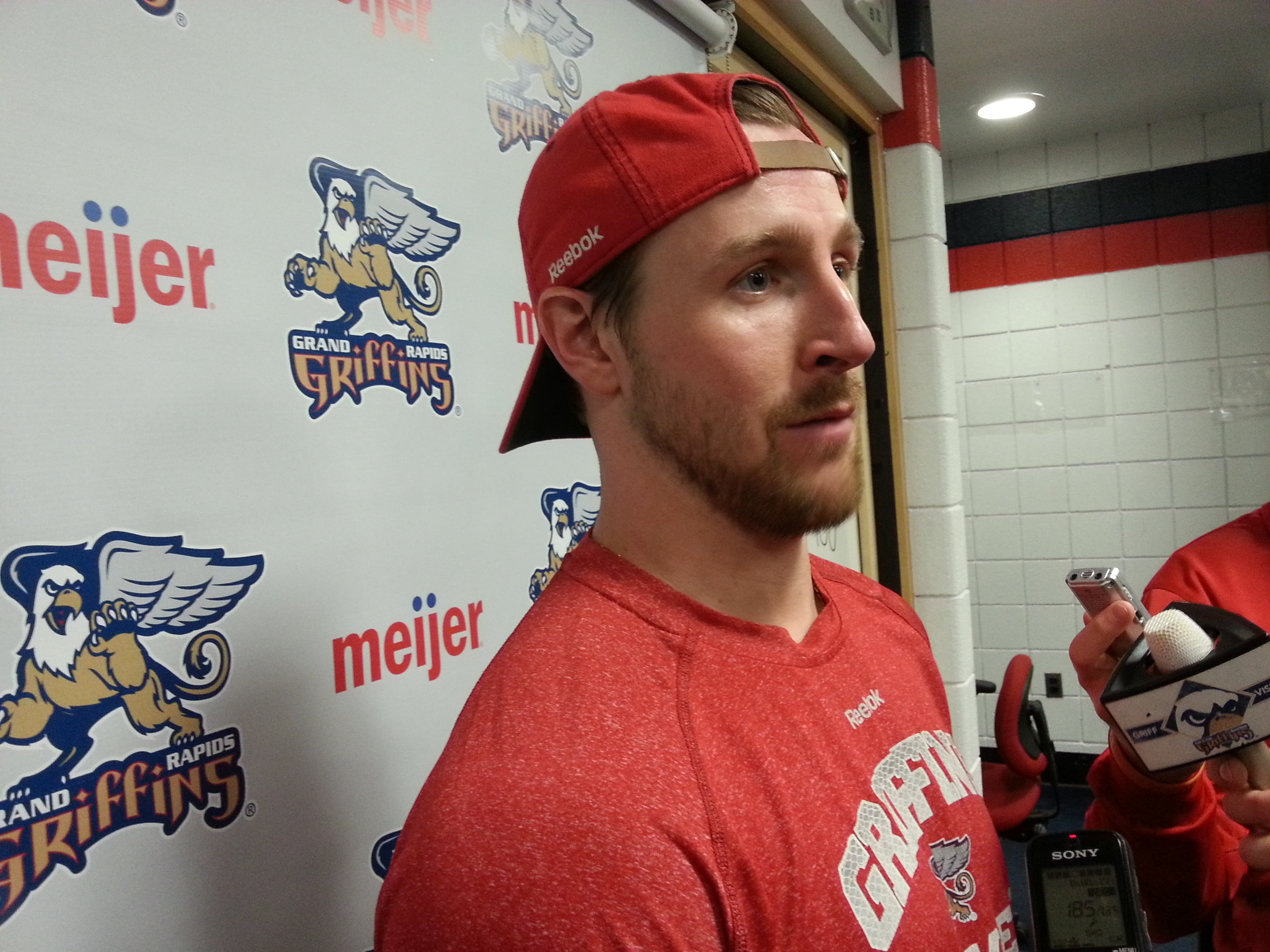 On the eve of Team USA's disappointing loss to Team Canada in the semi-final round of the Olympics, the Grand Rapids Griffins played one of their remaining few games before the NHL season resumed.
Friday night's game was the beginning of a three-in-three home stand (Friday, Saturday, Sunday), just the ninth time in the club's history that they have hosted three games in three days.
Fans packed Van Andel Arena, 10,834 to be exact. It marked just the fourth sellout of the season and second in the last five games. It was also the second straight crowd of 10,000+ (third time in last five games). It moved the Griffins into second place league-wide in average attendance (7,868), passing Providence (7,761).
Griffins center Calle Jarnkrok broke a scoreless tie late in the first stanza with his 11th goal of the season (assisted by right winger Andrej Nestrasil). Following an intermission show that saw four babies racing, the Oklahoma City Barons would tie the game just 3:26 into the second period. Defenseman Brad Hunt, the highest scoring defenseman on the Barons (and third highest scorer on the team overall), scored a power play goal with some help from Mark Arcobello.
Barons defenseman Oscar Klefbom made it 2-1, while David McIntyre of the Griffins fooled goaltender Richard Bachman with some great passing alongside Martin Frk to tie it again.
Nathan Paetsch (Griffins) and Steve Pinizzotto dropped the gloves in the first of two fights in the contest. While Paetsch lost (he doesn't fight much…or at all), teammate and tough guy Triston Grant defeated his dance partner Travis Ewanyk later in the game.
Hunt would score again with fewer than three minutes remaining in the second period (the third straight Barons goal by a defenseman in the game).
Roman Horak would seal the deal for OKC 2:17 into the third.
The Griffins remain in first place in the Midwest Division, just one point ahead of the Chicago Wolves and four points ahead of Rockford.
The team has now lost three straight games, and five of their last six. "The last two five-game segments we haven't been a playoff team," said coach Jeff Blashill, "and right now, in this segment, we've got lots of work to do to be a playoff team. That's all I think about. I don't worry about the standings or what other teams are doing, because it's out of our control."
"We're doing good things, in parts, but not as a complete game," said team captain Jeff Hoggan. "We're just trying to find our way here, a bit of a test for us. "
Their next game is tonight. Same place, same time, same team.
"That's one of the good things about this league," said Hoggan. "You get right back at 'er. We're in these games. No team's going to blow us out. We're structured. We're sound. But we're not being complete. Individually we do good things here and there, and then you have that let-off shift or make a mistake and it's burning us right now. We just got to find a way to come together and battle through this tough time."
McIntyre appeared visibly frustrated after the game, but seems to have found the problem "We're not playing our best," he said. "We're not playing together. It feels to me like we're not talking enough out there. When you're not talking, it makes the game so much harder and obviously it's complicating the win department a little bit."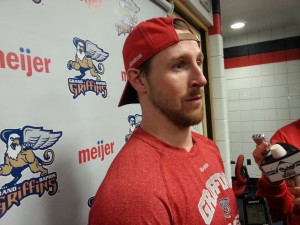 "We're working hard, but when you're not talking and when you're not shooting as much and crashing the net, things just aren't going for you and we need to find a way to turn that around as soon as we can here. I think we should talk a little bit more, and shooting the puck is huge. We have a lot of talented players but the first step's ripping the puck and starting to get a couple greasy ones. Then, things start flowing, and nobody's gripping their stick as tight and everything starts working after that."
So is it time for fans to get worried about the team's playoff hopes?
"Am I concerned? Yeah, because we're not generating enough and we're giving up too much," said Blashill. "Any time you do that, that's a bad combination. The biggest concern I have right now is we have to show a way better ability to handle, to have more of a resilient nature to our team, and we haven't been resilient enough. Every time we get down, we seem to slump our shoulders and feel sorry for ourselves."
"We're a way better team than we've played here in the last little bit."
The bright spot in the contest? The play of Calle Jarnkrok, who is showing great potential this season. Potential is a perfect word, because coach Blashill believes he hasn't shown all he can do just yet.
"He's always a real good, complete player, so he's real good defensively all the time and he works his tail off all the time," said Blashill. "He can do that, he can shoot the puck in the net. I just think he's been a guy who, there's more offense than what he's shown so far. I think there's more there, and it was a good sign that he scored [tonight]."
That's good news for Griffins fans, but also for Red Wings fans as well, since he will likely be a Red Wing before you know it.
Follow me on Twitter @yungspork
Love Reading About Hockey?

Subscribe to keep up-to-date with the latest and most interesting hockey news!
| | |
| --- | --- |
| | We hate spam just as much as you |